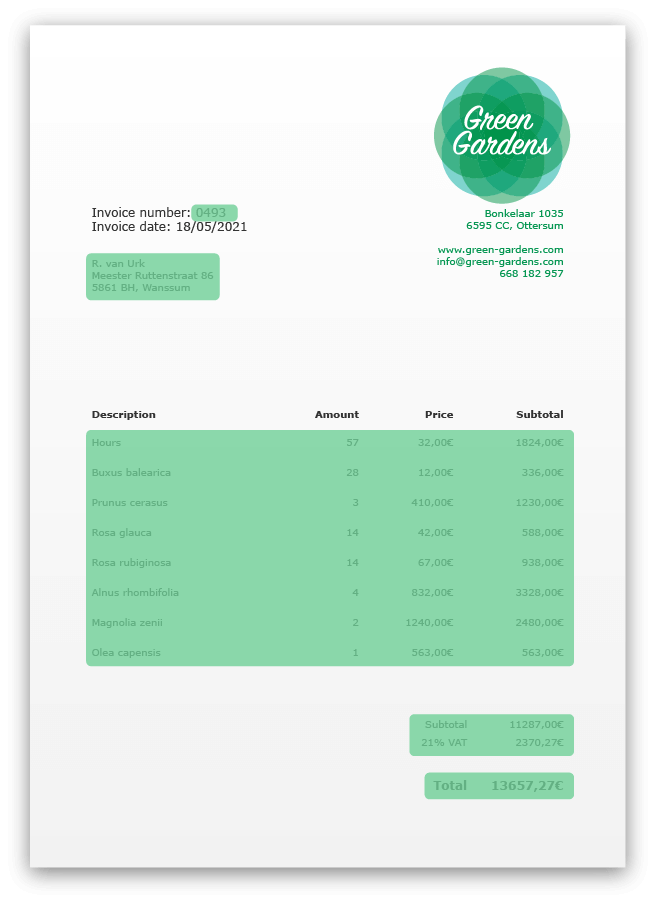 Invoice OCR
Enhance the effectiveness of the financial and administrative processes of your organization with data extraction and invoice
OCR
scanning. Start processing invoices automatically and safely with Klippa.
Powered by machine learning.
Klippa's invoice OCR software

Our machine learning technology can automate many invoice-related business processes via APIs and SDKs. Klippa's OCR for invoice processing and scanning intelligently extracts data from documents. 
 Our software is accurate and scalable. Klippa's invoice OCR saves every company's AP department time and money.

Invoice format and quality conversions
Invoice to text, UBL, CSV, XLSX or JSON with OCR
Invoice data capture with OCR
Classifying invoices and invoice line items
(Cross)Validating invoice data
Data extraction with OCR for invoices
How does
OCR
work for invoices? In this case, an image speaks more than a thousand words. Below is an example of the three steps our OCR engine takes to automatically extract data from invoices.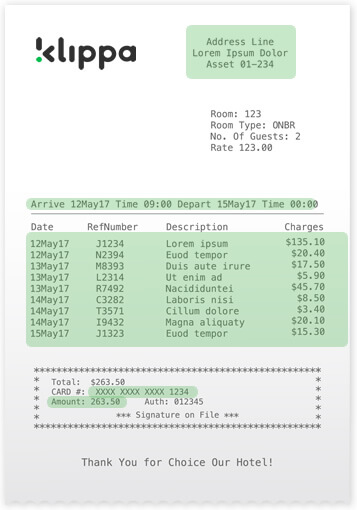 Step 1: upload the invoice to the OCR API
The first step of the invoice OCR is providing a picture or a PDF file of an invoice to our API. Usually this is done from a mobile app, email, FTP or web application.
The document can be sent both cropped (without background) and uncropped (which means with background). If the invoice is sent uncropped, our API automatically crops the document. There's also a possibility to use the Klippa invoice scanning SDK in mobile apps.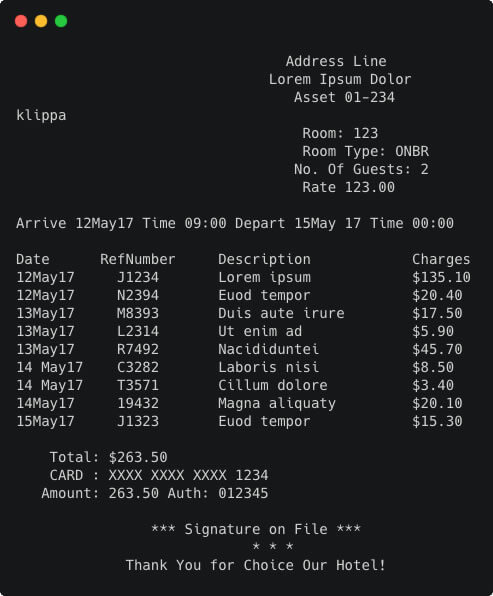 Step 2: image to text (OCR)
When the PDF or picture is sent, it is automatically converted to a TXT file. All text from the invoice is extracted, but not yet processed and structured.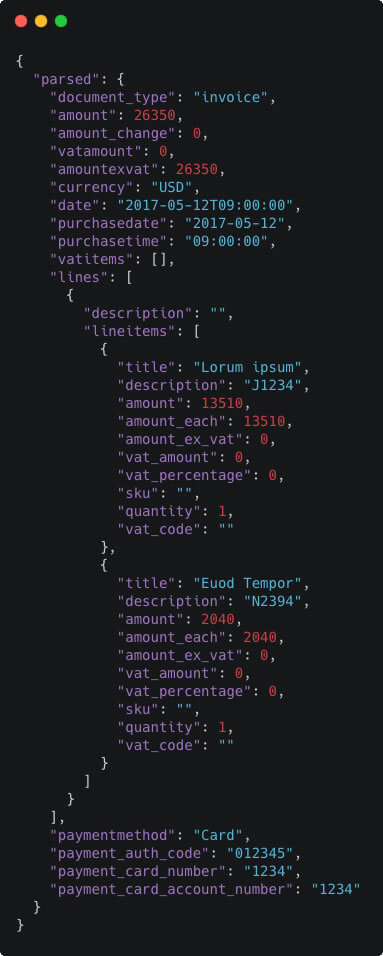 Step 3: getting JSON output from the API
Finally, the parser takes the TXT which was gained from the invoice and converts it into structured data, while using machine learning and AI. From this point on, it's easy to process the invoice in your database.
Whether you are looking for invoice OCR and processing invoices for accounting, or for loyalty purposes, Klippa is here to help you!  
Why choose Klippa's data capturing software?
Reduce cost with Klippa's OCR for invoices processing solution.
Invoice processing within seconds, which is perfect for AP automation, accounting, cashbacks and loyalty.
Because of OCR invoice scanning, manual data entry mistakes are being prevented.
The software automatically recognizes errors, fraud and duplicates.
Which invoice fields can be extracted by our software?
The default data fields (checkmarks) and automated checks (locks) of the OCR for invoices are listed below. These can be customized. Additional fields can be extracted upon request.
Frequently Asked Questions
The pricing of Klippa invoice capturing depends on the amount of fields and volume of invoices to be captured. Both monthly and pay per use licenses are available.
Get in touch
and our product specialists will create an exact quote for you.
Klippa can extract data from all kinds of invoices. We can extract debit invoices, commercial invoices, expense reports, etc.
Yes, Klippa supports line item extraction from invoices. We have a special machine learning algorithm for line item extraction. For every line, the quantity, description, price per unit, total price and VAT values are extracted. Optionally SKUs, weight and size can also be extracted.
After the line item extraction Klippa performs line item classification. Using an additional algorithm we classify over 20 categories for each line. For example 'Food', 'Electronics', 'Alcoholic' and many other options. Based on these categories the VAT deductibility can be determined, loyalty points can be distributed and general ledger accounts can be suggested. This is a perfect solution for accounts payable automation. 
We try to extract as much from invoices as possible via OCR and machine learning. The goal is to support as many document types as possible.
Many of our clients ask for quality detection, validity verification, warranty insights, invoice analytics, spending insights, cashbacks, loyalty, VAT reclaim, 2-way matching, 3-way matching and accounting.
RPA accounts payable automation is currently our most popular solution. We can help you automate up to 95% of your invoice processing using invoice OCR and machine learning.

All European languages are supported in our invoice OCR. Klippa performs best on invoices in Dutch, English, Norwegian, Portuguese, Finnish, Swedish, Danish, Italian, German, Spanish, French and Hebrew.
Other languages can be supported on request, since we can train our machine learning models.
All services we offer are fully GDPR compliant. We only use ISO-certified servers within the European Union for processing invoices. A data processor agreement is in place. We do not store any of your or your customers data after processing.
Klippa was founded by developers, which is why we understand the value of a well-documented API. Our documentation about invoice OCR is created using SWAGGER and can be found via
this link
.
 Schedule a free online demonstration
Get a clear view of how Klippa can help make your invoice processing more efficient. A demo takes just 30 minutes.
Please feel free to ask all your questions.
 Get in touch by email, phone or chat!