Chamber of Commerce OCR
Enhance the effectiveness of your organisation with
Optical Character Recognition
and machine learning. Process COC documents automatically and securely with Klippa.
What we can do with documents
Our machine learning technology can automate many Chamber of Commerce related business processes via our APIs and SDKs.
COC document type and quality conversions
COC extract to text, UBL, CSV, XSLX or JSON with OCR
Data extraction on COC documents
Classifying COC documents
(Cross)validating COC data
Chamber of commerce data extraction

An image speaks more than a thousand words. Below is an example of the three steps our OCR engine takes to automatically extract data from COC extracts.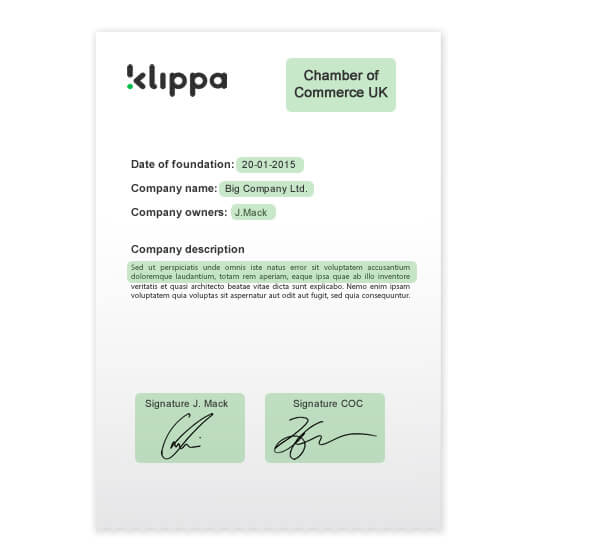 Uploading to the API
The first step is providing a picture or a PDF file of a Chamber of Commerce extract to our API. Usually this is done from a mobile app, email, FTP or web application.
The document can be send cropped or uncropped (with some kind of background). If it is send uncropped, the Klippa API will automatically crop the document.

Image to text using OCR
As soon as a picture or PDF has been received, each page is converted to a TXT file. In this step all the text from the document is extracted, but it is not yet structured.

Getting JSON output from the API
The Klippa Parser takes the TXT gained from the OCR in step 2 and converts it into structured JSON using machine learning. The JSON is then returned as output from the API. The document is now searchable and important data fields like company entities, dates, signees and more have been extracted.
From here the the data can easily be processed into your database or stored as a searchable PDF. Whether you are processing COC extracts for legal, loan application, M&A or other purposes, Klippa is here to help.

The image on the left is a simplified example of the JSON response.
Spend less on document processing by using Klippa.
Transform COC extracts into digital searchable text automatically. Extract important data automatically.
Prevent manual data entry errors with high quality data extraction on Chamber of Commerce documents. Identify risks automatically.
Automatically recognise errors, duplicates, risks and fraud.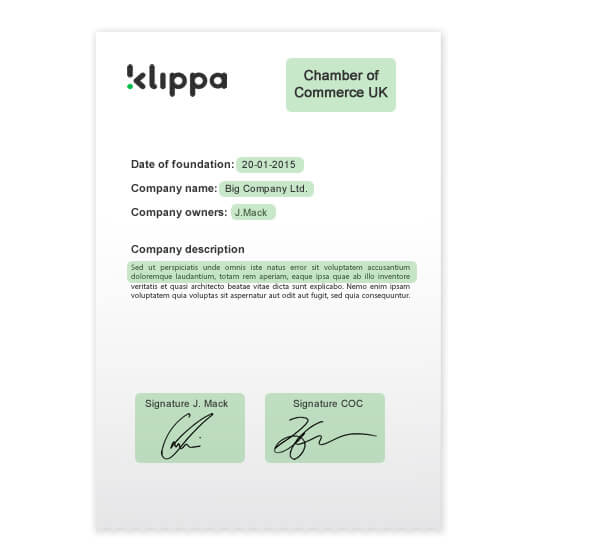 What Chamber of Commerce details are extracted?
Below the type of data fields that can be extracted are listed. These can be customised for each customer. On request additional fields can also be extracted.
Please feel free to ask all your questions.
 Get in touch by mail, phone or chat!
What other legal documents can be scanned?