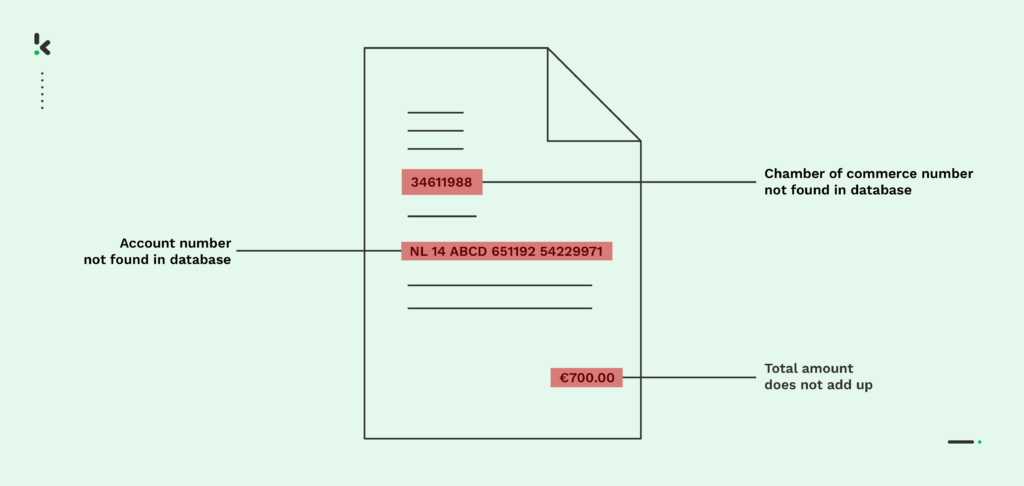 More often than they would like, businesses record a significant loss of money due to invoice fraud. In the last three years alone, a 75% increase in invoice and payment request fraud has been detected, leaving businesses of all sizes with substantial financial losses. This not only shows how frequently such fraudulent actions happen but also suggests that your business could potentially be the target of such document fraud.
Between handling multiple documents at the same time, processing several invoices simultaneously, and having the pressure of a payment due date coming up, it might be that you mistakenly approve a fraudulent invoice, without notice.
Luckily there are solutions that can prevent you and your business from these malicious practices. What are those solutions? That will be discussed later in this blog.
In this blog, we will go more into detail about invoice fraud, the common types of invoice fraud that can occur and we will show you how to protect your organization from such threats. Let's get started!
What is invoice fraud?
An invoice fraud is essentially a fake payment request sent by scammers, acting as regular and trusted suppliers or vendors of a company. The intent behind these fraudulent activities is to extract a sum of money from an organization.
The fraudulent invoices that are sent, present slight changes regarding certain details. These can be the payment address or the bank account information, which are easy to miss and quite frequently overlooked.
Frankly, the process of committing invoice fraud is rather extensive and starts even before the fake invoice or falsified email has been sent. Let's take a look at how the process of committing invoice fraud works.
How does invoice fraud work?
As mentioned earlier, invoice fraud is in fact, much more complex than just sending a fake invoice or a fraudulent email.
In order to pass as trusted vendors, the scammers infiltrate themselves into the database or an email thread of a company, which contains payment details and other private information. By gaining access to all this data, scammers find and exploit the weak points of a company's accounts payable process.
As mentioned previously, the most important sections of an invoice are often overlooked. These sections are the invoice number, bank account information, or payment address. At the same time, these are the sections that fraudsters have become masters at falsifying. The human eye is almost unable to detect small changes, which is why manual errors happen so often and cause issues later on. 
Next to that, the likelihood to miss out on these crucial details happens especially if the invoice contains names of vendors or suppliers that the company has worked with before and are therefore trusted.
This practice also comes hand in hand with the fact that, in most cases, invoices require a certain amount of time to be paid. These dates can vary from 7 days to even 90. In order to meet the predetermined deadline, a sense of urgency is created and the person responsible for approving and signing the invoice rushes and skips details. This strategy is used quite often by fraudsters and can also take very different forms, so keep reading to see if your business ever encountered a certain type of invoice fraud.
Common types of invoice fraud
Nowadays, scammers have diversified their portfolio of fraudulent activities, in order to target more organizations. That being the case, they also created multiple ways of undergoing such activities. Let's take a look at the most common types of invoice fraud:
Fraudulent Invoices (Phishing Emails)
Inflated Invoices
Invoice Scams
Compromised Email Threads
Internal Fraud
Fraudulent Invoices (Phishing Emails)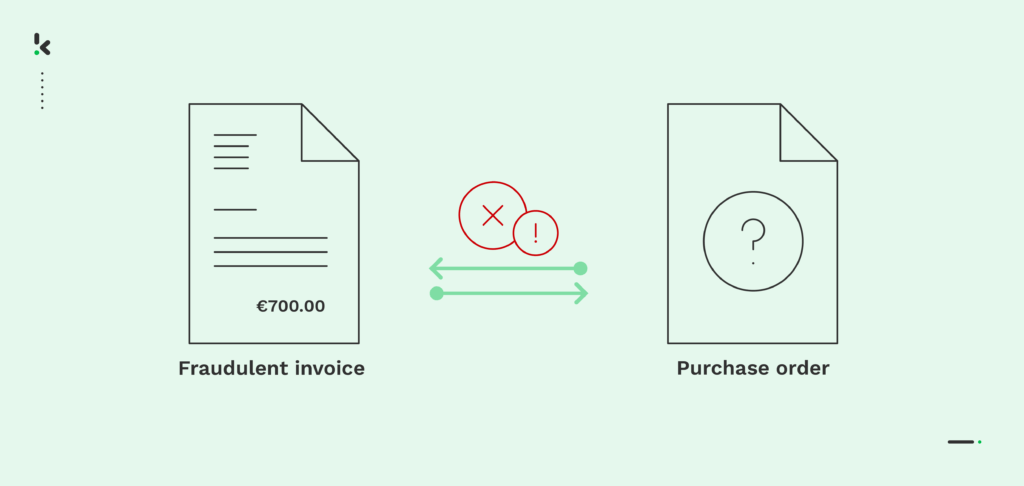 False invoices, or phishing emails, are pretend invoices, created by scammers to pass as regular vendors or suppliers of different businesses. In these cases, no products have been delivered, but a fake invoice was still emitted, requesting a certain amount of money to be transferred into the scammer's account.
This type of fraud can be given away if an inventory check is done and it appears that the goods cannot be accounted for or if someone sees that the Purchase Order (PO) corresponding to the invoice is non-existent.
Inflated Invoices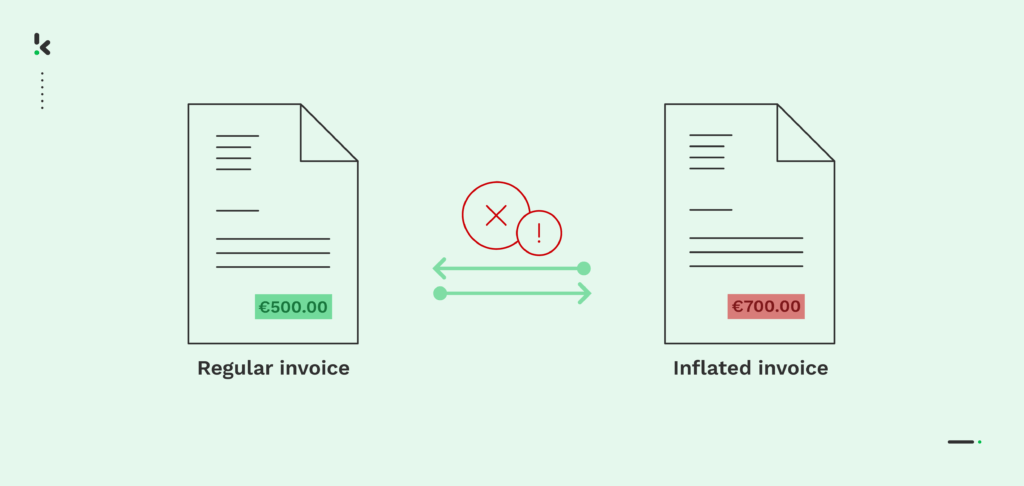 Scammers submit phony invoices, with inflated prices, to extract money from companies. The amount is not significant, in favor of not raising any suspicion. However, for this type of fraud, scammers rely on the high volume of fake invoices that are sent, rather than the sum that appears on the invoices.
Invoice Scams
When there are multiple invoices from several vendors in a short period of time, the scammers take advantage of the busy atmosphere in the AP department. They send the same invoice multiple times, be it for the same products, having the same invoice number, date, or amount. However, the trick lies in the content of the document.
Fraudsters like to use legitimate account numbers, addresses, or contact numbers, but make slight adjustments:
They change a digit of the bank account number
They change a digit of the phone number 
They change the payment address completely
They change the domain of a website, for example from .com to .org
Another trick lies in the amount that is shown in the invoice. Generally, fake invoices will show even amounts, which will most likely never appear in legitimate invoices. So take a better look next time at the amount you need to approve!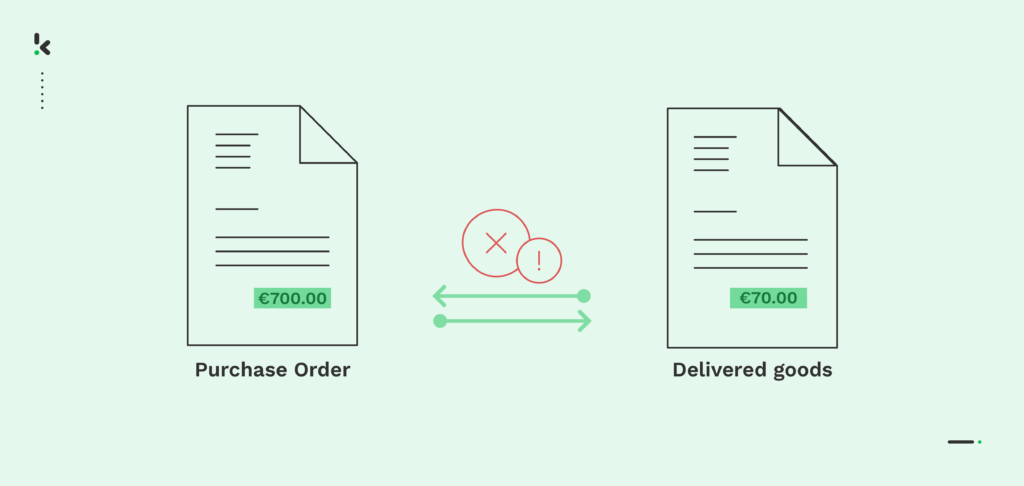 Compromised Email Threads
As we mentioned earlier in this blog, scammers find the weak points of a company by infiltrating themselves into email threads of businesses they want to target. 
Consequently, they get access to a vendor's employee email address, usually through a phishing email, and hijack the email thread. What does this exactly mean? Simply put, the scammer now has access to all the payment information mentioned in the email thread and has the liberty to update the initial payment method to a direct one, to their account.
Internal Fraud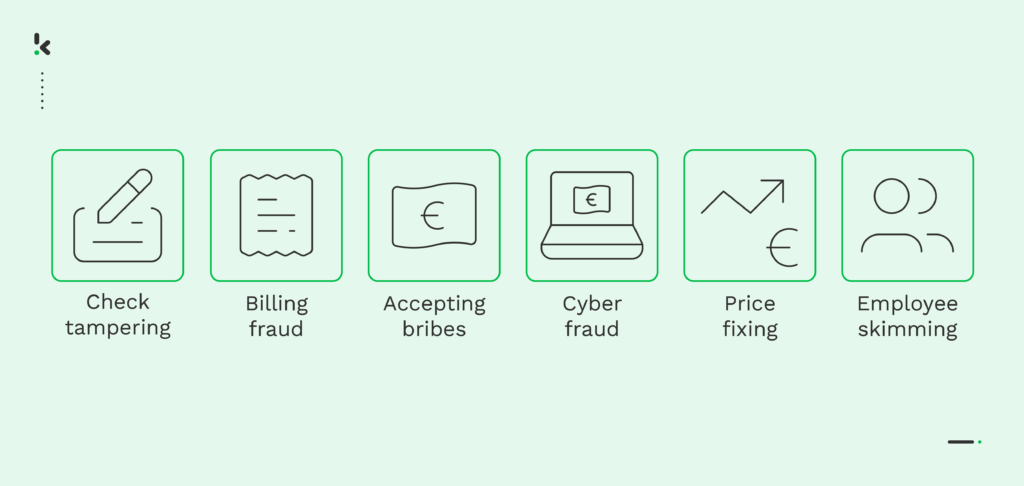 It is important to remember that accounts payable is still a manual process for most organizations, which gives a green light to people with bad intentions to commit fraudulent acts. Taking into account that lots of paper still needs to be processed, sometimes it can get in the wrong hands.
In these cases, such invoice frauds have an internal perpetrator, such as the Financial Controller or AP department officer. They take the invoice received from the vendor and instead of paying it and transferring the money to the correct and legitimate account, they redirect the money into an account of a third party.
They briefly change the details of the vendor in the AP system, to avoid detection, before changing it back to the original state. Only then, do they approve and sign the correct invoice and transfer the amount to the vendor.
How to protect your organization
Unfortunately, there are many types of invoice fraud, and scammers are getting better and better at infiltrating themselves into the database of companies. They also seem to get by with using technology as a means to alter invoices. A business can easily be affected by these fraudulent actions, even from an internal point of view.
So what is the solution when your business is potentially targeted by scammers? Let's review some of the ways you can protect your business from invoice fraud:
Establish regular points of contact with your vendor: regular contact with recurring vendors can increase the trust and security level between each other.
Keeping track of vendors' activity: it is essential to examine if there is any unusual activity coming suddenly from your vendors.
Check any changes in the payment information: keep in mind that checking the payment information of your vendors is crucial; if there is any unexpected change in payment methods, you might want to look into it.
Two-way matching: this requires the invoice data to be matched with the purchase order.
AP automation: all these measures can easily be implemented through accounts payable software, to further improve the security layer of the AP process.
How automation can help
We have now discovered the numerous ways a company can protect itself from invoice fraud and the many forms it can take. But how do you implement these measures, while making sure all operations run smoothly? The answer is automation.
AP software with automated invoice processing comes with great benefits, replacing the dreadful process of handling invoices manually and decreasing the error rate which occurs in manual processing operations.
Some benefits of automated invoice processing include:
Verifying the information and checking the accuracy of the invoice details
Reducing manual processing errors
Creating an overview of all the steps involved in the Accounts Payable process
Enabling a dual payment control, which detects duplicate invoices to avoid duplicate payments
Reporting any mismatches between the invoice and purchase order details
Checking the validity of vendors and suppliers, by accessing the registration number from their corresponding Chamber of Commerce
Protect your business with Klippa SpendControl
Finding an automated invoice processing system that fulfills all criteria can be challenging, but not impossible. Klippa SpendControl, for example, can help automate your business's accounts payable process, with maximum efficiency and security with its proprietary AI-embedded OCR technology.
Easily integrated with your ERP or accounting system, Klippa SpendControl comes with great advantages that will not only facilitate invoice processing but also prevent fraud and protect your business. Offer your business the opportunity to: 
Easily submit files via the Klippa app, website, or email. Submitting them in bulk is also possible, to reduce effort and maximize efficiency. 
Gain access to all past invoices, located in a designated cloud environment. Keep track of all invoices and be well-prepared for your next audit.
Extract data, using AI-data extraction technology, which helps recognize details such as the invoice number, payment address, and even different currencies.
Prevent fraud, with the help of a built-in analysis that detects fraudulent and duplicate invoices.
Automate approval processes and improve your organization's productivity course. Create fixed or variable invoice approval processes and facilitate the workflow of your business.
Experience a seamless integration with a variety of ERP or accounting software, such as NetSuite, SAP, Xero, and many more.
Forget about the practices of the past and let your company enjoy the life-changing benefits of automated invoice processing. Contact Klippa or schedule a free demo, using the form down below.