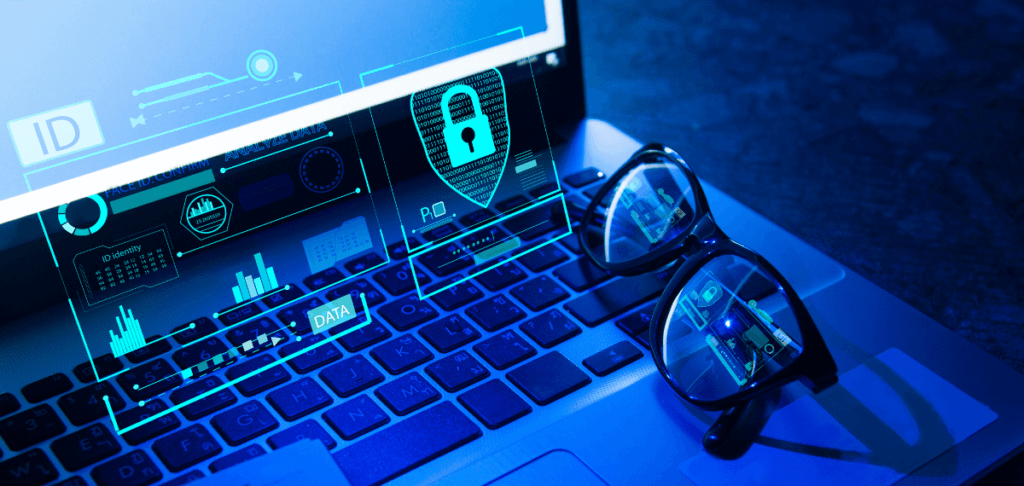 The development of Web 2.0 and now 3.0 have created many new business opportunities through social media and blockchain technology. With that, also new avenues for crimes and fraud are born. According to PWC's Global Economic Crime and Fraud Survey 2020, almost half of the companies worldwide experienced at least one fraud, with the average being 6.
The same report estimated that the frauds cost companies globally US$42 billion per year. Despite these numbers being very shocking and the threat is growing, not all companies take adequate measures to prevent fraud. Only 56% of the surveyed companies took action by investigating their worst incident.
So how can companies ensure they are well-equipped to protect themselves against fraud? What technologies can help them prevent fraud in the earliest stage possible?
Follow our practical guide to financial fraud prevention to guard your organization against such scams.
The current state of financial fraud
The current pandemic has forced many businesses to either close or adapt their business model to be more online-focused. Still, not all companies have the technical knowledge to keep up with the changes within the online environment. This creates a particular vulnerability for financial fraud to take place.
To illustrate the severeness of the current state of financial fraud, we have collected statistics from several sources: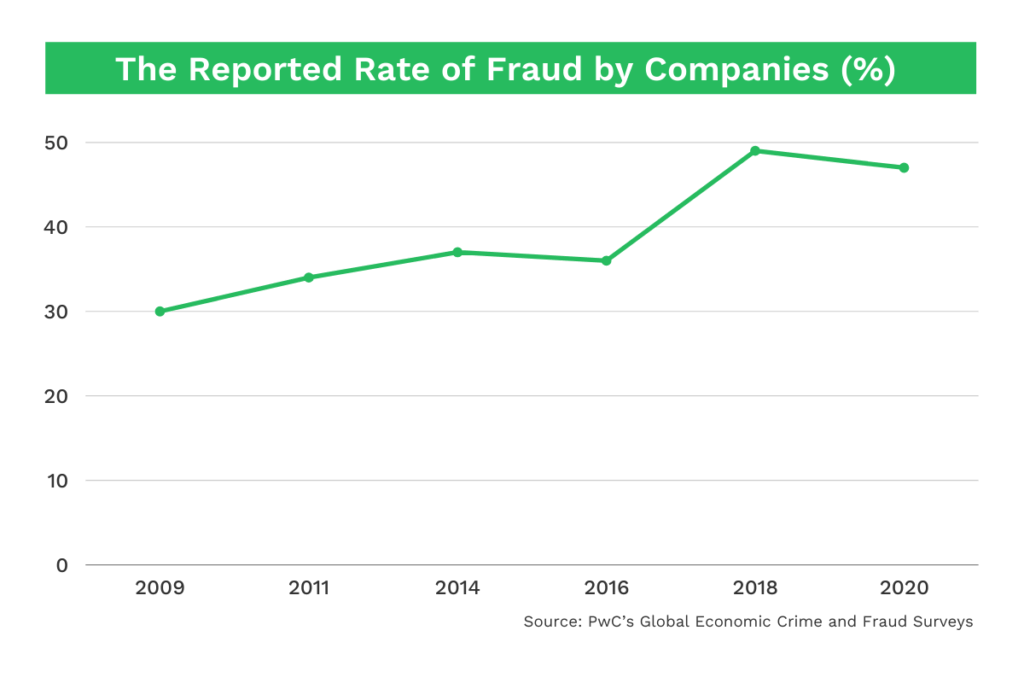 In order to prevent fraud, the first step is to be able to identify different types of fraud. Below we have listed a few examples of financial fraud.
The types of financial fraud
Fraud can be committed by people or parties inside and outside an organization. The types of fraud that we often come across in various industries are business identity theft, invoice fraud, and expense fraud.
Business identity theft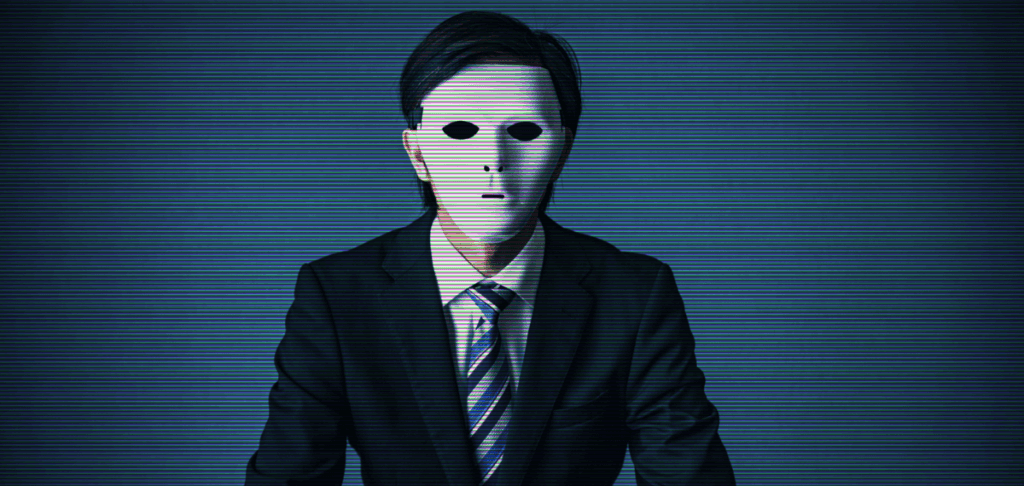 Business identity theft, also known as corporate identity theft, refers to a criminal party that impersonates a company's identity to sell goods, to apply for governments' support funds or loans from creditors for financial gain.
By stealing a company's identity through phishing, email interceptions, or abusing their relationship with employers, thieves can get information (registration number, invoice number, client number, etc.) about the business relationship between parties.
The extracted data can then be used according to your needs, such as passing it on to any desired system. With the acquired knowledge, they are able to create convincing fake invoices and establish a line of credit with retailers, investors, or banks to gain money.
Even governments are not safe as fraudsters have been successful in receiving support funds from governments in times of crisis.
Both external and internal stakeholders can engage in this type of fraud as long as they can get their hands on essential information and invoices.
Invoice fraud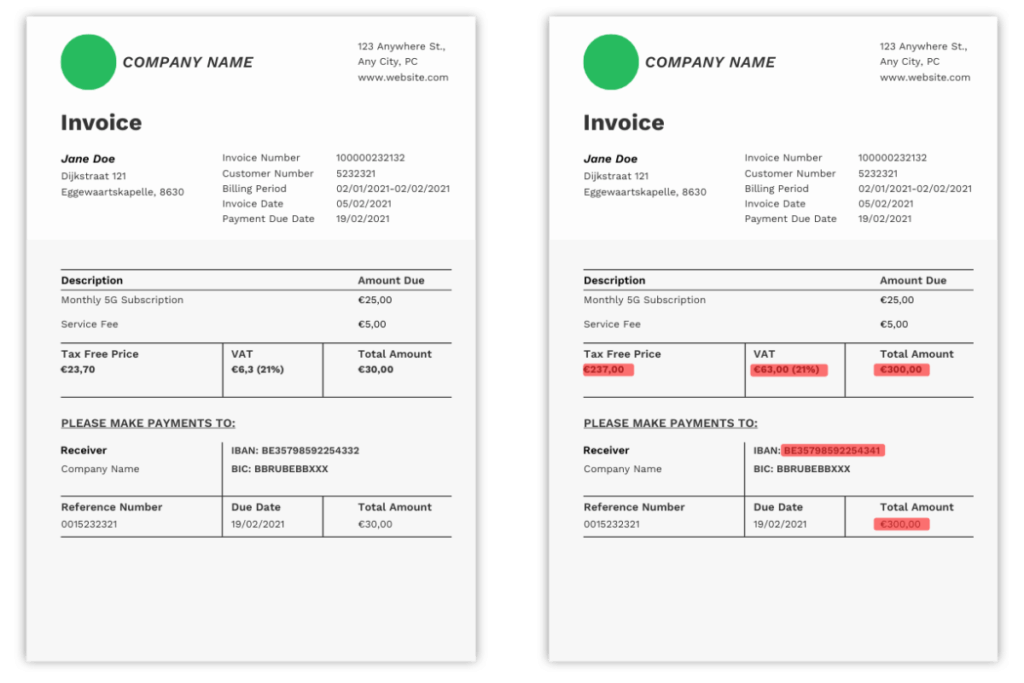 Invoice fraud is a type of fraud in which a fraudster changes the payment details to an invoice in order to deceive companies or individuals into sending the fraudster money.
Fake invoices are created when the fraudster has knowledge of the relationship between the buyer and the seller concerning payments. Recovering money from fraudulent accounts can be extremely difficult.
Many companies lose money to internal stakeholders, such as employees who participate in this fraudulent activity. As the employees have knowledge and access to essential information, they can exploit the company's policy or process vulnerabilities.
In one case, CPC Commodities lost more than $765,000 to an accountant as he created duplicate accounts payable invoices from vendors over a five-year period.
Expense fraud
Expense fraud is an attempt at inflating reimbursements of an organization in the form of expense claims. This type of expense fraud occurs when an employee knowingly takes advantage of the employer by engaging in inaccurate claims.
Not all expense frauds are done intentionally, as there are cases with simple human error or missing receipts. The most common scenarios of reimbursement fraud submitted by employees:
Items that were never purchased are being claimed for
Auto mileage reimbursement while carpooling
Reimbursement of unused trips
Using "business dinner" as a way to dine with friends and family
Overstating the expenses
Duplicating receipts for reimbursement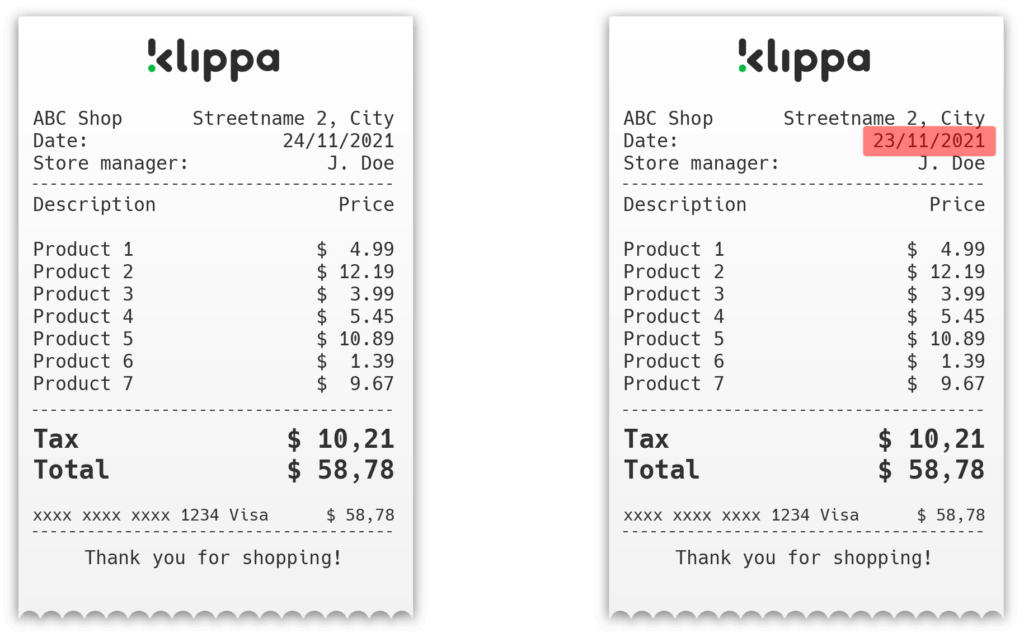 Whether the fraud is small or large, they drive up the costs of a business and cut into a company's bottom line. Below you can find a couple of cases that describe how fraudsters managed to exploit the vulnerabilities of different entities.
Financial fraud cases
Even some of the most well-known companies globally are not safe from fraudsters. Frauds are hard to detect as often the losses incur a slow drain of funds or a drop in profitability that can spread out to several years.
To illustrate this, we have prepared two financial fraud cases for you: one from KIA Motors America and the other from PACE Worldwide.
Invoice fraud: KIA Motors America
In this case, where KIA Motors America lost nearly $1 million, the fraud was committed by an employee in the accounting department. With the help of her family members, she set up a fictitious business name and opened a bank account under it.
After the initial set-up, she altered a fresh copy of a valid U.S Customers Services invoice by changing the date. Additionally, she replaced the bank routing number with the bank account opened before under a fictitious business name.
As the fabricated invoices were processed by the accounts payable department without further questions, KIA wired $889,000 in total to the bank account set up by the fraudsters before they ended up being caught and sentenced to prison.
This case shows how easy it is to alter documents. Nowadays, it is even more frightening with all the available technologies.
Expense fraud: PACE Worldwide
In the case of PACE Worldwide, a couple used forged receipts and invoices in a seven-year scheme between 2002 and 2009 to engage in expense fraud. They managed to receive $1 million from their employer until they were found guilty.
How did they do it? They simply used corporate credit cards for personal gains and submitted reimbursements to PACE, falsely describing them as "business expenses". Additionally, they fraudulently billed PACE Worldwide and PACE Europe Ltd. for their "business expenses" to obtain reimbursements twice.
As executives of the organization, both took advantage of their position, which made the scheme successful. One of them repeatedly fabricated invoices and receipts in a way that made them look legitimate to be considered as business expenditures.
To avoid these types of cases, having expense management policies and automated document processing in place, can go a long way in spotting duplicates and detecting fraud.
How can organizations prevent financial fraud?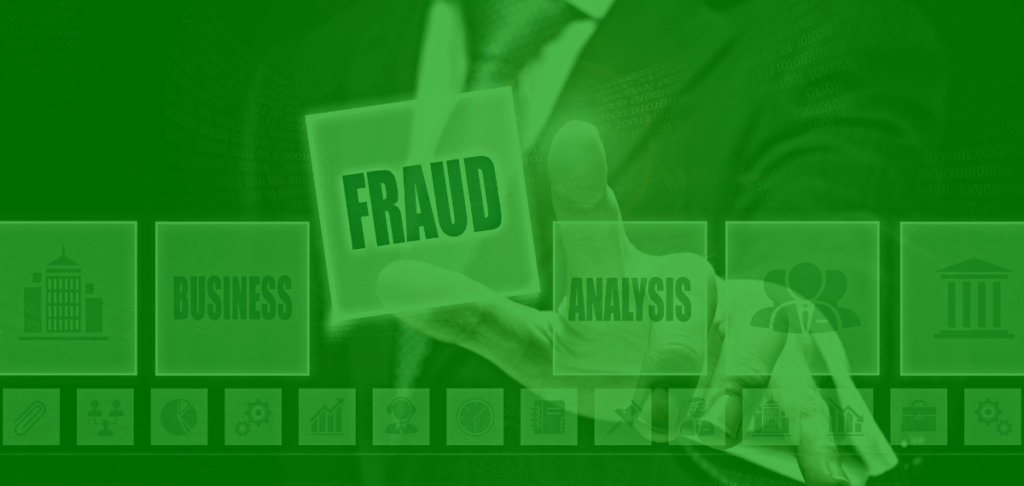 Undoubtedly, companies must pinpoint where the losses come from and prevent fraud before shrinking the bottom line. Fighting a battle against financial fraud can be dreadful as fraudsters are organized and know how to exploit an organization's vulnerability using sophisticated techniques.
There are certain measures that organizations can take to protect themselves proactively. These preventive measures can save a lot of time and money in the short and long run.
Here are five ways you can protect your company.
Anti-fraud training
One way to prevent fraud is to provide anti-fraud training without any exemptions based on an individual's position within the organization. The training should aim to raise awareness about the ethics, policies, and code of conduct revolving around fraud.
The employees and the management need to know what is considered fraud and how to act when fraud is suspected. It is essential to have mandatory attendance with regular updates and refresher sessions to create practical training.
By having a zero exemptions policy for the training, organizations can create an anti-fraud culture, where every individual is equally responsible. When leaders follow the rules, employees will do the same.
Such a culture can only positively impact the results and lead to a decreased risk of fraud.
Selective auditing
Having selective auditing to monitor expense claims, especially for new hires, is a great way to verify compliance with the expense policy. The auditing could be performed every 5 or 10 expense claims, for instance, to correlate receipts with specific events or trips.
Frequent monitoring allows management to identify and report fraudulent activities much more rapidly. For further inspection, the expense claims and payroll accounts can be examined for unusual transactions, amounts, or irregularities.
This preventive measure is a proactive way to assess fraud risks. Often, technology and tools can help the management identify the vulnerabilities that are not feasible with human effort alone.
Examination of Documents
The passive fraud prevention methods may consume less effort and money to implement. However, the fraud schemes can drag a long time before being detected, thus draining a company's bottom line.
A proactive fraud prevention measure, like document examination, can lead to a shorter time to discover a fraud as well as a lower median loss associated with it.
Replacing the manual examining of receipts, invoices, and other documents related to expenses with a digital approach can reduce the costs of human error and prevent fraud.
With the digitization of documents, organizations can examine the records more efficiently with the latest technology available. After all, there is only so much that the naked eye can detect.
Reporting mechanism and a hotline
As the cases above illustrate, many of the financial frauds are committed by internal stakeholders. A reporting mechanism and a hotline help organizations detect fraud and reduce losses faster.
According to the Association of Certified Fraud Examiners (ACFE), most tips regarding fraud by employees are received from other employees. However, also a significant amount of tips were received from external stakeholders such as customers and vendors.
Therefore, educating both internal and external parties about anti-fraud measures, mechanisms, and an organization's hotline increases the likelihood of fraud detection through tips.
It is essential to know that crafting reporting mechanisms and educating internal and external stakeholders can consume time and effort.
Even so, it is likely to save your company a significant amount of money in the long run.
Implement the right technology
Fraudsters are becoming more and more sophisticated. As they can gather real-time data about vendors, suppliers, and partners through various methods, preventing fraud requires implementing the right technology.
Currently, most fraud is detected with the help of artificial intelligence. AI solutions can automatically detect tampered images and documents by inspecting them visually and examining their Exif data.
Manually processing documents such as invoices and receipts, leaves many fraudulent documents undetected. There is a limitation to what naked eyes can detect, especially when processing a large volume of documents.
Therefore companies must automate their document processing with an AI solution to stay one step ahead of the attackers. This is where Intelligent Document Processing (IDP) solutions and OCR software can help prevent fraud.
Fraud prevention with Klippa DocHorizon
While the number of fraud and fraud attempts is increasing, there are tools that organizations can deploy to prevent deceits. One of them is Klippa DocHorizon: a platform built to detect forged invoices, fake identities, fabricated receipts, and photoshopped documents, all the while automating your document processing.
With Klippa DocHorizon, organizations can save time, reduce costs, and prevent fraud.
Ready to protect your company against financial fraud with the help of Klippa DocHorizon? Let us aid you in the fight against fraud. Plan a free demo with our experts via the form below or contact us if you have any questions.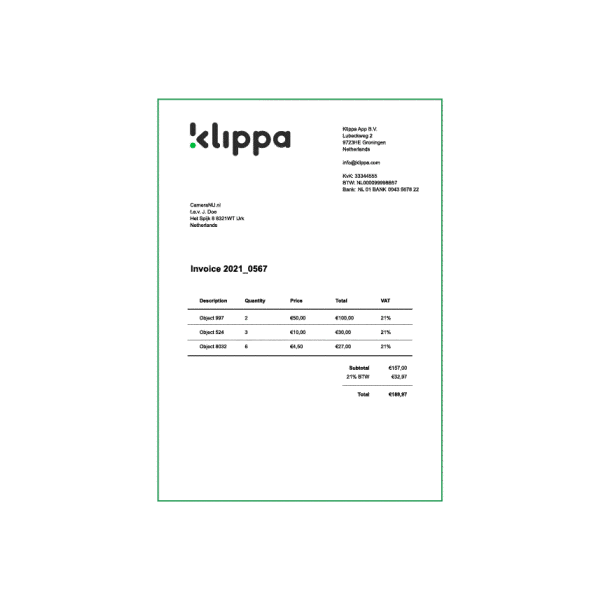 ---