OCR software is one of the great innovations in the digital business world. OCR stands for Optical Character Recognition that helps you convert any kind of image containing typed, handwritten, or printed text into machine-readable text data.
The need for OCR software is constantly growing. Some people want to convert paper documents to searchable PDF files, while others want to extract certain information using OCR software, with the goal to automate administrative tasks.
There are many use cases and also many vendors to choose from, so it's important to compare the features before making a decision. To make your life easier, we have created a list of the best OCR software in 2023.
---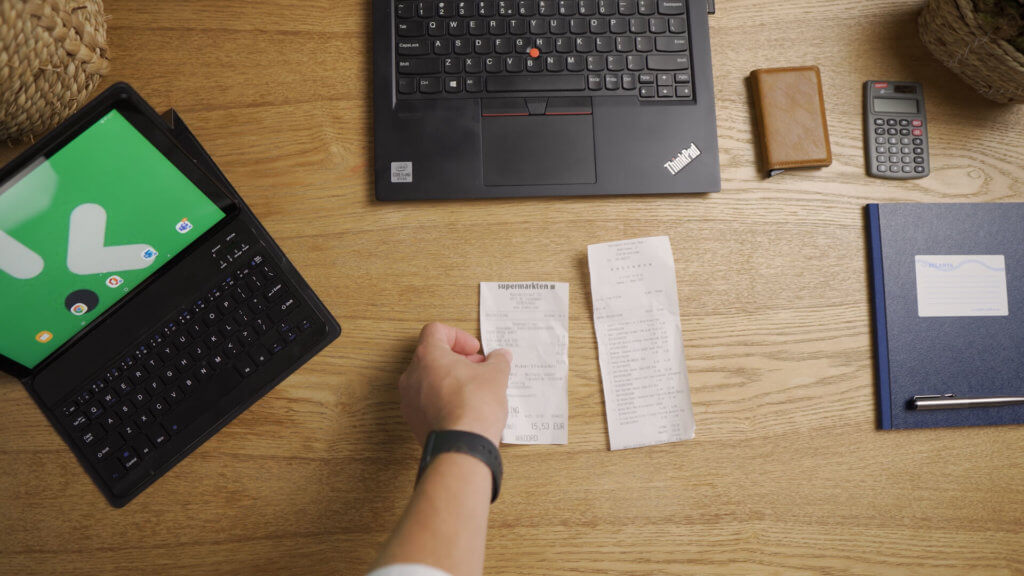 The best Optical Character Recognition (OCR) software
We have conducted extensive research on the best OCR software vendors and have selected the top software available in the market today. All of these products are easy to use and have exceptional customer support. We are confident that you will find an OCR solution that is perfect for your business needs. Let's start.
Convert images and PDF files to text with Ocr.space
Ocr.space is a cloud-based service that uses Optical Character Recognition (OCR) to convert scanned documents or smartphone images containing text into editable PDF files in a few simple steps. This OCR solution allows you to upload images or files in PNG, JPG, WEBP, or PDF formats. Another option is to paste your URL to the source file.
You can also:
Detect if the image is oriented correctly and auto-rotate it if necessary.
Scan your receipts or use a table recognition system.
Auto-enlarge your document for the best quality.
Create, edit, convert a PDF file making it searchable.
Select which out of two OCR engines to use.
OCR.space's free Online OCR, PDF OCR, and OCR API
If you have a small number of documents to scan, consider using the free online OCR service. There's no need to register your account. If you need to convert a multi-page document that includes many columns, PDF OCR is a good solution. However, there is a file size restriction in both cases- your files shouldn't be heavier than 5MB.
If you are interested in quick and efficient document processing and need to work with many files, try the free OCR API that automatically extracts text in JSON format. To avoid spamming, you can send up to 500 requests per IP address within one day.
OCR.space's paid PRO PDF and PRO OCR API
If you are interested in converting multi-page PDF documents with a faster response time, consider subscribing to the PRO plan. This upgrade will allow you to convert more documents and upload images or PDF files of any size, removing all limitations of the free version. The PRO OCR API is also available as locally installable software.
Pricing
OCR.space has four API plans based on different parameters like requests per month, speed, rate limit, and more:
Free plan
PRO plan for $30/month
PRO PDF plan for $60/month
Enterprise from $299+/month
---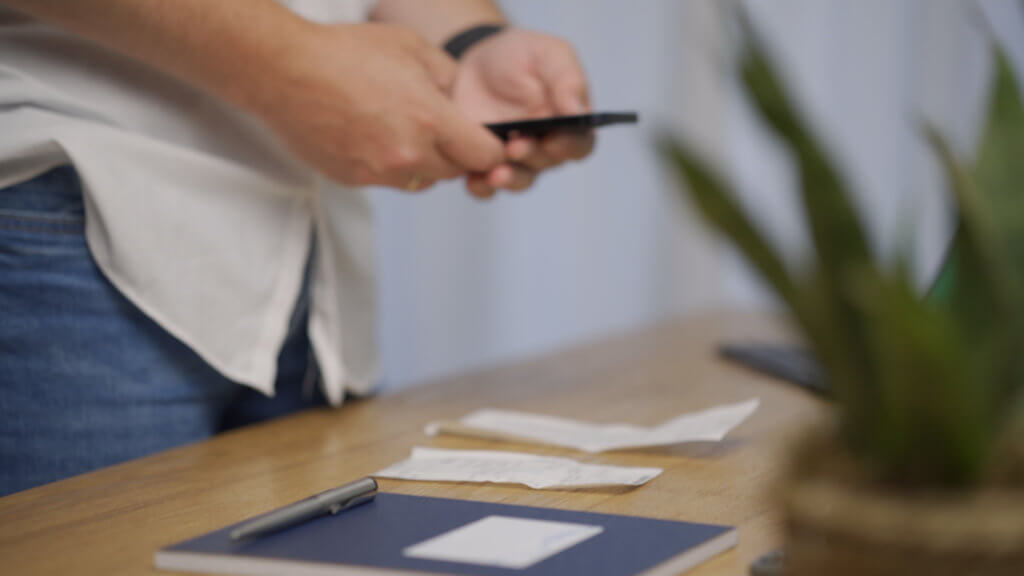 Microsoft Office Lens OCR tool for text recognition
Let's say you're at work. You have a plain text document, but you need it in digital form, and you don't have enough time for manual tasks. Microsoft Lens is a free app that you can use on iOS and Android devices as a portable scanner. It takes photos of your documents, improves and converts them to digital documents by using OCR technology.
With your phone's camera, you can capture images of:
Documents
Whiteboards
Business cards
Receipts
Menus
Signs
Handwritten documents
QR codes
Sketches, drawings, and similar
Also, you can import an existing photo from any photo album on your device. Microsoft Lens then creates and improves your digital documents, making them look like scanned images, and gives you the ability to save, share and collaborate, edit, or export them. Images can sometimes be a little blurry, but since it uses Optical Character Recognition, Microsoft Lens improves the readability and clarity of your files.
Microsoft Lens app will extract text or tables from your documents, making them searchable and editable. To use the OCR features, you need to add your scanned documents or images to Word, PowerPoint, Microsoft OneNote, and OneDrive. You can save them as PDF files and open them on any device. Also, you can send your documents in an email.
This app is helpful in many ways, and you can apply it in everyday situations.
---
Docsumo's online OCR tools
Docsumo's free online OCR tool is a quick and efficient way to extract data from images or PDF documents. It uses deep learning to create machine-readable text. This tool makes scanning and data extraction easy, no matter how complicated the layout is.
The great thing about Docsumo's free tool is that it extracts data accurately and doesn't require you to set up anything manually. You just need to upload your file, and then the software does the rest. Currently supported file formats are PDF files with up to four pages and scanned images, with file size up to 20MB.
When you upload your file, the software will process it, extract text and let you review it, so you can make changes if needed. If everything is fine, you can download the converted file in multiple output formats such as JSON, Excel, CSV, or TXT. When you finish the process, Docsumo removes the input file from their server.
You can use this OCR software without any limitations, and you don't need to leave your credit card details. Bonus features include table extraction and converting PDF files to Excel, also for free.
Docsumo's OCR Chrome extension
Have you ever found an image or piece of web-page content that you wanted to copy, save, or share with someone else? But then you realized that you don't have the right tool to do that?
Docsumo's OCR Chrome extension will allow you to take screenshots and extract text from images converting it into editable text that you can review, copy and share with your coworkers, friends, or family.
Docsumo's use cases
Docsumo will help convert documents such as:
Invoices
Bank statements
Insurance certificates
Real estate documents
Rent rolls
Logistics documents
Energy and utility bills
IRS form 1040
---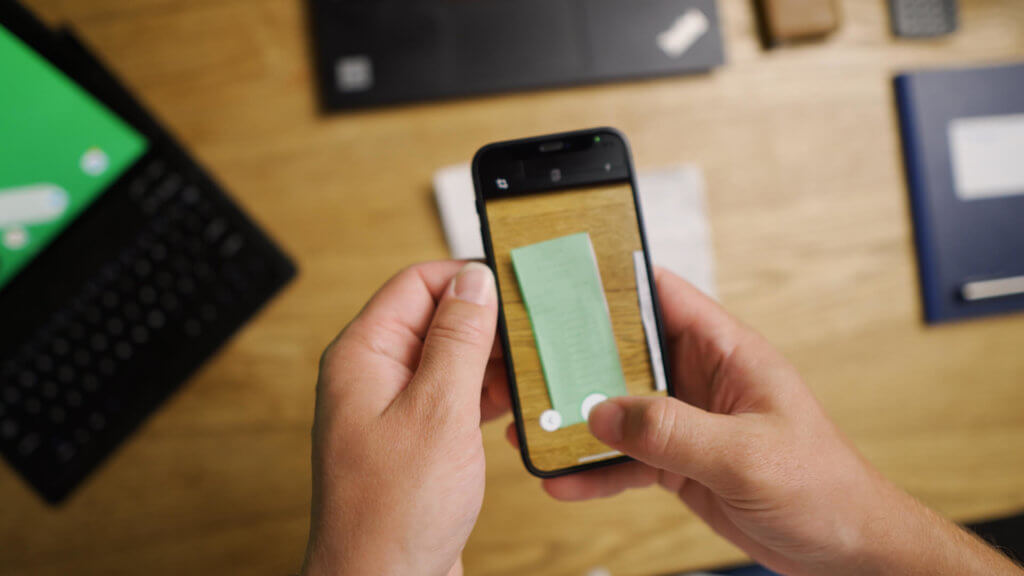 ChronoScan OCR suite for document scanning
ChronoScan is a cloud-based solution that you can also use as Windows desktop software. It helps you optimize your business processes by automating your workflows. ChronoScan is a multipurpose software designed to help you with document scanning, document processing, document management, and OCR data capture and extraction. This complete suite for data entry works in a fast way, enabling you to organize your documents in minutes. It's useful for batch processing if you have a challenge with high-volume documents.
You can also convert documents and extract data from PDF files, upload documents to the cloud, or export files and data in XML or CSV file formats to your CRM and ERP.
It is the best OCR software for:
People who scan documents every day.
Companies that do a lot of document processing.
Businesses that offer scanning services to other companies.
You can use ChronoScan free of charge for non-commercial use, or you can purchase the software to get licenses:
Professional version for €295
Advanced version for €595
Advanced pack for €1169 (includes Advanced version + Nuance Plug-Ins + 2 hours of initial configuration)
For the enterprise version, you can request a quote on the official website
---
Symphony OCR makes your document text searchable
Symphony OCR is a part of Symphony Suit. The software goes through your document management system, trying to find all image-only PDF and TIFF files. Then by using a built-in OCR feature, it converts your files to fully text searchable PDFs adding an invisible layer of plain text over the image.
You can apply this feature to:
PDF documents
TIFF files
E-faxes
Email attachments
Legacy files
When the tool finishes with processing and converts your files, you can search them by keyword to find the one you need. Also, you can completely avoid retyping with the ability to select, copy and paste text from the document.
You can integrate Symphony Optical Character Recognition with the following platforms:
Worldox®
NetDocuments®
Windows®
Folder Structure
PracticeMaster®
LSSe64
Time
Matters
SharePoint
ShareFile
It is the best software solution for financial advisory and legal firms.
---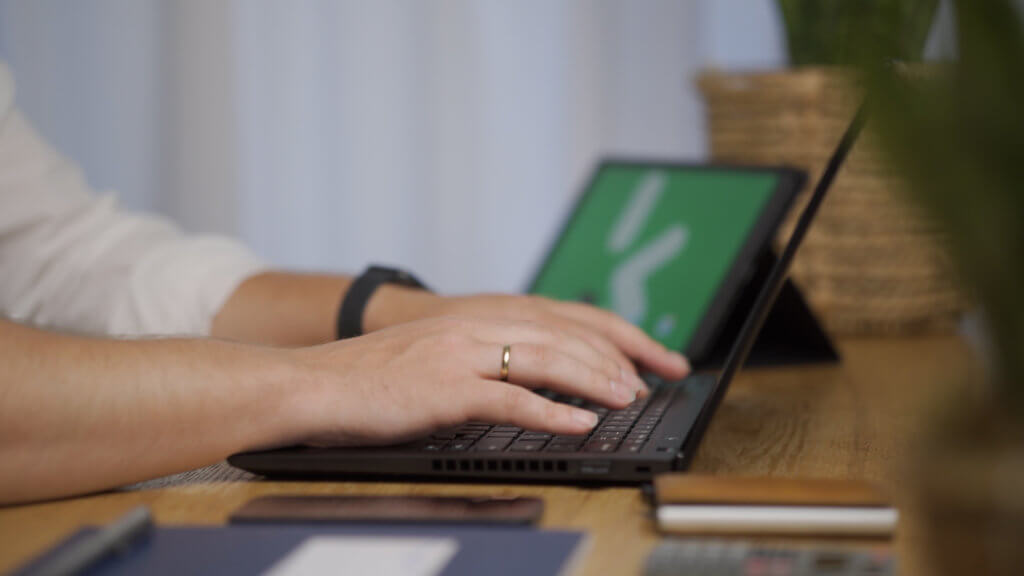 SoftWorks Optical Character Recognition solution
SoftWorks AI-based OCR technology helps you convert documents and extract data from PDF files or images. It can eliminate manual data entry tasks by utilizing advanced computer vision techniques, which help companies process and analyze data to extract information of business value. It allows businesses to significantly improve the accuracy of their data by using a complete data capture solution such as SoftWorks. It helps you:
Automate document classification
Speed up data extraction
Improve document processing
Capture data accurately and efficiently
SoftWorks AI-based OCR technology supports a variety of input formats. It can identify text even if it's hard to read and help you improve the quality of scanned documents. That means fewer recognition errors and faster performance. With the help of computer vision algorithms the software analyses the processed page to understand every feature of an image or document such as tables, graphs, and similar content.
This software (OCR) is best for mortgage and financial service providers.
---
OnlineOCR web-based solution
OnlineOCR is a web-based solution for extracting text from scanned documents such as PDF files, faxes, photographs, or digital camera captured images. It is a fast and efficient way to turn scanned files into searchable and editable digital documents. It provides multiple output formats such as Adobe PDF, Word, Microsoft Excel, RTF, HTML, and TXT.
It is perfect for businesses with large amounts of paper documents that need to be converted into digital files or companies that want to improve their document management system and preserve their old records.
The default language setting is English, but the system can recognize 46 different languages. The software can also process documents written in more than one language.
You can use this tool without registration, but in that case, you can only convert 15 images per hour. On the other hand, if you register your account, you'll have access to features such as:
Large images recognition
ZIP archives and multi-page PDF
Multiple languages recognition
File conversion to editable formats
OnlineOCR has some bonus features like automatic photo rotation and full-page deskew on images. Also, it can create black and white images from color and grayscale image files.
---
Amazon Textract
Amazon Textract is the perfect solution for businesses that need to extract printed text from any type of document in minutes. This software uses artificial intelligence to extract structured data as well as unstructured data from your files.
You can simply upload any document type, and the software will automatically process and extract text from it. Amazon Textract machine learning models have been trained on millions of documents so they can recognize anything you upload.
It is an innovative software that uses machine learning and OCR technology to accurately read and process all types of data within a document without any manual effort saving you time and money in the process.
The software recognizes English, Spanish, Italian, French, Portuguese, and German languages and currently supports PNG, JPEG, and PDF formats.
Here are some examples of how it's used. You can:
Easily import your documents and forms into any business application.
Create smart search indexes
Create and automate document processing workflows
Maintain compliance by organizing and managing your document archives.
Use Natural Language Processing (NLP) and machine learning for text extraction.
Classify your documents
It is best suited for businesses that offer financial services, public sector or healthcare, and life sciences.
If you want to test the software, you can start a three-month free trial which allows you to analyze up to 1,000 pages per month using Detect Document Text API, or up to 100 pages per month with Analyze Document API or Analyze Expense API.
As for the paid version, the pricing depends on the number of pages you want to process and the API you would like to use. You can find all relevant information on the pricing page of the official website.
---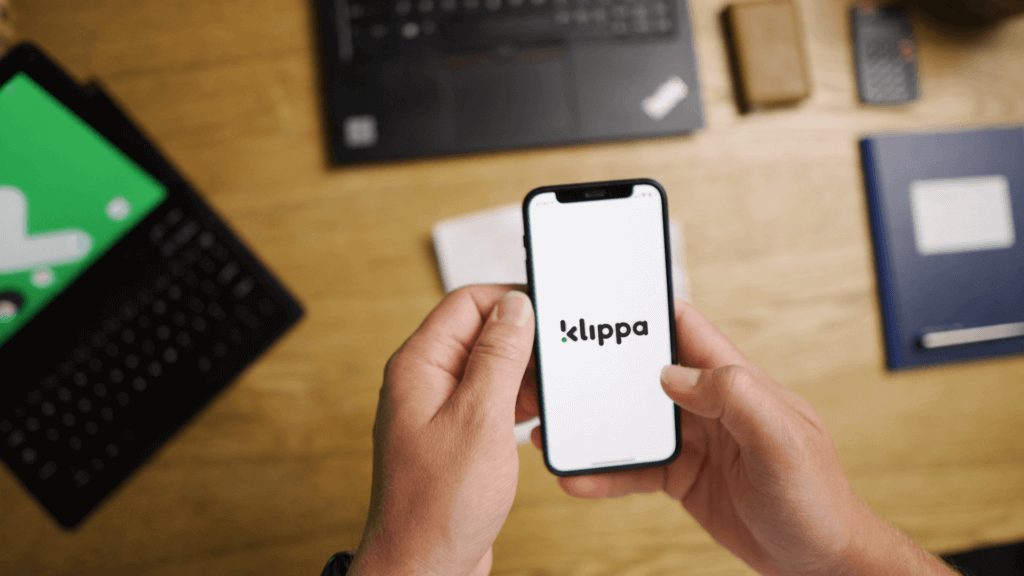 Klippa's OCR software
End manual data entry, reduce errors and prevent fraud with Klippa's OCR software! Klippa's solution will help you save up to 70% of your current processing time and enable you to save up to 60% of your budget, positively influencing your ROI!
Powered by machine learning, the solution helps you capture, recognize and convert scanned documents such as receipts, invoices, contracts, and passports into structured data automatically.
Klippa's solution allows users to:
Submit their files anytime and anywhere via app, web and email.
Process their documents within seconds with increased accuracy.
Process PDF, JPG, PNG and other file formats.
Convert files to JSON, PDF, XLSX, SCV, UBL or XML.
Processing documents from many different countries and languages such as Spanish, English, German, Dutch, French, Italian, Swedish, Danish, Finnish, Norwegian and more.
How does it work?
Send your documents to Klippa's API.
Let Klippa convert your documents to text, classify the document type, identify data fields and convert documents to structured data.
Receive all the data in a few seconds.
You can use it to convert the following types of document into machine-readable data:
Financial documents
Identity documents
Legal documents
HR documents
Medical documents
Logistics documents
Klippa's OCR software is the best solution for:
Software and SaaS companies
Logistics and transportation
Legal
Automotive
Banking and financial services
Retail
Public sector
Courier, Express and parcel
Marketing and loyalty
Travel industry
Healthcare
FMCG and CPG
Customs
Manufacturing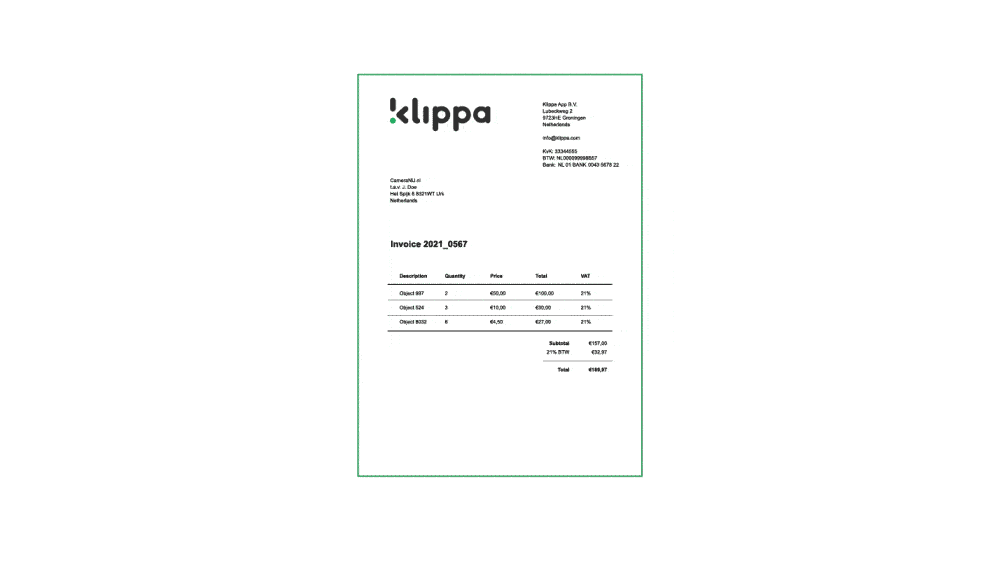 Benefits of Klippa OCR API
The API by Klippa is a good choice for larger corporations for a few reasons. It has great documentation, provides business and tech support, offers custom hosting locations, SLAs and is suitable for high volume, complex use cases. Also, you can integrate it into your own solution.
Klippa helps you get the best accuracy by extracting information that is on the document, and adding and verifying additional information with third-party data sources. Klippa's OCR solution can be used for many different use cases and deliver a high level of automation.
It is well documented and even has an implementation video. It was built by developers for developers, so you can get started quickly.
The solution is best described as an Intelligent Document Automation platform, with OCR and machine learning at its core. Many software companies such as accounting, ERP, VAT reclaim and loyalty companies use the Klippa OCR solution.
---
Do more in less time with best OCR software
The best OCR tools have changed the nature of the workplace by enabling workers to do more with their time while freeing up from manual, repetitive tasks.
OCR software is an essential component of any document automation or business intelligence system. It allows for the scanning and analysis of documents, whether they are paper or digital, and helps automate tasks or streamline processes.
It is useful for both small and large businesses as it provides the possibility of fast retrieval of scanned documents that would have been difficult to retrieve through any manual process. The OCR software reduces the time of searching through the documents, as well as the time of receiving valuable information for your business.
It improves the accuracy and the conversion rate of the scanned content into a digital file and increases the efficiency of the business processes. With an efficient OCR software, it is easy for the organization to keep a record of business documents, as well as the documents that are not available in the database.
---
Choose your OCR software wisely
Choosing the right OCR tool for your business is essential for maximizing productivity and efficiency. Since the benefits of Optical Character Recognition are many, take your time to make a choice.
While there are plenty of OCR programs available on the market today, not all of them will deliver what you need from a business perspective. Avoid these common mistakes when choosing an OCR solution for your business:
Don't think that all OCR software are the same.
Avoid relying solely on price when making a purchase decision.
Don't assume that the OCR tool will do what you want it to do, and don't assume it won't either.
Don't ignore highly-rated solutions just because they're new to the market or unfamiliar to you.
Don't choose an OCR solution that doesn't work with your needs or resources.
Don't choose solutions without an easy-to-implement API, detailed documentation, or tech support.
Don't just focus on what you need now. Think about the future.


---
How to compare and select OCR vendors
It's important to know what you want from an OCR vendor. To find the best company, you can use the following list of questions to determine which vendors are right for you based on your needs.
Has the solution's API been well documented? Does it have an API at all?
What languages does the OCR solution support? The more, the better.
What different document types does this solution provide? A wide range of document types is useful for future growth.
How many data fields can you extract with the app or solution? The more data fields it can find, the more valuable it is.
Accuracy is one of the most important metrics for achieving maximum automation. Aim for more than 80% accuracy to reach this goal.
What kind of customer service do they have?
What are the SLAs and guarantees the company offers?
Which hosting option are you looking for? Do you want to host it on-premise, on a private cloud, or public cloud? Can you choose the location?
What is the processing speed of the solution? A fast solution takes less than 5 seconds.
How does the solution work with a high volume of documents? Is it still fast enough?
Does the system have the capability to classify languages, document types, quality, and other characteristics?
When you need to verify information, does the solution check it with a trustworthy third-party source? For example, does the company verify the existence of a certain bank account, or does it check if the VAT number is valid?
Does the optimization process have algorithms in place to improve image quality and accuracy?
Does the OCR solution have algorithms in place to detect fraudulent activity?
The tool should also have the ability to integrate with third-party tools such as UIpath, Mendix, and Automation Anywhere.
---
Klippa can be a number one solution for all your needs
Klippa is a smart solution for your business because it can help you streamline tasks and improve your efficiency. It can help you cut back on administration time and costs and let you concentrate on the things that matter.
Klippa can help you save time by automating simple tasks and keeping your team on the same page so that everyone is working together to achieve the same goals and help your business grow.
Powered by machine learning, this software can instantly work on your documents anytime and anywhere.
The road to digitizing your paper documents doesn't have to be long and hard. Let Klippa help you turn your paper documents into structured machine-readable data. With Klippa, you can digitize your paper documents in no time at all. Get rid of paper for good and start saving time, money, and space. Book an online demo below and find out more!
---