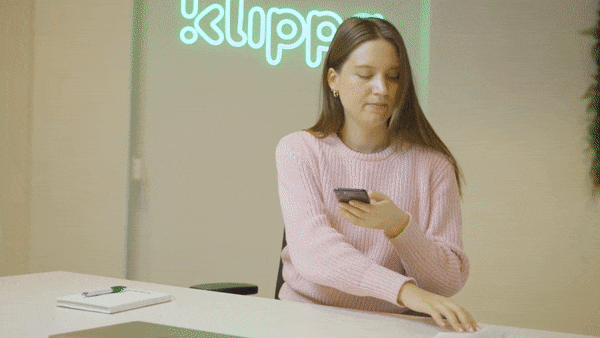 Did you know that a loyal customer spends 67% more on average than a new customer? And that it costs five times as much to attract a new customer than to keep an existing one? These were the outcomes of studies conducted by Invesp and Bain & Company.
Many leading brands, such as McDonald's, Nivea and Pampers, are well aware of these facts and reward their customers through receipt-based loyalty programs.
The concept is quite simple: customers submit their receipts as a proof of purchase, the receipt data is checked, and if all conditions are met, the reward is released.
In this way, brands receive valuable customer insights into the who, what, when and where of their end customers. This information helps them to better understand customer behavior and consequently drives marketing efforts.
However, if a loyalty program is very successful, companies may end up with hundreds or even thousands of receipts per day. These receipts need to be checked, verified for authenticity and the receipt data needs to be entered into a system or database. This so-called receipt clearing is not only time consuming, it also results in long turnaround times.
Customers don't care about this and expect a quick response. With the rise of technology, they are used to instant replies and they most certainly don't want to wait for days and days for their rewards. Does this sound familiar to you?
If so, then make sure to keep on reading. In this blog, we will discuss the different forms of loyalty programs, how you can automate them with intelligent software, and finally provide you with a use case of one of the largest breweries in Germany: Krombacher.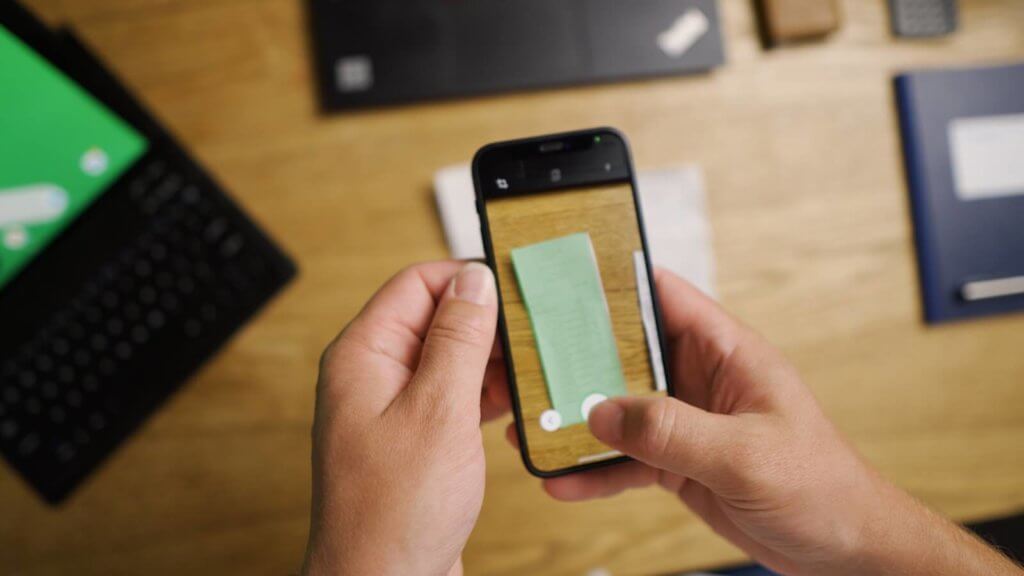 The different forms of rewards
A loyalty program aims to nurture the trust your customers have in you. This nurturing can take place in several ways: rewards in the form of points on a loyalty account, cashback promotions, or so-called Buy One Get One Free (BOGOF) deals. The most common forms are cashback promotions and loyalty points.
Cashback programs are often used by e-commerce websites, FMCG and electronics brands. It allows customers to receive a refund of a portion of their purchase. Often, the cashback is between 5% and 10% of the total price.
The other campaign type makes use of a loyalty account, on which customers accumulate points. After reaching a certain amount, they are entitled to a discount on a product, a gift object or any other reward granted by the brand.
How do loyalty programs work?
Every loyalty program consists of a few basic steps, for both you and your customers. Typically, they include:
Customers buy a product or a selection of products, including the product that is part of the loyalty campaign. They keep the proof of purchase (i.e. the receipt) and send it to you. This can be done by post or by digital means.
Then the receipt clearing begins. You have to read the receipt, extract the product lines, check the dates, the product(s) and the price of the product.
Next, you have to update your customer database with information provided by your customers: email addresses, names, surnames, and so on.
Finally, you need to determine and grant the reward once you have processed all the information.
These are the main steps of a loyalty program. When listed like this, they seem quick and easy to execute. In reality, however, you may have several hundred or even thousands of customers participating in your campaign daily. This increases and adds significantly to the workload of the campaign.

To give you a quick idea, you can expect:
A time-consuming process, requiring well over a dozen minutes per receipt.
Long turnaround times that delay not only your internal processing but also the delivery of the reward to your customers.
A high risk of fraud with double submissions of the same receipt or manipulation of the receipt (e.g. change of date, number of purchased items or total amount).
Lack of visibility into your campaign. Data is not cross-referenced so it is difficult to correlate purchases with other receipt data.
How can you automate loyalty programs with a receipt scanning solution?
Receipt scanning is one of the most effective means of driving automation in loyalty programs. It can automate many steps: from the submission of the receipt to the delivery of the reward. In between these steps, there are a multitude of processes to be performed. OCR and AI technologies can take care of most of them for you.
The video below shows you how a receipt scanning solution can automate your loyalty program:
If you prefer reading over watching a video, we also provide more details in text below:
It all starts with customers sending in their receipts. With a receipt scanning solution, they can simply upload a photo of the receipt with their mobile phone and enter it into the campaign. The software will automatically crop the document and enhance the image quality.

A common challenge with scanning receipts arises when long receipts are used. The resolution of the picture quickly becomes too low causing the text on the receipt to become unreadable. Klippa's receipt-scanning solution solves this by giving real-time feedback to users and increasing the default resolution from 1000 x 1000 to 3000 x 3000. This increases the clarity and sharpness of the pictures dramatically and allows capturing long receipts.


With the help of OCR, the software analyzes the patterns of light and dark that make up the letters and numbers to transform the scanned image into text. After that, data fields are identified and extracted like merchant names, dates, amounts and the line items (i.e. the products) from the receipt.


But that's not all. The software takes care of the receipt clearing as well. It can automatically check the line items to see if the promotional product is on the receipt and if the product was bought within the time frame of the promotion. In addition, duplicate and Photoshopped receipts can be flagged thanks to automated fraud detection.


If everything is as it should be, the software will automatically set up the release of the reward, which only needs to be confirmed by one of your employees.

Human-in-the-loop (HITL)
A receipt scanning solution can take care of both the scanning and clearing of receipts, without any human involvement. However, there is a shortcoming when it comes to such automated solutions. They are not completely error-free.
Machines are not as flexible as you might think. They are designed for specific tasks. If the input quality is poor or differs from the intended form, it can lead to errors or inaccurate output.
Human-in-the-loop (HITL) automation solves this problem and combines the best of a fully automated scanning solution with the best of human intelligence.
It first uses the power and speed of automated data capturing to extract the data from receipts, but for hard cases that an automated solution can't solve, a human verifies and completes the task.
In the end, this results in the highest accuracy possible.

Besides speed and accuracy, there are many other advantages that a receipt scanning solution can bring to your business. Let's compare it to manual receipt scanning to prove our point.
The advantages of automated receipt scanning over manual receipt scanning
The manual processing of receipts is an obstacle for every company: it's time consuming, tedious, error prone and above all very costly. Each negative point finds a solution in automation. Take a look at the table below and get a better idea of what you can expect from an automated receipt scanning solution.
Manual receipt scanning

Automated Receipt Scanning

Time consuming

Validating receipts and extracting data from them takes a long time, but with today's ubiquitous technology, customers expect a quick response.
90% faster

With the help of OCR, an automated solution scans, reads and extracts all the predefined information in 3 to 5 seconds.

High risk of fraud

It's often impossible to detect Photoshop activity or a duplicate receipt with the bare eye. Hence, it's possible to reward fraudulent customers.
Anti-fraud

A receipt submitted twice? A forged receipt? Don't panic, the software automatically detects if a document has been uploaded before or if it was Photoshopped.
Time pressure on your teams

With high document volumes and campaign dates to be met, time pressure, frustration and stress will definitely be felt within your team.
Employee and customer satisfaction

Faster turnaround times ensure happy customers and happy employees. Your team is relieved of repetitive tasks and thus relieved of frustration.
Significant costs

The time that each employee spends on manual receipt clearing is time that is not spent on core business activities. In the end, each manually processed receipt costs you a considerable amount of money.
70% Reduced costs

Processing receipts with software is much cheaper. The software frees your employees from repetitive tasks and allows them to focus on more value-adding tasks.

High risk of error

When you rely on a person to extract data from a receipt, mistakes are to be expected. Eye fatigue, distraction, and weariness make it a recipe for errors to occur.
Reliable

Scanning software extracts and processes data with an accuracy of over 95%. In the few cases it doesn't recognize a data point, a quick human check will do the trick.
GDPR Compliance

Optionnally, sensitive and confidential customer information can be anonymized. In any case, the process is 100% compliant with GDPR and data protection regulations.
With automation, the challenges of manual receipt processing completely disappear, which allows you to better organize and execute your marketing campaign.
In the final section of this article, we will show you how our receipt scanning solution is used in practice.
How Krombacher uses Klippa's receipt scanning solution for their loyalty program
Krombacher runs a loyalty program because they want to be in touch with the end customer. Krombacher products are bought in a store, but there is normally no direct contact between the company and the customer.
With the information from their customers' receipts, Krombacher can establish personas by studying the products on the receipts and analyzing the purchasing behavior. It helps the company to refine their communication, marketing, distribution and pricing strategies, specifically adapted to their clientele.

How does Krombacher use Klippa's receipt scanning solution?
Krombacher's campaign set-up is simple and effective – the two key ingredients for success. For every Krombacher product purchased, the brand offers its customers to receive loyalty points: €1 spent equals 10 points. Customers can convert these points into a reward of their choice.
We explain the steps in the process in more detail below.
Krombacher uses the Krombacher-app for their loyalty program.
In the app, customers can take a picture of their receipt with a Krombacher product on it, or upload one.
Then our receipt scanning solution gets to work. Duplicate receipts are immediately detected through image hashing, and we assess potential fraud through Photoshop detection and EXIF analysis.
When no attempts of fraud are found, the receipt continues to the next step in the process.
In the example below, the receipt is scanned and the software detects and extracts the purchase date 13/03/2021 from the receipt.
The purchase date falls within the validity range of the campaign, which means that it qualifies for a reward.
In this case, one product on the receipt named Krombacher's Fassbrause Zitrone is found, which is priced at €4.29.
This means that the customer receives 40 points for sending in his or her receipt.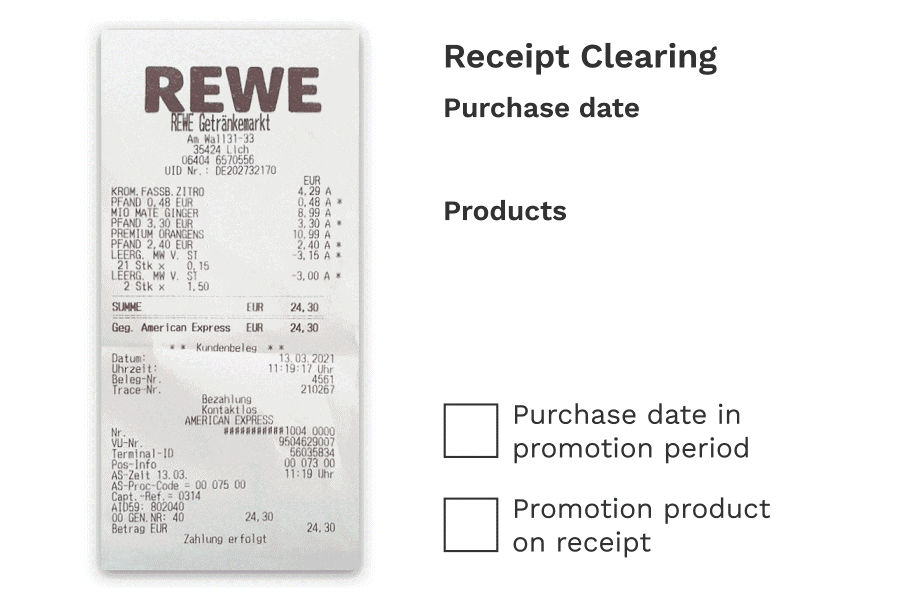 As you can see, the entire process is automated. We ensure that a good picture is taken, check it for authenticity, check whether Krombacher has actually been bought and at what price. We then report this back to Krombacher and indicate whether or not the person is entitled to receive a reward.
This does not only save Krombacher a lot of time and resources, it also gives them a clear image of what their end customers do and who they are.
What can Krombacher do with the data?
The extracted receipt data is converted into a machine-readable format called JSON. JSON is a standard text-based format for the representation of structured data and is commonly used for transmitting data in web applications. This makes it super easy for Krombacher to process the data in their database. You can find a simplified example of a JSON response below: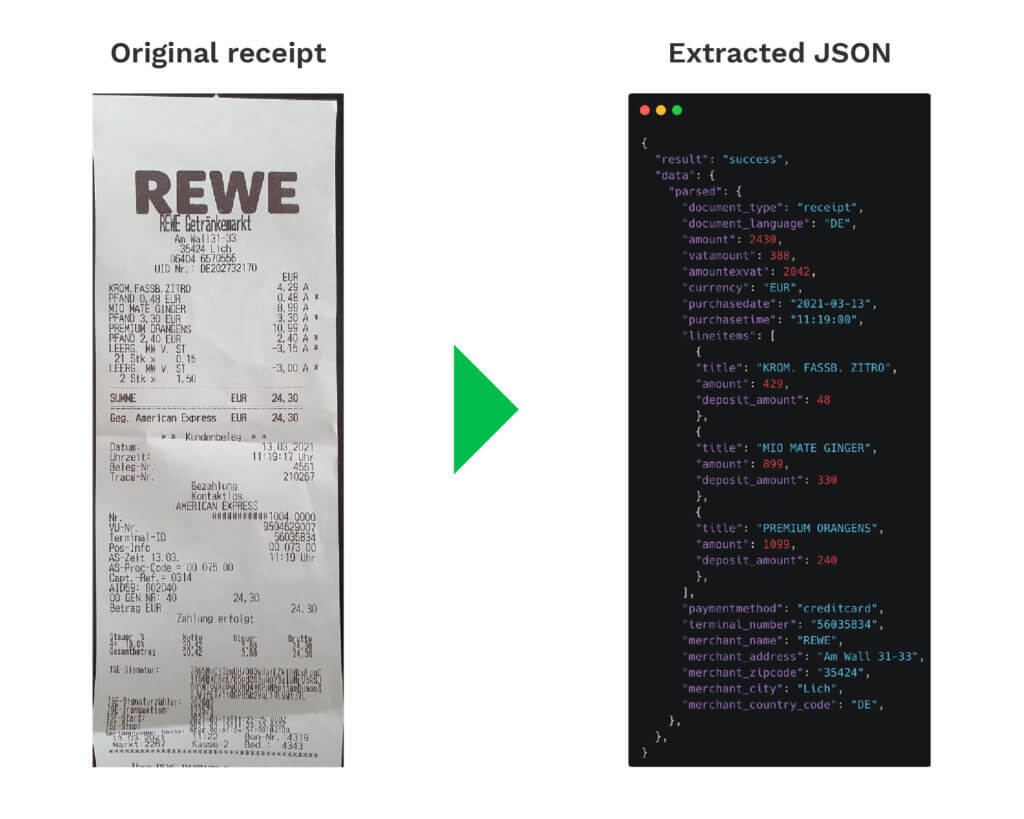 With this data, Krombacher can analyze their customers' buying behavior as never before:
Market basket analysis: Market basket analysis can increase sales and customer satisfaction. By using the receipt data to determine what products are often purchased together, Krombacher can optimize product placement, offer special deals and create new product bundles to encourage further sales of these combinations.
Establish personas: By analyzing the receipt data, Krombacher learns more about their customers and can finetune their sales and marketing activities for different personas. It will also help them identify and prioritize changes to their offering based on what customers need the most.
Geographical analysis: By extracting prices and shopping locations, Krombacher can correlate buying behavior and prices with the geographical location of buyers. In this way, the company is able to identify where to reinforce its advertising campaigns and where it seems to be most popular.
Automate your receipt scanning process with Klippa
Throughout this blog, we have explained the many benefits of our receipt scanning solution for loyalty programs: it saves time and money, improves efficiency, and increases customer satisfaction. Companies can take their data analysis to the next level and gain insights into their customers' buying behavior.
Klippa's intelligent OCR software takes care of the scanning and clearing of receipts, and allows you to extract, validate and process all the data you need. It can be easily integrated into your existing software via the Klippa API or SDK.
Since our solutions are built by developers, for developers, we know the importance of good documentation. All our solutions have the right documentation to implement them in mobile and web applications.
If you are looking for a receipt scanning solution that relieves your team from tedious and repetitive tasks, then Klippa is here for you. Get in touch with our product specialists via the demo form below!
 Schedule a free online demonstration
A clear overview of Klippa in only 30 minutes.