As a consumer, you may not handle invoices often, but companies do. In addition, if the company operates in an international context, it will have to deal with foreign invoices that can be difficult to understand. This is because each country has its own invoice format, so there are no common rules on how to make an invoice. In Klippa we have processed already many invoices and we keep doing it, and that is why in this blog we can explain to you where to find the information you need in a Spanish invoice.
Legal requirements for Spanish invoices
Spanish law establishes a series of obligations in relation to invoices, including the obligation to emit and submit them for commercial or professional transactions, the obligation to keep a copy of each invoice or the obligation to book all invoices, both emitted and received. As a general rule, invoices must be submitted to the Tax Authority (Agencia Tributaria) within four days. These and other obligations and the short presentation time make it even more necessary to understand perfectly what information is contained in a Spanish invoice.
What data should an invoice contain?
An invoice from Spain has certain requirements regarding its content. It must contain at least the word invoice ("Factura" in Spanish), the invoice number, the date, the seller's and buyer's details, the VAT number, the description of the items, the total amount and the VAT details. In addition, there are other items that can be optionally included, such as payment method, chamber of commerce number or discounts applied to items.
In the image below, we show one of our own Spanish invoices, in which we have marked all the relevant information. We have listed the important elements and how they are called in Spanish so that it is easier to find them when you have to process a Spanish invoice.
The word invoice, in Spanish FACTURA.
The invoice number appears as "Número", "Número de factura", "Factura nº", "nº Factura" or just "Factura".
The date appears as "Fecha".
Seller and buyer details usually appear on top, without a specific word referring to them, but listing the name, Tax Identification Number (NIF), address and sometimes other contact details.
Line items are the specific products that were purchased. Usually, you will find them in a table under the name "Unidades", "Artículos" or "Concepto".
Total amount is usually listed as "Total", "Total Factura" or "Total a pagar".
The VAT breakdown appears showing the total amount on which the tax rate is applied (listed as "Base Imponible") and the VAT percentage (listed as %).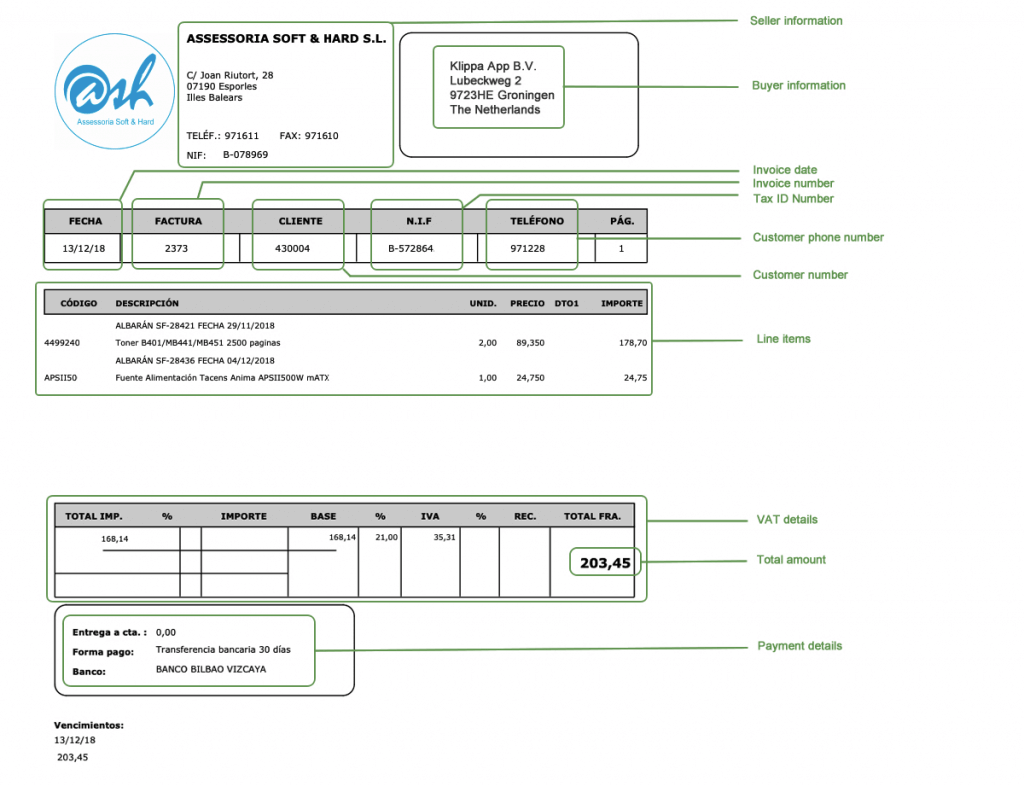 How Klippa can help you
At Klippa we are experts in processing invoices from all over the world. Spanish invoices are also our specialty. Our sophisticated solution is based on OCR technology, which can recognize and extract all relevant information from an invoice for you. This process, which manually becomes a tedious task, can be done in a matter of seconds with Klippa. This makes the Invoice processing software from Klippa highly valued by companies that need to process a large volume of invoices per day!
At Klippa we believe that you should spend time on your business, while we automatically process your invoices. Do you find yourself in the situation of having to process large quantities of invoices and other documents? Call us on +31 50 2111631 or send us an email at [email protected].