At Klippa we automatically process millions of receipts yearly for companies all over the world. We process receipts with OCR, Optical Character Recognition. Over the years we have learned that receipts come in countless different formats. Some are clearly organised, but in most cases they are rather chaotic. In the world of receipts, we've basically seen it all. A long time ago we started processing Dutch receipts, from there we went into other European countries and eventually started processing receipts from all over the world. Understanding a receipt from your home country can already be hard, but understanding receipts in foreign languages can be even harder. Therefore Klippa is producing a series of blogs explaining receipt structures from major European countries. Today we are talking about how to read, understand and process Dutch receipts!

Legal requirements for Dutch receipts
The Netherlands, sometimes also referred to as Holland, is usually a rather organised and regulated country. The Dutch tax authority (Belastingdienst) regulates how companies have to keep their books, but also regulates the minimum requirements for valid invoices. Strange enough, this regulation does not apply to receipts. That means there are no formal requirements on what a receipt should contain from the shops' point of view. Shops are however obligated to give you a receipt if you ask for it. From the receivers' point of view, things are a bit different. If you want to administer a receipt in your books as a Dutch company, for example because you want VAT-refunds, the receipt has to specify the merchant, products bought, date, amount and VAT-values. With this information you can proof to the tax authority what you bought, where, when and for what amount.

What do receipts from Holland contain?
In general, a Dutch receipt will at least contain the merchant name, total amount, VAT values, products bought and date of purchase. Sometimes there might be additional information such as a product count, receipt number, payment method, card details, advertising, opening hours, VAT number or Chamber of Commerce number. Below we have listed the Dutch versions of these words, this will make it easier for you to read and process receipts from the Netherlands. We have also created a visual that marks all the important fields on an average receipt in green and the less important fields in orange. Let's start with a list of possible receipt content:

Merchant is usually listed as 'Winkel' or 'Verkoper' in Dutch.
Date is usually listed as 'Datum', 'Aankoopdatum' or 'Verkoopdatum' in Dutch.
Line items, the word itself is not specifically listed on a receipt, but these are the products you buy.
Total amount is usually listed as 'Totaal' or 'Totaalbedrag' in Dutch. Sometimes it will be listed as something like 'Te betalen', which means Amount to Pay.
VAT is usually listed as 'BTW' or 'Belasting'. In the Netherlands 9% VAT is used for most food related products and it is sometimes referred to as 'BTW laag'. The 21% VAT is used for services and most non-food products. It can be referred to as 'BTW hoog'. In rare occasions you will also see 0% VAT.
Payment method is usually listed as 'Betaalmethode'. You will find cash payments as 'Contant', debit card payments as 'Maestro' or 'Pin' and credit card payments as 'Creditcard' or the name of the card providers such as Mastercard, Visa and Amex.
VAT number is listed as 'BTW-nummer' and is a string similar to NL112221122B01
Chamber of commerce number is listed as 'KVK' or 'Kamer van Koophandel' and is a string of numbers like 64111512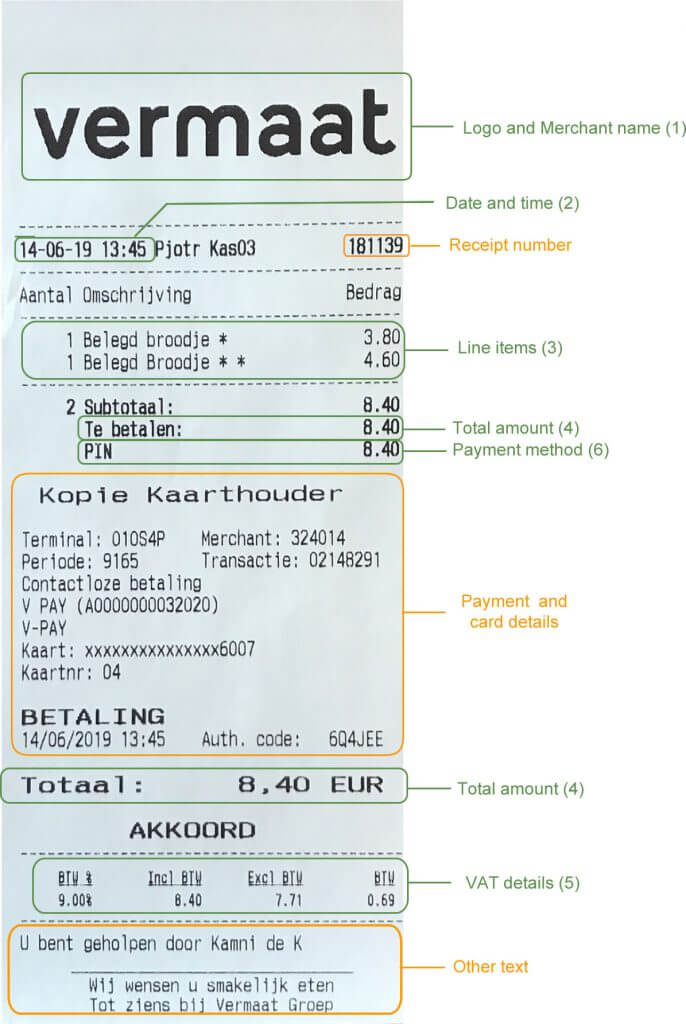 What Klippa does
Klippa is a high volume automated document processor. We process receipts and invoices worldwide with machine learning software that extract all the important information. Processing Dutch receipts with OCR is one of the use cases. In case you are processing large amounts of documents manually, we might be able to help you out. Klippa has out of the box interfaces that you can use, or an OCR API to implement in your own application. Want to learn more about our solutions? Plan a demo or give us a call!