Having built a strong and stable economy, Switzerland is a very attractive country from an economic and wealthfare perspective. Its economic activity can be found in many industries like gold (20%) and pharmaceutical products (11.5%), two of the main exported products. If you are a Swiss company or an internationally operating company, at some point you will probably have invoices originating from Switzerland. These documents are quite unique compared to documents coming from the rest of Europe because they always include an In-payment slip (ISR), or an "Einzahlungsschein mit Referenznummer (ESR)" as they are called in Switzerland.
What are these Swiss payment slips?
You have received an invoice from Switzerland and it is time to pay it. What you will find on the bottom of every invoice in Switzerland is an orange or red area called an "Einzahlungsschein mit Referenznummer (ESR)". Internationally it is usually called a payment slip or giro collection form, but the official English name is ISR Payment Slip: In-payment Slip with Reference Number. The information you find here can be used to perform the bank payment for a specific invoice. Below you see an example of one of these payment slips.

Orange or red ISR payment slips in Switzerland
Generally in Switzerland, there are two ways you can proceed with payment, one is via the post office and the other is via the bank. In the case where you have to pay a bill or an invoice you will receive an orange or a red payment slip, usually attached to the invoice. Many people wonder about the difference between these due to the difference in colors. The good news is that it's only a technical difference. The orange version has processing benefits for the issuer such as the Reference Number that helps to identify the payment details and receiver throughout processing. On the other hand, the red version has an open field intended for information for the respective recipient e.g. client or invoice number. While the color can vary, the goal does not. The Swiss Einzahlungsschein, or payment slip, is used to do a bank transfer.
Why is automating the ESR processing important?
An invoice explains what parties took part in a transaction, what was sold or bought and when that was. The payment slip is of similar importance, but it holds all the relevant information for the payment. Processing all the payment slips within a company to perform invoice payments can be a lot of manual work. Therefore it is a costly and error prone process. Luckily we are in an era of digitisation and Klippa is here to help. With Klippa you can automatically process payment slips using smart data extraction based on our OCR engine. Klippa saves you time on manual processes, so you can focus on your core business.

How Klippa automated the data extraction on ISR payment slips
Klippa is an Intelligent Process Automation company. We build software to automate business processes to increase efficiency, reduce cost and reduce human errors. The core of our software consists of an Optical Character Recognition (OCR) engine. What OCR does, to put it simply, is the extraction of relevant information from documents that have the format of PDF, JPEG, PNG, etc. You could see it as teaching a computer how to read. First the image of the payment slip is turned into a text file, after that we convert the text file into structured data (XML, JSON, CSV). In that step we map all the content of the document. Thereby we know what the dates, amounts, bank accounts and other relevant data is so you nobody has to enter this data manually.
Extraction of the important fields of an Einzahlungsschein
The main fields that have to be extracted from the document in order to save time while processing are:
Payment slip code: a 49 digit number that contains a combination of the reference number and customer number which are explained below (1, 2, 3, 4 and 5 combined).
ISR Customer ID, ESR-Identifikationsnummer des Kunden in German, to identify the biller. The length depends on the requirements of your accounting software and is usually 6 digits long.
Payment slip reference number, also written as Referenz-Nr / N De Reference / N Di Riferimento, which refers to the transaction code (1, 2 and 5 combined).
The invoice number, the middle part of the reference number (2).
Payment slip participant number, ESR-Teilnehmernummer in German, also written as Konto / Compte / Conto, which refers to the unique participant number and identifies the bank receiving the payment (3).
The amount and currency that have to be used for the payment (4).
What fields of the Einzahlungsschein are extracted?
To assist you in visualising how our engine is capable of extracting these data fields, here is a screenshot with an example of a payslip with all the relevant fields numbered.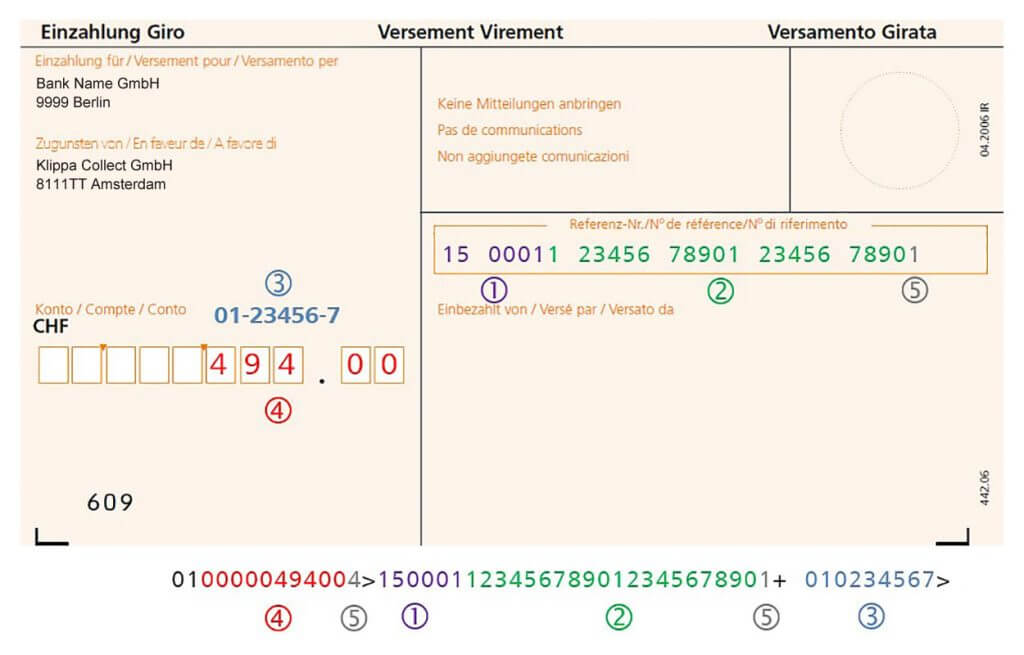 Automated data extraction for Swiss payment slips
Klippa has an out of the box solution for the Swiss payment slip. Via an API integration to any tool, you can get all the above fields extracted directly to your software. No manual data entry needed. That would imply lower costs, less human error and more time efficiency for you or your customers.
Do you want to know more about our solutions or want to challenge us? Reach out to us via email or phone. We also love to demonstrate our product via a 30 minute online demo, seeing is believing, right? Get in touch via phone +31 50 211 1631 or via email [email protected]