DataNorth | AI Consultancy
ChatGPT Live Demo Presentation
Looking to inspire your audience with the current state of AI? DataNorth provides live
ChatGPT
demos, tailored to your audience.
Live ChatGPT demo by experts in Artificial Intelligence
Proven track record in helping businesses automate tasks with AI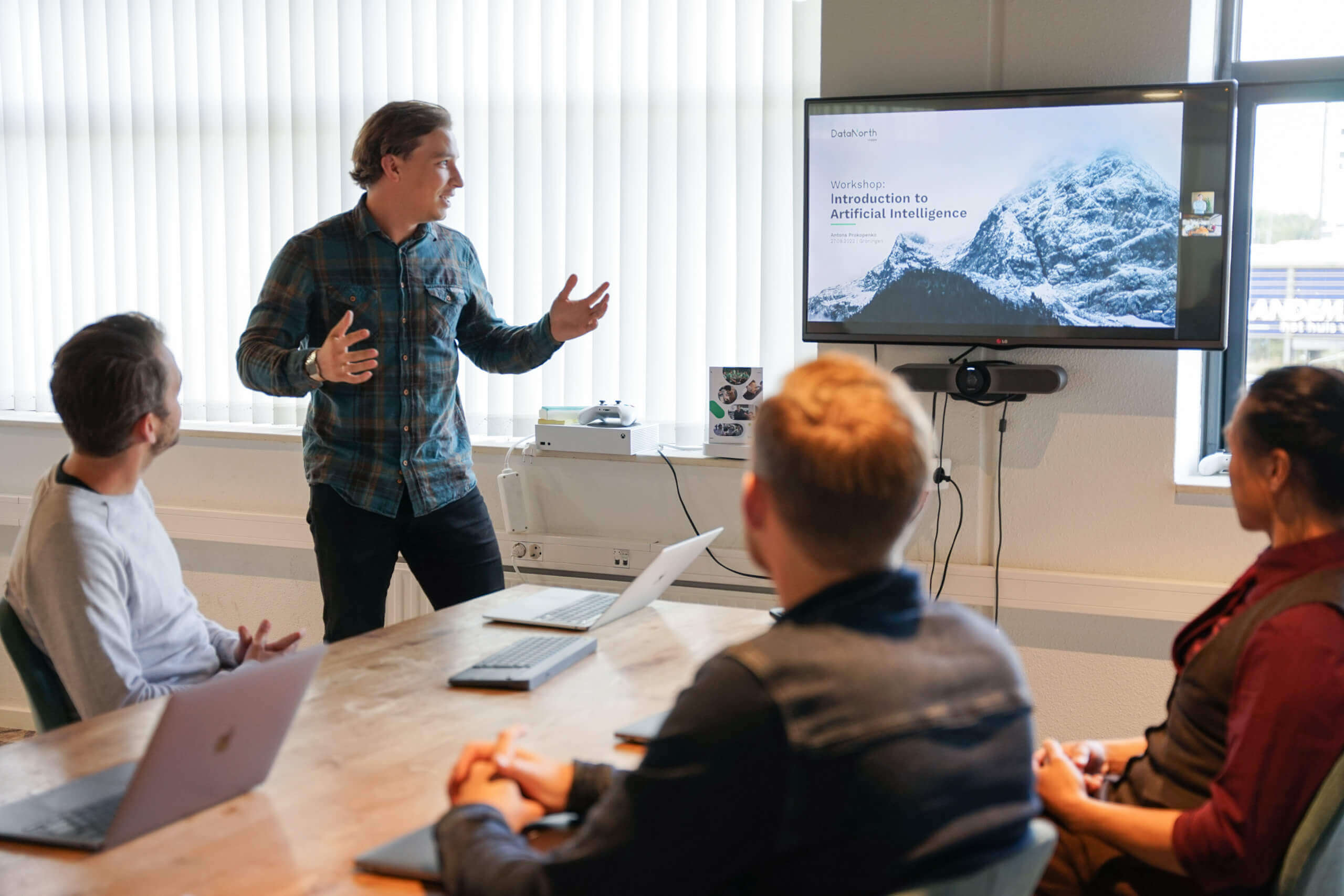 What you can expect from our ChatGPT demonstration

Introduction of the agenda and DataNorth
We start our demos with a 5-minute introduction.
During the introduction, we explain to the audience what the agenda will look like, who
DataNorth
is, who the person presenting is and how we gained our knowledge on AI and ChatGPT specifically.

Background on ChatGPT and LLMs
After the introduction, we will do a 10-minute background on
what ChatGPT is
, who
OpenAI
is (the company behind ChatGPT), what Large Language Models (LLM) are and what the basics of the
machine learning
capabilities behind it are.
We show 3 specific use cases for the technology, tailored towards your specific audience.


Customized Inspirational ChatGPT Demonstration
Now we get to the most exciting part: the live demo! During 30 minutes, we will give a live demo of ChatGPT.
We will customize the live demo to be relevant for your company or audience. We will let the AI perform tasks at the outer edges of its capabilities, to showcase what impressive things it can already do today. 
We also have room for the audience to interact.

Future Outlook on ChatGPT
Following the live demonstration, we'll spend 15 minutes providing a brief overview of ChatGPT's strengths and weaknesses.
We'll then delve into its future developments and discuss how we believe it will transform the way knowledge workers perform their jobs over the next decade. 
As always, the presentation will be tailored to the audience's specific needs.

Get Your Live ChatGPT Demo
If you're looking to inspire, educate or amaze your audience, our live demos are the perfect fit. DataNorth provides live demos in person or digitally, for companies, governments, schools, events and conferences. Always tailored to your needs and audience.  
Also available for US clients at $
Inspirational ChatGPT Live Demo
Inspirational live demo showing the future of work, with real-life AI applications.
Approximately 60 minute duration.
Tailored to your topic and audience.
Both digital and on-location options available.
Travel & lodging expenses excluded for on-location option.

Are you ready to inspire your
audience with the current state of ChatGPT?