Klippa Expense Management
Highly efficient Expense Management Software for companies that want to save time on expense claim processing and set up secure approval workflows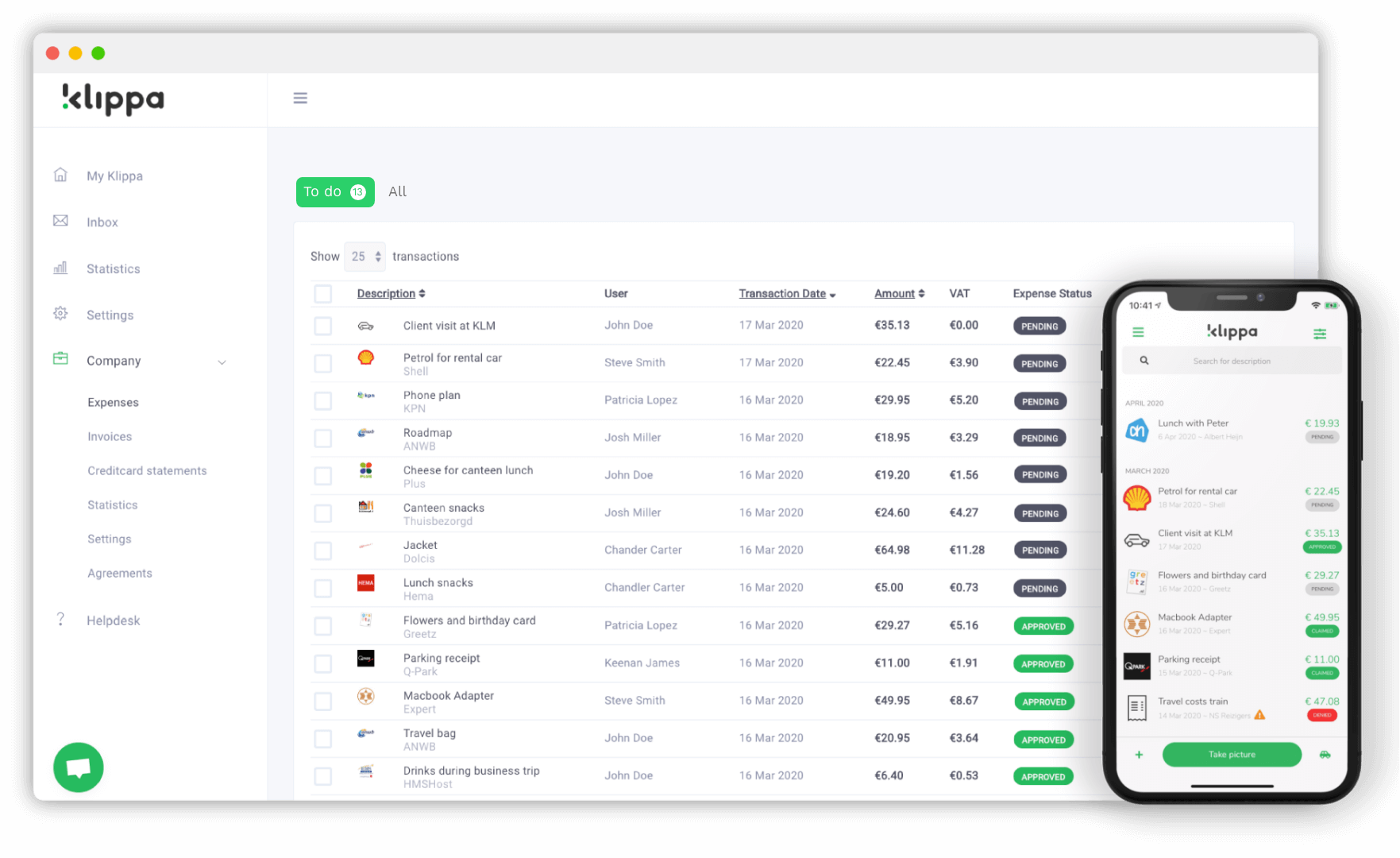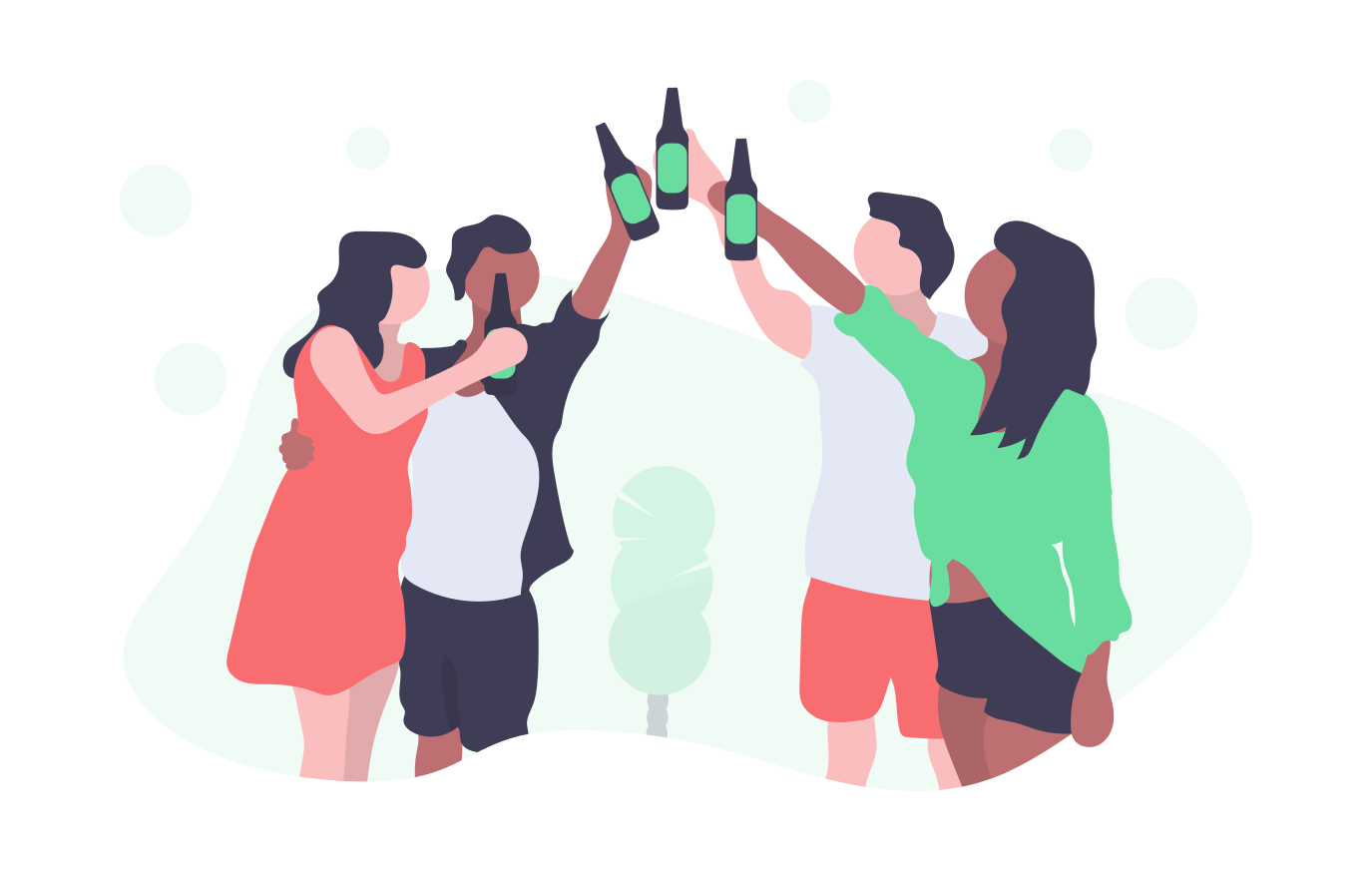 Employees can submit business expenses 24/7 by using the mobile app, website or email. Submitting expenses becomes as easy as taking a picture with your smartphone.
Save time with text recognition
All receipts and invoices are processed with text recognition. Manual work is automated, which speeds up the process by up to 70%.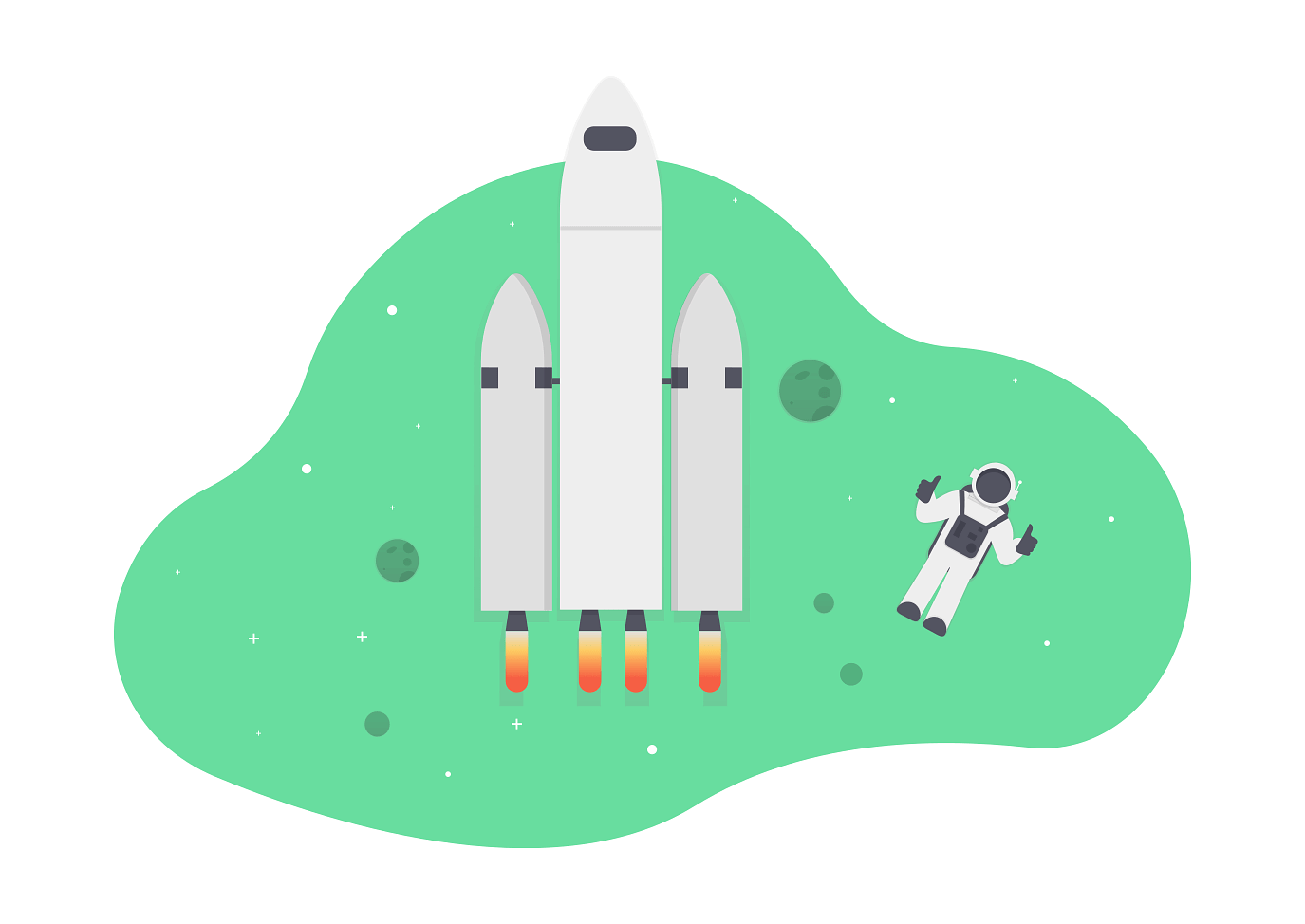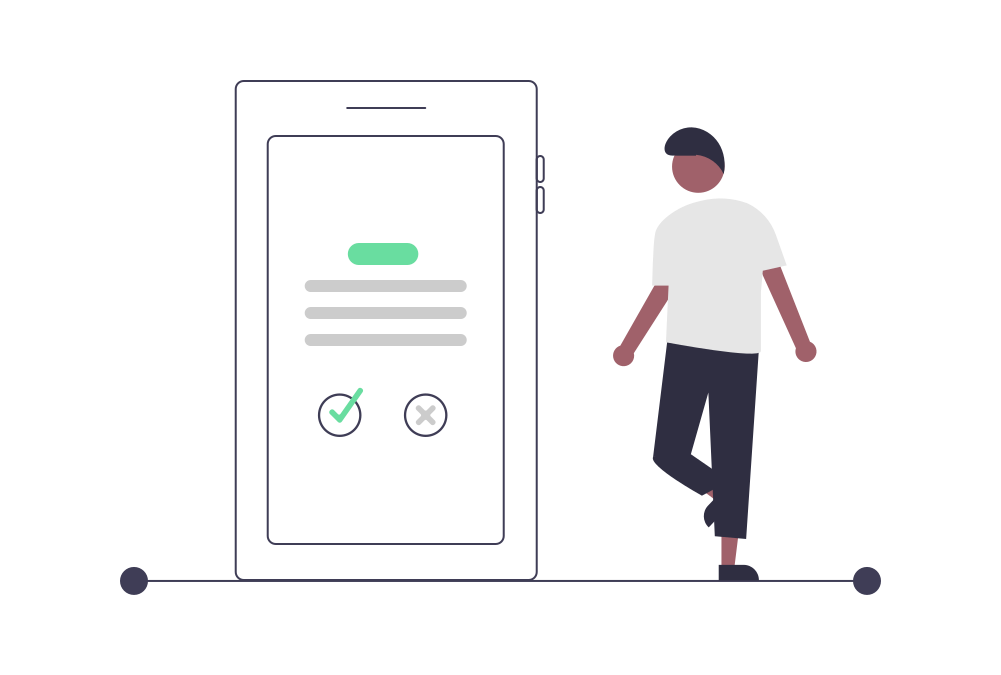 Approval through various authorization layers
Approve or reject business expenses with a few simple clicks. Decide more confidently knowing our app has automatic fraud detection. Seamless integration with the accounting system enables Finance to efficiently account for approved business expenses.
Dashboards with real-time statistics and easy reporting
Get a better overview of business expenses and categorize by project or period with actionable statistics. Export to PDF, XLSX, XML, UBL or CSV for easy reporting.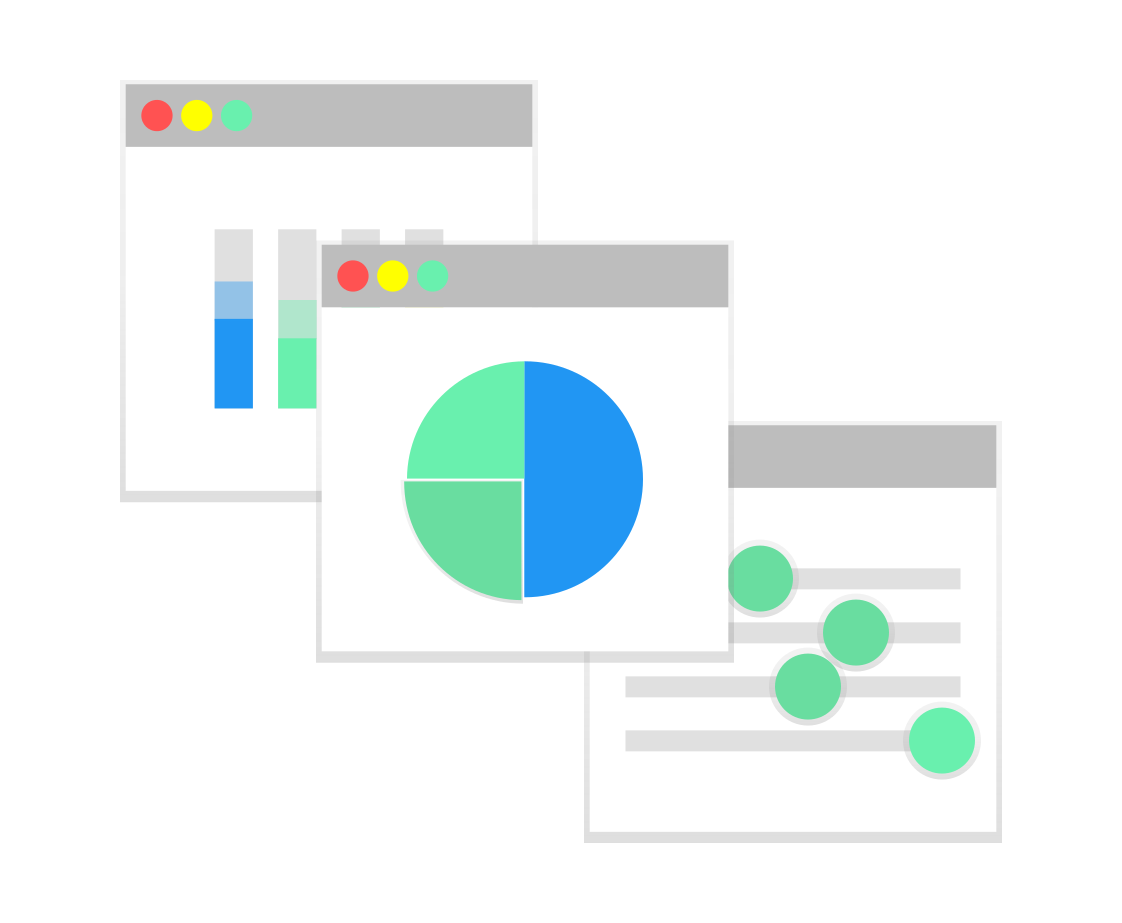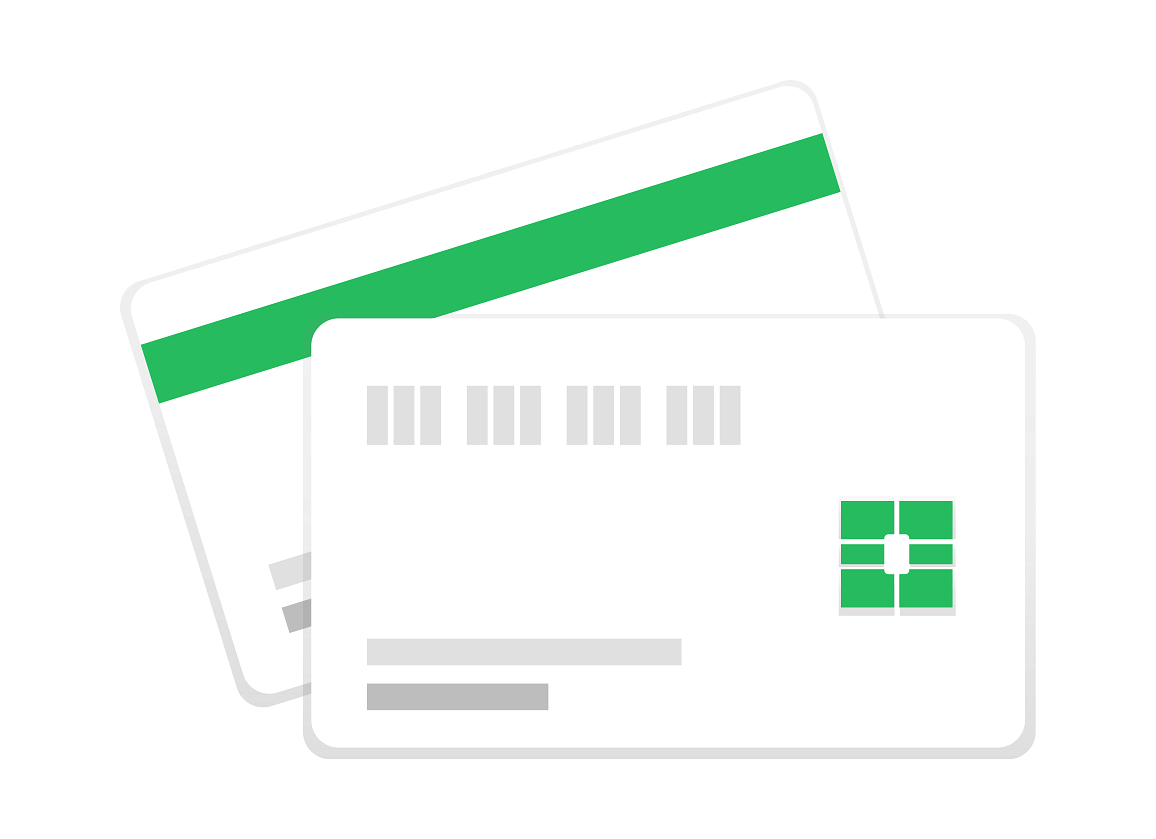 Matching credit card statements
Import your credit card statements and we will match them to the relevant expenses. No more manual data entry – we automate the entire process!
Focus on your core business and profit from the following benefits:
Convert foreign currencies based on a daily rate or set your own rate.
Claim your travel expenses with our Google Maps integration.
Save time using booking suggestions in your accounting package.
Use groups to give employees different types of user rights.
Synchronize relations, cost centers, cost carriers and VAT codes from your accounting system.
Have employees use categories, projects or cost centers to structure the expense process.
Gain insight in costs, categories, cost centers, projects, departments and periods.
Export to formats such as XLSX, CSV, XML, UBL and PDF.
Prevent fraud with automatic detection of duplicate claims.
Set rules and policies for business expenses and automate the approval process.
Built-in optical character recognition (OCR) puts an end to manual data entry.
Employees can order their business expenses in folders and categories by using labels.
Frequently Asked Questions
Does Klippa use OCR technology?
Yes, Klippa has the best OCR included to do all the data extraction for you.
OCR stands for Optical Character Recognition. This technology extracts the data from scans and converts them into a readable and usable formats. 
Klippa applies text recognition for the following data points: 
How does Klippa manage cost categories?
 Parking, business lunches and representation costs are common categories among the Klippa expense management software users.
These categories can be easily set up in the company settings. In addition, we link them to a general ledger account and VAT code in order to help you process the expenses with just one click!
The only thing that users have to do is select the according category field for each expense they want to submit.
How does Klippa manage cost centers, cost units and projects?
Klippa support two routes for this:
(1) We sync all data from your accounting or ERP system with an API integration.
(2) We use import files in .csv of .xlsx. After a successful import you assign the according employees so you can retrieve all relevant data.
Is it possible to download files or create reports?
Yes, creating reports and downloading files is possible in CSV, XLSX, PDF and UBL format.
Creating custom reports or downloading your files is not a problem at all! Klippa offers a variety of export formats for which you can create your own template. 

Does Klippa support expenses made with company cards?
Klippa users can select the payment method for their expenses. When selecting the option 'company card', the expense will be automatically matched with a line item from the credit card statement.
How to prevent doubles and fraud?
No employer likes to reimburse an expense twice. With Klippa's expense management software you never need to again. When a file is submitted we track the data. When a duplicate is spotted by our system, it sends out a notification. Warnings are visible for users, managers and the finance departement.
Are you able to register your mileage in Klippa?
Yes, we have integrated Google Maps in our applications.
The only thing you have to do is set your place of departure and your destination – we will calculate your reimbursement based on the travelled distance. Klippa also enables multi-routes in case you want to plan ahead.
Does Klippa offer approval workflows?
Yes, we offer multi-level approval flows.
Klippa uses a multi-level approach for expense claim approvals. A submitted expense is automatically assigned to one or multiple manager(s). After approval, expenses are forwarded to Finance for further processing.
Klippa also offers custom flows. This makes it possible to auto-approve certain expenses or assign an extra approver.
Can I integrate with my accounting or ERP system?
Yes, over the years Klippa has become software partners with a variety of accounting and ERP-systems.
Over the years we have partnered up with a variety of accounting and ERP systems. With most we have an API integration, which syncs the data both ways. Klippa also offers intelligent export-import files to create journal entries.
What happens with the different currencies?
Klippa's expense management software applies auto-conversions to your preferred currency. Both the document currency and the converted currency are saved in the archive.
How does implementation work?
Klippa is plug & play! Our
helpdesk articles
will guide you in setting up in the account. Would you rather get help from a product specialist? That's not a problem – on average we will have you account set up in 48 hours.
Companies that use Klippa save time and reduce errors. On top of that, they enjoy a far more efficient administrative process than before.

Our Finance department is saving one day per week, which they now spend on our core business instead of on invoice management.
The cloud environment is very user-friendly and our invoicing process has become much more efficient.
The new tool had to adapt to our flow and integrate with both our salary administration and legal software. Luckily, Klippa had the solution.
Have any questions about our expense app?
Get in touch by mail, phone or chat!
A reimbursement app and
business expense software
Submitting expense claims can be a time consuming and frustrating process. Klippa found the solution: an easy to use expense app. With Klippa, employees can submit their expenses by scanning a receipt or invoice with their smartphone. Our automatic text recognition technology (
OCR
) recognizes all important data, such as the merchant, total amount and applicable VAT. The digital authorization flow ensures an efficient authorization process for the management team. The integration with the accounting system ensures reliable accounting for the finance department. 
 For only a small monthly license fee, Klippa's expense management software significantly reduces processing time. This directly leads to a positive ROI and happier employees. A perfect solution for innovative organizations that take employee satisfaction seriously!

If you don't want to plan a live demo, but would like to see more about our expense app, you can view our
expense management video demo
.