Data entry is still a major challenge for many organizations. According to Zapier, 76% of workers spend up to 3 hours a day moving data from one place to another, 83% of workers spend the same amount of time fixing data entry mistakes, and 73% of workers spend up to 3 hours finding information from a particular document. A lot of time wasted, don't you think?
Luckily, you don't need to contribute to these numbers. With today's sophisticated technology, you can replace manual data entry and other data recording tasks for better operational efficiency.
In this blog, we'll tell you about the benefits of automated data entry and list the top 8 data entry software solutions that can help you automate tedious tasks. But first, let's kick off with the definition of data entry software!
What is Data Entry Software?
Data entry software is a solution that allows you to automate data transfer from one system to another, eliminating manual data entry.
Nowadays, data entry software is sophisticated enough to automatically extract data from a document, then clean, validate, and store it in centralized systems like databases. Most software for data entry provide integrations with third-party tools and applications, allowing more extensive data management. 
This sounds pretty promising, right? But what else can you expect to gain from using data entry software? Let's get into that next!
Five Reasons You Should Use Automated Data Entry Software
There are countless benefits for businesses to gain from data entry systems. To give you an idea of how it would benefit you, we have listed five reasons below:
Easy digitization of paper documents – Data entry software helps you digitize all physical documents by sending extracted data to a database or Enterprise Resource Planning (ERP) system.
Faster turnaround time – You can eliminate long hours of manual data recording and entry through intelligent automation.
Minimized human errors – Close to no human interaction is needed with automated solutions, which decreases the number of costly human errors.
Scalability – With automated data entry software, you can efficiently scale your data entry tasks without increasing overheads.
Reduced operational costs – Shorter turnaround time, minimized human errors, and options to scale without increasing the costs. All of these factors enable you to save money significantly in the long run.
Did these five reasons spark your interest in replacing manual data entry? Are you considering the use of data entry automation software? Great, we've got you covered!
In the next section, we have listed our selection of the top 8 automated data entry software.
8 Best Data Entry Automation Software options in 2023
Finding the right software for data entry isn't easy, and it requires a lot of time to research and compare various solutions. There are many software solutions available on the market. However, not every data entry automation software provides exactly the same type of functionalities and features.
That's why we present you a list of the 8 best data entry software for automation in an easy-to-follow comparison:
Klippa DocHorizon
DocSumo
Rossum
UI Path
AutoEntry
Foxtrot RPA
Nanonets
DocParser
Klippa DocHorizon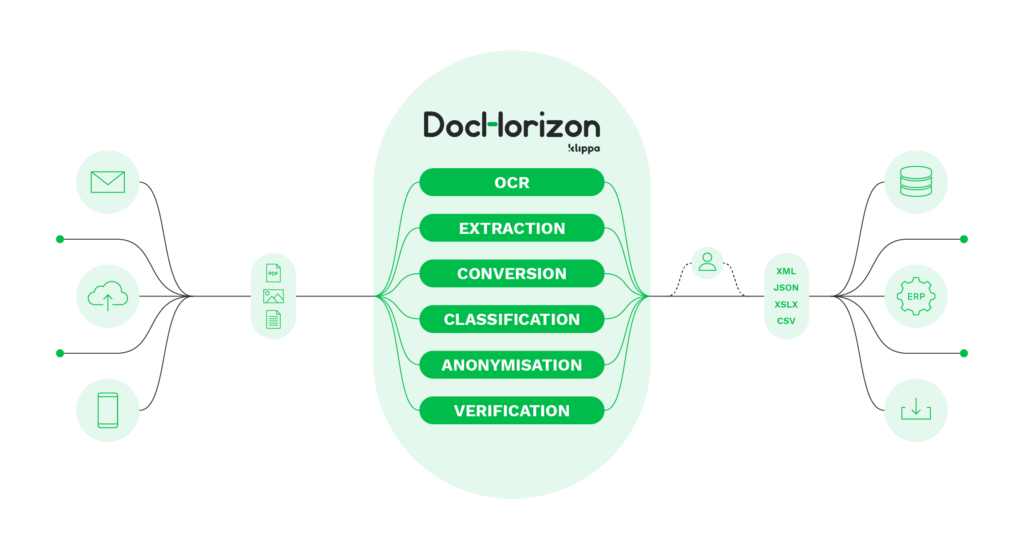 Klippa DocHorizon is a versatile data capture and Intelligent Document Processing (IDP) solution that can automate manual data entry tasks efficiently. It can extract data from images, license plates, utility meters, documents, PDFs, and many other objects with up to 99% accuracy.
Users can receive the extracted data in various formats, including CSV, JSON, PDF, and many more. The extracted structured data can automatically be passed on to various systems such as ERP systems, accounting software, or databases.
Klippa DocHorizon makes it possible for you to automate data entry with object detection, document classification, verification, data anonymization, and remote data capture with mobile devices.
With Klippa DocHorizon, you can save up to 70% of data processing time and budget through intelligent data entry automation.
Key Features:
Enables you to recognize and convert various documents such as receipts, invoices, contracts, forms, and passports into structured data in an instant
AI-enhanced software allows you to capture unstructured data from any document
Data entry automation with accurate data extraction and parsing engine
Suitable for digital archiving, data management, and validation
Sophisticated object detection allows barcode, price tag, and utility meter scanning
Multilingual support
Line item extraction
Pros:
Is not restricted to templates and goes beyond traditional OCR
Categorizes the document type for you with document classification
You can turn any mobile device into a mobile scanner
Can understand documents in 50+ languages
Enables data anonymization for data privacy regulatory compliance
Developer friendly allowing fast setups
Various integrations via well-documented API & SDKs
Cons:
A data reporting system is not yet developed
User-Interface is under development
Docsumo
Docsumo helps enterprises by capturing data and analyzing unstructured documents using machine learning. With sophisticated technology, Docsumo is not restricted to templates, and it doesn't require manual setups.
Users can simply upload documents and forward the captured data to other software eliminating manual data entry. It has a simple user interface (UI), which makes it easy to use even for those who don't have a lot of technical knowledge.
Key Features:
Automated data capture and transport
Data management
Data aggregation
Pros:
Simple User Interface (UI)
Availability of customer support
API customizable for many use cases
Multiple data outputs
Cons:
A more complex reporting system would be appreciated
Can't process handwritten papers effectively yet
No data anonymization
Rossum
Rossum is an AI-based cloud document processing solution that automates business processes. It can be used to receive documents across multiple channels, categorize documents, automate data capture, validate data, and integrate into accounting software.
Rossum is a solid platform for automated data entry when it concerns financial documents such as invoices. It is ISO 27001 certified and HIPAA compliant, which is why it is trusted by large corporations.
Key Features:
Data extraction
Email address extraction
Data capture and transfer
Image extraction
Document classification
Data verification
Pros:
Integrations with API
Duplicate payment alert
ISO-certified
Cons:
Lacks data analytics
No cross-checks with 3rd party database
Can't process documents with a large number of pages
No data anonymization
UiPath
A powerful workflow automation tool like UiPath is flexible and easy to scale whether your organization is small, medium, or large. UiPath can handle large document volumes and extract data in a structured format without any coding.
Often UiPath is preferred by larger organizations such as governments to automate tasks and streamline front-office processes.
Key Features:
Data capture and transfer
Document extraction
Customizable dashboard
Business process automation
Web data extraction
Data replication
Email address extraction
Pros:
Integrations via API
Low code solution
Third-party integrations available
Easy data management
Multiple data sources
Cons:
Too many products make it overwhelming to use
Updates are not stable, which can alter your flows
Can be expensive
No data anonymization
AutoEntry
AutoEntry is a great data entry automation software platform for small and medium businesses. It allows you to submit data for extraction in multiple ways, such as through a website, mobile app, or unique email addresses.
AutoEntry excels when it comes down to accurately extracting data from receipts, invoices, and bank statements. The rule-based approach with this data entry tool allows you to categorize a document over time without human intervention automatically.
Key Features:
Data extraction
Image capture
Document categorization
Auto suggested VAT codes
Auto suggested suppliers
Multiple exporting options
Pros:
User-friendly
Can be connected to your accounting software
Mobile app available
Cons:
Limited to accounting & bookkeeping sector
The functionalities of the platform are minimal
Slow customer service
Not the most accurate
No data anonymization
Nintex RPA
Nintex RPA, like the name suggests, is an RPA solution built to automate manual processes such as data entry. Nintex RPA provides enterprises with well-trained bots for automating simple routine tasks. These bots can work the same way as humans, but they can work 24/7 with minimal mistakes.
Nintex RPA is a no-code, easy drag-and-drop interface, which is a perfect tool for users without any technical skills. Like many other data entry software, it can pull data from structured and unstructured documents, making it a strong candidate, especially for non-tech-savvy users.
Key Features:
Multiple data formats
Works on Windows systems
Data encryption
AI, Machine Learning & OCR
Configurable workflow
Data capture and transfer
Data extraction
Workflow management
Pros:
User-friendly
Supports enterprise-level automation
Some options to customize
No coding or programming needed
Cons:
Lacks integrations with other products
No extensive documentation
No data anonymization
Nanonets
Nanonets is OCR software that uses Deep Learning to extract data from unstructured files such as images and handwritten documents. With Nanonets, users can automate data entry processes quite easily with its user-friendly interface.
It also has possibilities for integration through APIs, making it a solid solution for workflow management. On top of data extraction, Nanonets OCR can verify documents and supports document ingestion.
Key Features:
Data capture and transfer
Data extraction
Multilingual support
Text editing
Approval process automation
Data validation
Data enhancement
Workflow automation
Pros:
Possibilities for integrations with APIs
User-friendly interface
Customizable upon requests
Cons:
Table annotation is not up to standards
The model training process can be tedious
Limited output when implemented on-premise
No data anonymization
Docparser
Docparser is a solid document management solution that incorporates business storage on the cloud to offer a centralized system to its users. The OCR technology and built-in text recognition can extract data from various documents, even barcodes. The data output can be downloaded as Excel, CSV, JSON, or XML.
Docparser's image pre-processing capabilities of auto-cropping, resizing, and auto-rotation allow users to extract data from images conveniently. The software can be integrated with third-party applications with APIs and is a solid solution to replace manual data entry.
Key Features:
Data capture and transfer
Customer database
Data extraction
Cloud-enabled sharing through Google Drive
Supports barcodes scanning
Multiple image format support
Pros:
Integration with APIs
Incorporation with business storage
Extracts text and processes images
Cons:
Not possible to search through parsed documents
Lack of advanced filtering capabilities
Limited by template-based approach
No data anonymization
We hope that listing the 8 best data entry software gives you insight into the available solutions in the market. Some solutions contain different functionalities than others. Thus, it largely depends on your use case and industry what's the best software for you.
However, if you want a sophisticated solution that can automate your data entry tasks, Klippa DocHorizon is slightly above the rest. Why?
Simply because it contains essential features that data entry automation software should have in 2023. Let's look at these must-have features that Klippa DocHorizon offers.

Must-Have Features for Data Entry Automation Software
It doesn't matter in which industry you find yourself. The following list of features are necessary for data entry automation software to have for any data entry task:
Document classification
Data extraction
Data verification
Data anonymization
Data conversion
Mobile scanning
Fraud detection
Let's dive into more details!
Document Classification
It takes time to sort out and organize data, which is usually the case when data arrives in your network. This is why data entry software needs data classification capabilities to help automate the document categorization process for you.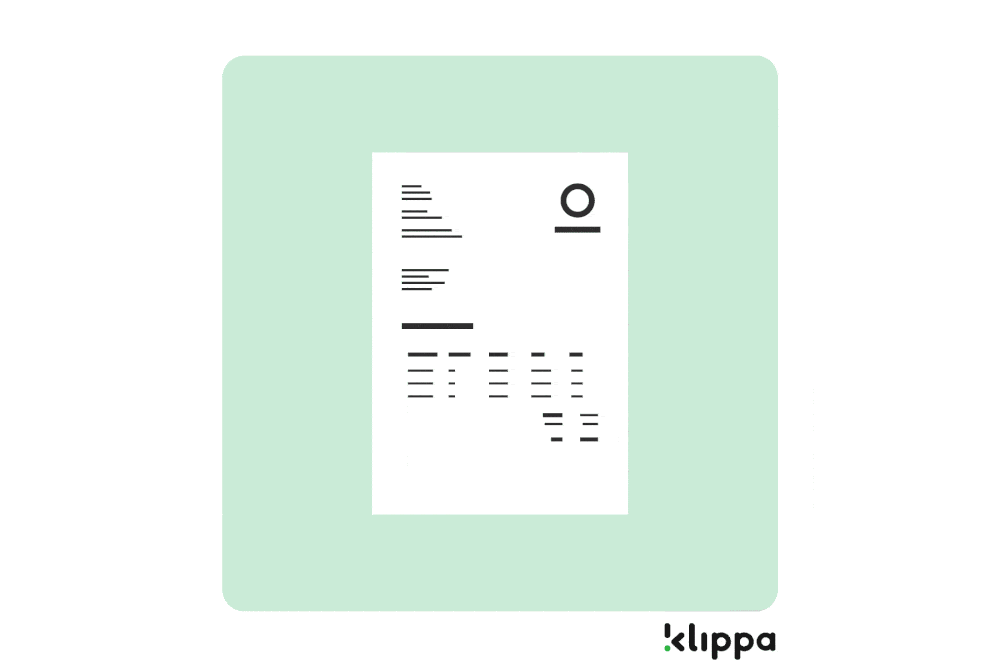 Klippa DocHorizon can automate document and data classification for you. To get more details on how we do it, check out this article.
Data Extraction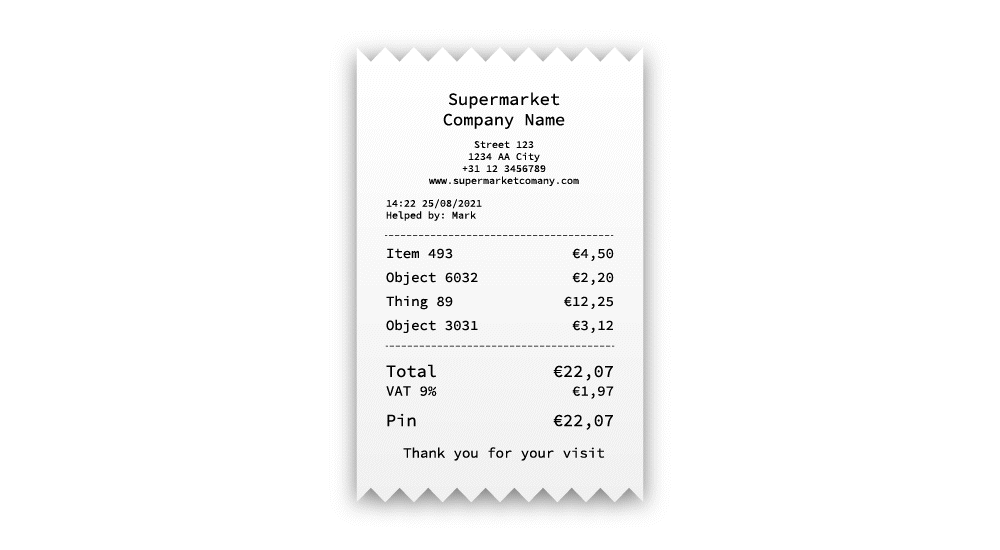 Does your organization have to manually get the useful data out from poorly structured documents or unstructured data sources such as images? Not only does it take up your resources, but it also invites costly human error.
Automated data extraction techniques enable you to conveniently take out valuable data from documents, usually within seconds, using OCR. Klippa DocHorizon, embedded with AI & OCR, can help you extract data with up to 99% accuracy.
Data Verification

Data verification process is simply the procedure to assess whether the data extracted or entered into a system has been done accurately. Automated data entry software with such a feature can help you avoid all data entry errors and ensure that data is both valuable and correct.
Klippa DocHorizon achieves this by cross-checking documents and data points with other sources, such as third-party databases. It can also verify the authenticity & validity of documents or data extracted from files. This ends up saving you valuable time and resources.
Data Anonymization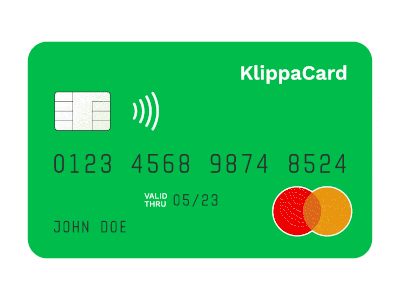 The importance of data privacy regulations cannot be overlooked. Organizations are processing more data, but not all people within an organization should have access to privacy-sensitive data. More sophisticated software for data entry can offer a feature to safeguard data with data anonymization.
With anonymization, one of the data masking techniques, you can mask sensitive data automatically. Klippa is one of the few automated data entry software vendors that can help you ensure GDPR compliance with data anonymization.
Data Conversion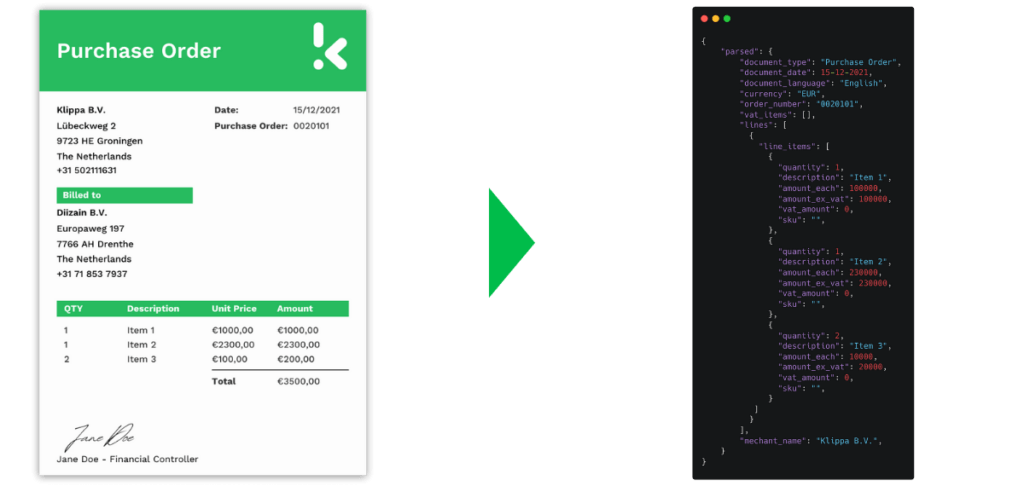 To transform unstructured data files such as paper documents or images into meaningful data that can be stored, files need to be converted. It is essential for data entry software to be able to turn JPG, PNG, and PDF files into searchable or machine-readable text with OCR.
Klippa DocHorizon offers exports to formats like PDF, CSV, XSLX, XML, and JSON. Files can be uploaded easily via app, web, and even e-mail.
Mobile Scanning

What if you or your employees don't have access to a scanner? What if you need to take images of documents with your phone and go through the data entry process afterward, picture by picture?
That is no longer the case, as some data entry software providers enable you to turn your smartphone into a document scanner that fits in your pocket.
Klippa, for example, allows easy document digitization and scanning with a sophisticated mobile document scanning SDK. With the available proper documentation, you can easily integrate it into your existing solutions.
Fraud Detection

It could cost you millions just to process fabricated documents. Document fraud is hard to detect with the naked eye, especially when you receive documents in large volumes. Next to manually entering data, it is incredibly challenging to spot irregularities or the validity of documents.
This is where OCR & AI technologies shine, as they are not limited to human physiology. Check out how Klippa can help you catch document fraud with our sophisticated software for data entry automation.
Conclusion
Working with data doesn't necessarily have to be time-consuming or complicated. It certainly does not need to take up a lot of time from your employees or financial resources from your business.
If you wonder whether there is a solution to automate data entry, the answer is yes. There is sophisticated data entry software available that you can employ to eliminate manual data entry tasks once and for all.
Why wait when you can start your journey towards automation by booking a demo with Klippa? Find the form to book your time slot below, or contact us directly for more information!
---