Despite the rapid development of technology, organizations are still entering data manually into their systems. This task is not only time-consuming and repetitive, but it is also prone to human errors. According to a Gartner study, human data entry errors added around 25,000 hours of additional work to organizations, at a yearly cost of up to $900,000. This could have been easily avoided by implementing automation.
Using automation for data entry processes is an essential practice for companies seeking to reorganize data into business-ready formats and improve their daily business processes. In fact, 66% of companies that implemented workflow automation have increased their revenue and reduced processing time.
In this blog, we will explain what data entry automation is and take a look at its benefits. We will also cover use cases of automated data entry and discuss some of the best automated data entry software on the market.
Let's get started!
What is Data Entry Automation?
Data entry automation is the digital alternative of accurately and efficiently extracting and entering data in a computer program or database using automation, therefore eliminating manual data entry.
Automated data entry involves extracting data from PDFs, documents, images, scanned files, emails, or websites and converting the information into a structured format, such as CSV, JSON, XML, and many more. This automatic data extraction and conversion flow requires the use of software.
Automated data entry software usually relies on OCR technology to read documents and extract data from them with high accuracy. But how does automated data entry software work? Keep on reading to find out how you can automate your data entry processes with the help of software.
How to Automate Data Entry
We have previously spoken about companies embracing automation and implementing data entry automation software. So what does the automated process look like? To proceed accordingly and see effective change, companies follow these steps:
Uploading a data source: It is often that companies receive important information in the form of raw, unstructured data formats, such as PDF files, images, or scanned files. These files are to be imported into the data entry automation software, which means uploading them via an app or website.
Pre-processing the file: The automated data entry software turns the documents into machine-readable formats. The advanced OCR, AI, and ML technologies allow algorithms to read and understand the content of the files.
Recognizing and extracting the data: In this step, the software recognizes and extracts the data. The algorithm can be trained to identify points of interest from a variety of files, for example, receipt line items, invoice numbers, names, or addresses.
Validating the extracted data: In this step, the accuracy of extracted data is verified using AI technology. For an accuracy rate of up to 100%, organizations can implement human-in-the-loop, which calls for a human overview of the process.
Sharing and entering the extracted data: The final step involves presenting the extracted data into a structured output, such as CSV, JSON, or XML. The data can now be conveniently imported into a database or other software for additional downstream workflows.
Thanks to the development of technology, companies are able to enjoy the benefits of automatic data entry at the utmost level. If you would like to see how your company can benefit from implementing automation in data entry processes, keep reading!
Benefits of Automated Data Entry
To give you an overview of the advantages of automatic data entry, we have made a list of the most important benefits of automating data entry in organizations
Time-saving: faster data entry allows for improved data processing workflows.
Reduced overall costs: reduce operational costs by eliminating inefficient manual processes.
Bulk processing: handle large amounts of files in one go.
Increased productivity: better allocation of resources and focus on tasks that require more attention.
Increased employee satisfaction: eliminate redundant tasks, such as manual data entry, and positively impact employee engagement at the workplace.
Improved accuracy: OCR technology allows for a 99% accuracy rate with human-in-the-loop.
Compliance with mandatory regulations: implementing automation allows for document verification to minimize fraud, helping companies stay compliant with KYC and AML regulations.
Automated Data Entry Use Cases
We have now learned what data entry automation is, how it is implemented, and what its benefits are. But simply being aware of the theory will not improve business processes. Let's approach this topic from a different perspective and take a look at some of the use cases of automatic data entry:
Purchase order processing
Converting images to text
Know Your Customer (KYC) automation
Receipt clearing for loyalty programs
Invoice Processing for Accounts Payable
An automated accounts payable process relies on automatically extracting data from fields in supplier invoices and entering the information in ERP or bookkeeping software for accounting or financial purposes. Data entry automation software can also detect duplicates or fraudulent invoices, therefore making companies aware of invoice fraud.
Purchase Order Processing
Keeping track of the purchase order process is easily done with automatic data entry. The software checks that all data is valid and that it corresponds to the respective sale, using two-way matching. Automation software also detects if the purchase order document has been tampered with, avoiding vendor fraud.
Converting Images to Text
As lots of companies receive important information in the form of scanned images, automation can help them extract data efficiently, and most importantly, accurately, using OCR software. Organizations can turn images into text and extract the most important information from them in seconds.
Know Your Customer (KYC) Automation
Know Your Customer automation helps companies stay compliant with mandatory customer due diligence (CDD) practices, by checking that customers are who they claim to be and that they are not engaging in threatening or dangerous activities, such as money laundering, terrorism financing, or illegal financial activities.

Checking customers' identities is done by performing identity proofing. This means checking identity documents using intelligent document processing software, to make sure that their documents are valid and that their activities do not represent a risk for organizations.
Receipt Clearing for Loyalty Programs
Loyalty programs require lots of back-office work, which includes manually entering data from receipts into a database system. With data entry automation in loyalty programs, companies can reduce processing times, eliminate human errors and improve customer satisfaction.
How does it work? Automation in receipt clearing for customer loyalty programs implies scanning the receipt, leaving the software responsible for extracting relevant data points, such as line items or purchase dates. In the case of cash-back campaigns, the software is able to extract, validate and enter the information in the database system, without the need for human input.
Automating the data entry process can be done by many software, but only some of them deliver qualitative data and are able to improve a company's workflow. We have come up with a list of some of the best automated data entry software, so you can see for yourself which one fits your organization best.
Best Automated Data Entry Software
1. Klippa DocHorizon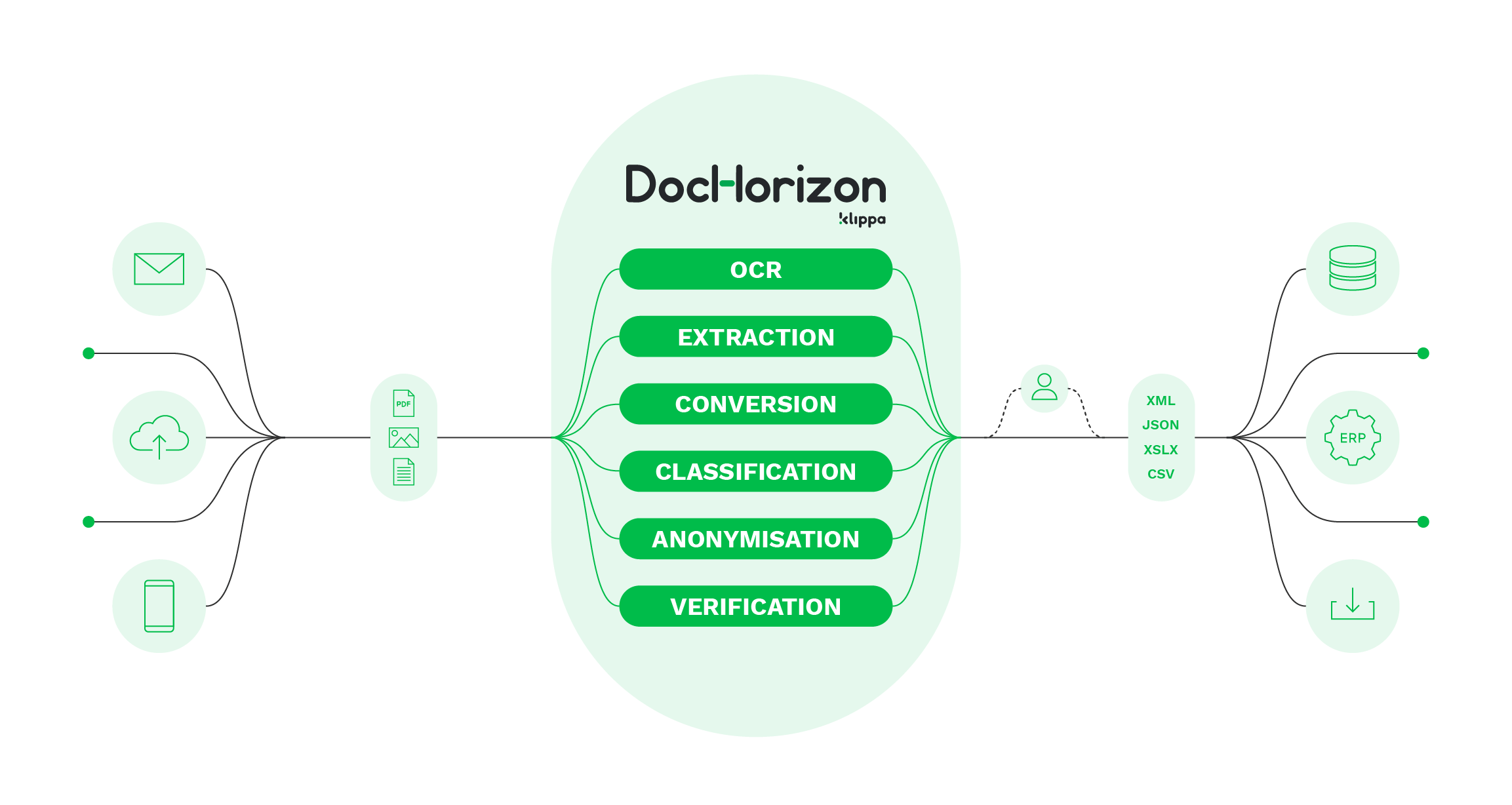 Klippa DocHorizon is a versatile Intelligent Document Processing solution that can automate manual data entry tasks efficiently and accurately. It allows businesses to capture data with a 99% accuracy rate from a wide range of documents, such as receipts, invoices, identity documents, and many more.
Pros
Enables you to recognize and convert various documents such as receipts, invoices, contracts, forms, and passports into structured data in an instant
AI-enhanced software allows you to capture unstructured data from any document
Data entry automation with accurate data extraction and parsing engine
Suitable for digital archiving, data management, and validation
Multilingual support
Line item extraction
Categorizes the document type for you with document classification
Enables data anonymization for data privacy regulatory compliance
Cons
A data reporting system is not yet developed
User-Interface is under development
Best for financial and logistics-oriented organizations
2. Docsumo
Docsumo helps businesses by automating data entry processes using machine learning. With the sophisticated technology, Docsumo is not restricted to templates, and it doesn't require manual setups. Users can simply upload documents and forward the captured data to other software, eliminating manual data entry.
Pros
Simple User Interface (UI)
Availability of customer support
API customizable for many use cases
Multiple data outputs
Cons
A more complex reporting system would be appreciated
Cannot process handwritten papers effectively
No data anonymization
Best for banks and logistics processes
3. AutoEntry
AutoEntry is a data entry automation software platform for small and medium businesses. It allows companies to submit data for extraction in multiple ways, such as through a website, mobile app, or email address. AutoEntry is specialized in accurately extracting data from receipts, invoices, and bank statements.
Pros
User-friendly
Can be connected to a pre-existing accounting software
Mobile app available
Cons
Limited accounting and bookkeeping sector
Minimal functionalities of the platform
Slow customer service
Minimal data extraction accuracy
No data anonymization
Best for accounting automation for SMEs
4. Docparser
Docparser is an automated document management solution that incorporates storing documents in a cloud environment. The OCR technology and built-in text recognition can extract data from various documents, even barcodes, making this software a great choice for invoice or purchase order processing. The data output can be downloaded as Excel, CSV, JSON, or XML.
Pros
Integration with APIs
Incorporation with business storage
Extracts text and processes images
Cons
Cannot search through parsed documents
Lack of filtering capabilities
Limited template-based approach
No data anonymization
Best for logistics processes
The market offers a big variety of good data entry automation solutions, but only the best can actually make a difference. Klippa DocHorizon, for instance, can process a multitude of documents accurately, in a matter of seconds, making data entry a smooth process for every organization.
Automate Your Data Entry with Klippa DocHorizon
Klippa DocHorizon helps companies automate their data entry processes by using advanced OCR technology and AI. This digital solution can extract data, anonymize, parse, classify, and verify documents.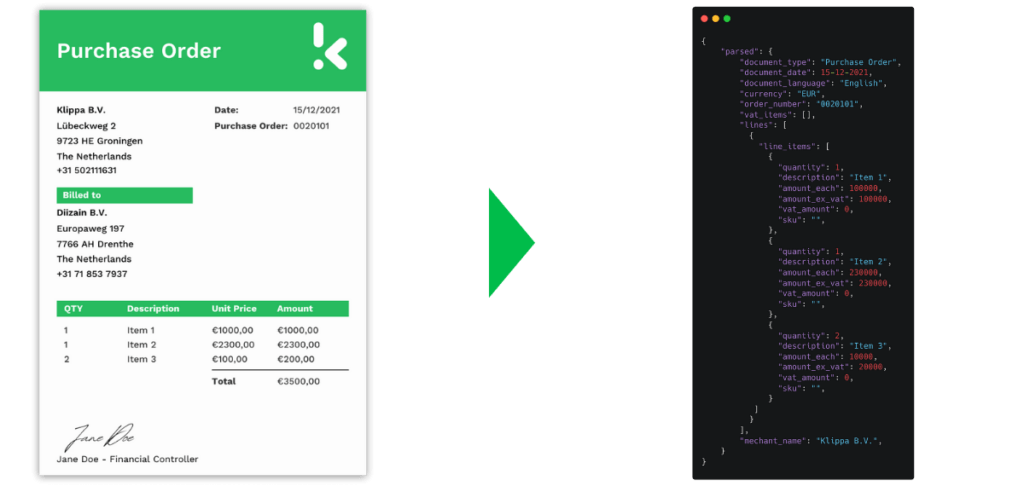 These are just some of the additional benefits of using Klippa DocHorizon for automating your data entry process:
Fast text recognition and data extraction
Ability to detect fraudulent documents
Cross-checking documents and data points
Convert documents to various extensions, such as CSV, JSON or XML
Are you ready to improve your data entry processes? Book a free demo down below or contact our experts for more information about our products!