Digital receipts
Klippa's goal is to eliminate paper receipts. We are doing this by digitizing paper receipts in the Klippa app. In addition, we've introduced a smart digital receipt that is available after each transaction, called Digibon. 
Receive digital receipts 
The original idea in 2014 was to provide every Klippa user with a unique barcode matched to your Klippa ID. After each purchase you would show the merchant your barcode, and voila your digital receipt was added to your Klippa account. That would look like this: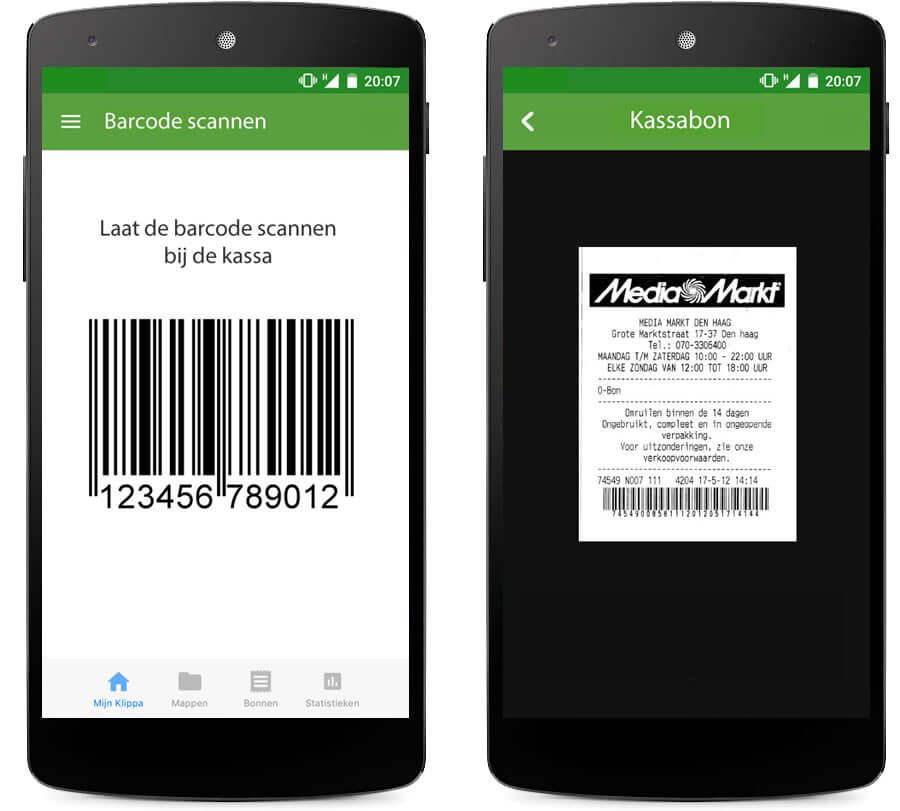 It was a solid solution. However, we believed we could do more and built Digibon. With Digibon consumers can receive their digital receipt seamless in an app of choice after each transaction. You just pay like you normally do and receive your receipts automatically in your favorite app. Click here to read more about Digibon
Paper receipt app

The Klippa is app is free of charge and available for iOS and Android. All your files are stored in the cloud and available on your laptop, tablet or desktop. In other words, you will never lose a receipt again. Are you using Digibon? Besides Klippa, you can safe and store your receipts in your banking app, Google Drive, or Dropbox.
Every day we work hard to spread the news about our solution Digibon. On a weekly basis we have meetings with retailers and the implementation of digital receipts. Unfortunately, innovation in the retail goes slowly and awareness about the silly process and impact of paper receipts on the environment is much needed. Share the news about Digibon, and hopefully you'll receive your digital receipt at your favorite retailer soon! 
Retailers
Are you a retailer that would like to implement software for digital receipts? Please contact us for the costs and possibilities. Digibon is easy to integrate in your cash register software or pin terminal with our API. 
Supplier of cash registers 
Are you a supplier of cash registers? Please contact us for a free integration with Digibon.io
Please feel free to ask questions.
Get in touch by email, phone or chat!
SpendControl
Expense Management
Invoice Processing
For Accountants
White Label