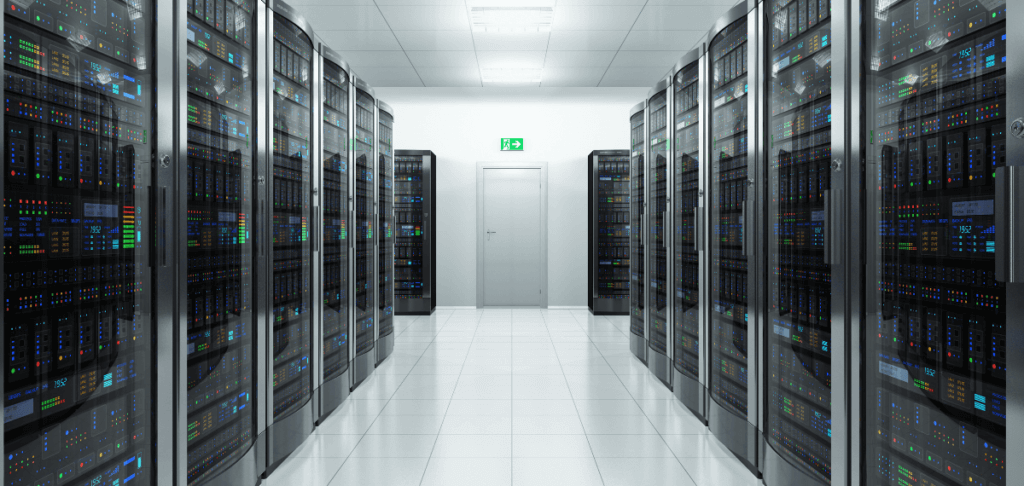 Many companies across the globe are looking for Optical Character Recognition (OCR) software to improve their business processes. 
In fact, according to Grand View Research, the OCR market is expected to grow annually with a compound annual growth rate (CAGR) of 16,7% from 2021 to 2028.
Right now, you might be at a point where you would like to leverage OCR technology as well. Due to the different options out there, it might be unclear whether you should invest in an on-premise OCR or a cloud-based OCR solution.
Both solutions yield significant benefits for businesses. Yet, there are essential things to consider before choosing one over the other.
To help you make the decision, we will discuss the differences between the two options in this blog and provide you with a list of a few on-premise OCR vendors.
What is on-premise OCR?
On-premise OCR, in essence, is OCR software that is installed locally on server infrastructure under your management. With on-premise OCR, documents and data do not leave your organization's infrastructure.
On the contrary, with the cloud solution, your documents and data move from your servers to external servers, from which you will receive data back after the OCR process is concluded. Because of this data transfer, you have less control over your data.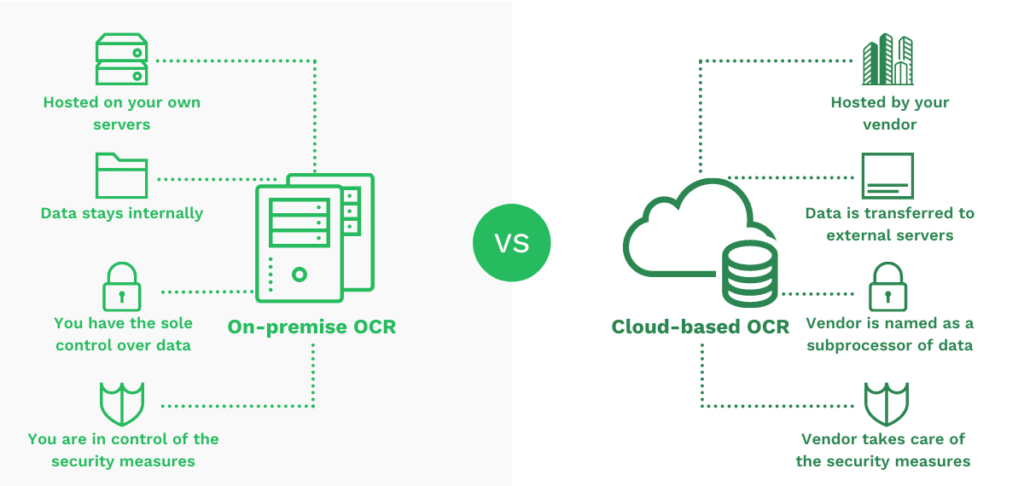 Often on-premise OCR is preferred by larger organizations with heavy security demands, privacy regulations, or compliance procedures. For example, banks, insurance companies, and companies in other highly regulated industries.
An on-premise solution is usually too expensive for smaller companies compared to the benefits.
So what are these benefits of deploying OCR software on-premise? Let's get into that next!
The benefits of on-premise OCR
Hosting OCR software in your organization's network or systems yields many benefits. These benefits include:
Full control over data
Full control over security measures
No additional vendor dependencies
These benefits weigh more than any disadvantages in highly regulated industries such as banking, legal, insurance, and transportation, to name a few.
Full control over data
Data privacy has become increasingly important since the General Data Privacy Regulations (GDPR) were imposed in 2018 in Europe.
With an OCR solution on-premise, enterprises can retain complete control over data as the data would remain within the internal infrastructure.
Data privacy is often a concern in highly regulated industries, and therefore self-hosted OCR software and servers have a higher priority.
Take governmental institutions as an example. Not many are willing to risk having classified information stuck or lost if something goes wrong on the side of the OCR vendor.
Thus, these organizations would rather choose to deploy the solution on-premise instead of using a cloud solution to ensure data privacy regulations compliance such as the GDPR.
Full control over security measures
Data security is as important as control over data; to maintain GDPR compliance and avoid data breaches. When OCR software is installed into your infrastructure, the safety measures to safeguard your data are known to you.
With the on-premise solution, you can implement your own IT security standards to the OCR software. This way, you can ensure that the data is well-protected against unauthorized access.
There is no need to worry about whether your OCR vendor is hosting the solution on ISO certified servers as long as your servers, hardware, infrastructure are well-secured.
No additional vendor dependencies
Once the on-premise OCR is deployed in your environment and settings, you are no longer dependent on the vendor.
Of course, there are exceptions, as some vendors do offer additional service level agreements (SLA) beyond the standard SLAs.
As previously mentioned, security measures and data privacy are in your control with OCR software deployed on-premise. Additionally, you do not need to worry about whether the vendor can guarantee a 99,9% uptime.
In short, it's up to you, whether you are less dependent or entirely independent of the vendor.
No solution is perfect of course. On-premise OCR comes with disadvantages that should be taken into consideration. Let's go over these disadvantages next.
Disadvantages of on-premise OCR
No solution is perfect or fits all scenarios. On-premise, like the cloud-based OCR solution, has some drawbacks.
These drawbacks include:
Software deployment and maintenance
Large capital investment
Longer implementation time
Lower flexibility
Less scalable
Let's break them down one by one.
Software deployment and maintenance
Technical resources are required to ensure that the server infrastructure is proper so that the software can be deployed on-premise. Whether this technical knowledge or expertise comes internally or externally, overall setup costs will be increased.
In addition to the costs associated with the software deployment, you must keep in mind that software maintenance costs time and money as well.
Enterprises implementing on-premise OCR software are responsible for the maintenance and hosting of the solution. Therefore, it would require organizations to dedicate or hire necessary human resources to keep up with the software maintenance (system administrators).
These are one of the main reasons why smaller companies with a limited budget and technical resources stay away from the on-premise option.
Large capital investment
When choosing an on-premise OCR solution, organizations must spend a large amount of capital upfront. This fee is dependent on the use case, the scale of the project, and the deployment method.
Therefore, it may not be the right solution for smaller firms with limited resources.
On top of the license fee and setup costs, organizations need to remember that regular maintenance and additional SLAs add up to the costs. It is essential to keep supporting and upgrading software or hardware to increase data security.
In the long run, it is still cheaper to make sure that data security is up to the standards than for example, paying large sums (often millions) for a GDPR fine.
Longer implementation time
One of the main drawbacks of on-premise OCR is the time that it can take before a company can deploy its OCR solution. It often consumes the vendor a significant amount of time to complete installations on clients' servers. Compared to cloud OCR, on-premise has a longer implementation time.
Some organizations may need the onboarding and training required to implement the solution thoroughly, taking up a significant amount of time. The bigger the project, the more time it takes.
Time to market is crucial in a competitive landscape as there is always an advantage of being the first solution provider. If that is the goal of your organization, then OCR on-premise should not be your first choice.
Lower flexibility
While deploying the OCR software into your infrastructure offers excellent options for customization (e.g., configurations, maintenance, updates), it may not offer flexibility beyond that.
Instead, if someday your organization decides to change to another provider that offers more than your current one, you may find it challenging to switch.
It is not as convenient to switch from one vendor to another as it would be with cloud OCR.
Less scalable
On-premise OCR is, in general, harder to scale. To do so, you would need to update physical hardware as computing power and data storage are required to scale due to the increase in document volume.
Also, new servers must be purchased, and potentially a property or location on which to host these servers. All these things can quickly add up to the cost.
Therefore, we recommended making sure that the on-premise OCR vendor can offer everything concerning what you want to achieve in the future.
In case you have made up your mind on-premise OCR solution, we have listed a few on-premise vendors below.
If not, then you can advance to the benefits and drawbacks of cloud-based OCR that come after the shortlist of on-premise vendors.
On-premise OCR vendors
We understand that having many options available can be overwhelming. To help you in decision making, we will cover the following list of on-premise OCR vendors:
Klippa – DocHorizon
Tesseract
Taggun
Abbyy – FineReader Engine
Let's take a look at what each of these on-premise solutions can offer you.
Klippa – DocHorizon
Klippa DocHorizon is OCR software powered by Artificial Intelligence (AI). It is an end-to-end solution capable of automating data capture, extraction, classification, verification, and anonymization, which can be deployed on-premise.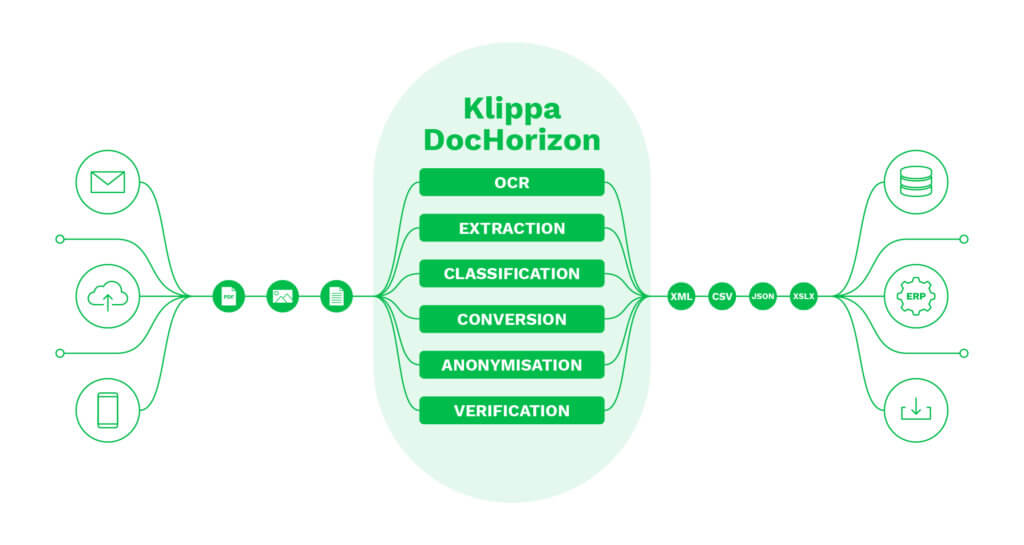 Like its cloud version, Klippa's on-premise OCR includes features that can help you process documents in PDFs, JPGs, PNGs, TXTs and convert them into structured data (e.g., JSON, XLSX, CSV, or XML).
Currently, Klippa's OCR supports document processing in all languages based on Latin alphabets such as English, German, Spanish, Dutch, French, Italian, Swedish, Danish, Finnish, and more.
With the help of AI, Klippa's OCR solutions can increase the accuracy and document coverage over time while automating document processing.
Klippa DocHorizon on-premise is suitable for high volume and complex use cases. Even when your organization does not have a high level of technical expertise or resources. The in-house knowledge and expertise of Klippa can deliver tailored solutions based on your needs.
Tesseract
Tesseract is an open-source OCR engine, which is considered one of the most reliable while being freely available. It was initially developed by Hewlett-Packard and has been sponsored by Google since 2016.
Tesseract currently covers up to 116 languages. While it is free, it requires a separate Graphical User Interface (GUI) because it doesn't come with one. Creating a great GUI requires a lot of time, effort, and resources. This applies to all open-source OCR software.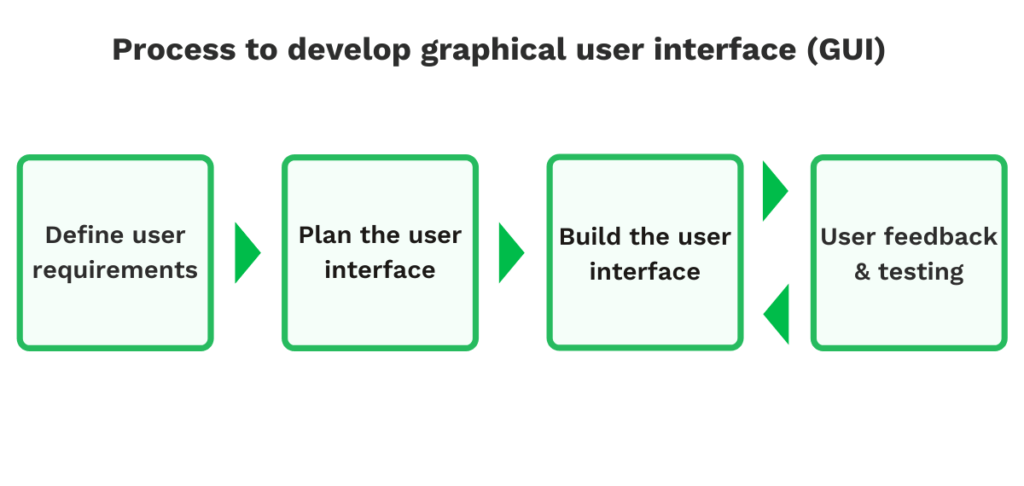 Before starting to program a web app, mobile application, or adding OCR features to your system, you need to think about the User Interface (UI) design.
For that, hiring UI designers and dedicating developers' time would be necessary.
It is important to review how much time and resources you want to spend creating a GUI yourself. Implementing open-source OCR such as Tesseract comes with that type of limitation.
Taggun
Taggun is an OCR provider founded in 2017. The company is based in New Zealand. Like Klippa, Taggun can deploy its cloud OCR on-premise per request from clients with an enterprise license.
Taggun's OCR is built to process receipts and invoices in JPG, PNG, GIF, and PDF formats. Currently, the data extraction accuracy that it can guarantee is 82.26% under 5 seconds.
The fields that it can extract include:
Total amount
Tax amount
Date
Reference number
Invoice number
If you are looking to process receipts and invoices, Taggun might be the solution. However, a 2-year commitment must be made when choosing the enterprise license.
It might also be worthwhile to consider whether you may need OCR for other document types on top of receipts and invoices in the future.
Abbyy – FineReader Engine
Abbyy FineReader Engine focuses on converting scanned documents and images into searchable PDF, Word, or Excel documents with OCR Software Development Kit (SDK). It helps organizations access and extract data on photos, screenshots, and even handwritten text.
FineReader Engine can automatically categorize documents into different classes with its advanced algorithms, similar to Klippa. It can also be used to detect differences in content between two versions of the same document, which can help detect duplicate documents.
Abbyy's FineReader Engine can export data in formats that include:
Although it can provide a great OCR solution with advanced features, there are some limitations. As FineReader Engine is an SDK, it would require resources and development from your organization to integrate it into your system or applications.
That can quickly become time-consuming, even with proper documentation.
Additionally, it lacks the option to export data in a JSON format, which is faster to parse due to its small file size.
It can be a great solution, but you would need to dedicate a significant amount of resources such as developer hours to get it integrated into your infrastructure.
With a list of on-premise vendors already covered, let's take a look at the cloud-based OCR.
What is cloud OCR?
Cloud-based OCR or OCR Software-as-a-Service (SaaS) is hosted on the vendor's server. The customers of that particular vendor are able to access the solution via a web browser or OCR API.
With a cloud-based OCR server, virtual technology is utilized to host the company's applications offsite. Therefore, the solution releases the companies of the maintenance duties as the vendor has all the responsibilities.
So how do businesses benefit from this solution? Let's have a look at the advantages next.
The benefits of cloud OCR
Cloud solutions, in general, are very appealing for the majority of organizations as they are not limited to the capabilities of their existing hardware. The same goes for cloud-based OCR software.
There are various benefits of cloud-based OCR that can help you take a further step in your decision-making. These benefits include
Scalability
Maintenance-free
Transparent costs
Fast implementation time
Scalability
One of the major benefits of a cloud-based OCR solution is that it offers businesses scalability. It means that you can scale up and down based on the following factors:
Overall usage
User requirement
The growth of the company
Events
Projects
Let's pretend for a second that you are a scale-up, which needs an OCR solution. You are entering a phase to grow your business by 100%, and you need an OCR provider that can meet your growing requirements. But you do not have the resources yet to invest a large chunk of your capital into an OCR solution.
This is where the cloud-based OCR vendors come into play. They can satisfy your need to scale as your hardware or software does not limit them.
In general, it does not matter what your use case or the size of your company is. Cloud OCR can grow together with your business.
Maintenance-free
As the vendor hosts the OCR software, you are free from maintenance drawbacks. The vendor is regularly responsible for updating and ensuring the software's compatibility and security.
With the cloud solution, you do not need to have a large IT department nor have the burden to pay for the maintenance costs.
This is one of the reasons why cloud-based OCR software is highly recommended for smaller firms.
Transparent costs
As mentioned earlier, there is no need to invest a large amount of money in a cloud-based solution. Instead, businesses can pay either a monthly or a yearly fee to cover software licenses, upgrades, support, and daily back-ups.
There are no hidden costs. Transparency of cloud-based OCR in pricing provides a more efficient allocation of the budgets.
In general, OCR providers use three different pricing models for their cloud solutions:
Subscription – A recurring fee based on the contract (monthly or annual)
Usage – A fee that depends on the resources used within a certain time period (often monthly)
A combination of the previous two – A recurring fee and a fee based on the number of credits/tokens used within a certain period
Fast implementation time
Another major advantage of cloud-based OCR software is fast implementation time. It allows businesses to deploy the solution within hours or days. It eliminates the need to install the OCR software locally on a physical server(s) of your organization.
Thus, with an instant arrangement, users can use the application immediately. This is another reason smaller businesses with limited technical resources prefer a cloud OCR solution over the on-premise one.
But let's not get carried away yet. There are some drawbacks to consider as well. Let's go through them next.
Disadvantages of cloud-based OCR
Like in every solution, cloud-based OCR also has some disadvantages, which include:
Less customizable
Vendor dependency
Less control over data security and privacy
Once again, let's break them down one by one.
Less customizable
Cloud solutions are generally less customizable as the vendor configures them. Some cloud OCR solutions cannot cope with complex development or modifications.
This might be a limitation for some organizations. However, it boils down to how cloud OCR software is hosted and the use cases. Some vendors allow customizations and provide the help you might need with additional charges.
Vendor dependency
Cloud-based OCR relies on the vendor to remain operational. If there are some problems with the internet provider on the vendor side, it may hinder the performance of the OCR software.
If your business promises to provide a full-fledged product with close to 100% uptime for your customers, this can become a problem.
Other dependencies that your organization depends on are the vendor's security measures and data processing methods. Therefore, it is necessary to ensure that the data processing is safe, transparent, and according to data privacy regulations.
Less control over data security and privacy
The major concerns of the cloud solution for many organizations in restricted industries are data security and privacy.
As mentioned earlier, with cloud solutions, your documents and data are being processed by the vendor. While the data is in transit from your servers to external servers, you will have less control over the data security and privacy.
Due to strict data privacy regulations, large corporations want to gain full control over the data and security measures. Thus, these corporations would rather host the solution on-premise.
Therefore, it is crucial to read up on the data privacy and security policies to ensure that they align with your needs and requirements.
We have covered both the benefits and disadvantages of on-premise and cloud-based OCR solutions. But how do you decide which one to choose? To help you out, we made the comparison table in the following section.
On-premise OCR vs. cloud-based OCR
Both on-premise and cloud OCR solutions have advantages and disadvantages. To highlight the key differences between the two options, we have created a comparison table.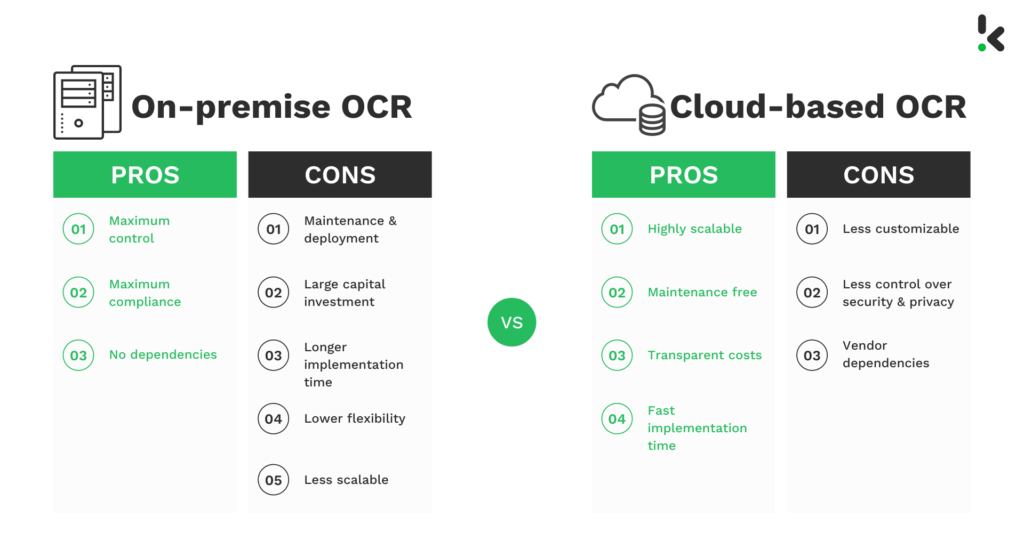 Final conclusion
Making the choice is not easy as there are neither right nor wrong answers when it comes to the cloud versus on-premise OCR software. Every organization is different and has its own priorities that often influence the final choice of deployment.
However, in our experience at Klippa, it boils down to the following elements:
Costs – Are you looking for a solution that requires large capital investment or recurring monthly/annual fees?
Scalability – Are you looking for a solution that enables you to scale up or down depending on your situation?
Technical resources – Do you have the right resources to deploy, maintain and upgrade the on-premise OCR software?
Data control – Do you want to have full control over your data and ensure GDPR compliance?
Security – Do you have better measures to safeguard your data compared to the vendor?
These are the questions you should keep in mind when evaluating your options.
Whether you are looking for on-premise or cloud-based OCR solutions, we at Klippa are happy to help you get started!
Why Klippa can be the right solution for you
Finding a competitive edge has become more important than ever due to the increasing demands of consumers. This is one of the reasons why organizations consider integrating OCR software into their infrastructure or workflows to increase business process efficiency.
We can help you achieve that competitive edge with our OCR solutions. Klippa's on-premise and cloud-based solutions enable you to cut back administrative costs, save time, prevent fraud and safeguard your data.
Our AI-based OCR software is able to automate any document-related processes from data extraction to data masking. Whatever your use case is, we will work hard to find a tailored solution that suits your needs. We can deploy it the way you need it; off-premise or on-premise.
Book a demo below to get ahead of your competitors by partnering with Klippa! If you are still hesitating between our on-premise or cloud-based solutions after reading this blog, contact our team of experts for more information.
---