With the rapid digitization of the modern world, there are plenty of new opportunities for businesses to increase efficiency and effectiveness. One promising new area is accounts payable automation, which you can accomplish with Invoice Data Capture (IDC) software.
IDC solutions have many benefits over traditional accounting methods – they save time, reduce errors, improve cash flow, and help manage your business finances. They are powerful solutions that will help you be more efficient in the years to come. Here are some of the most important things to know and features to look for in an automated invoice processing solution.
---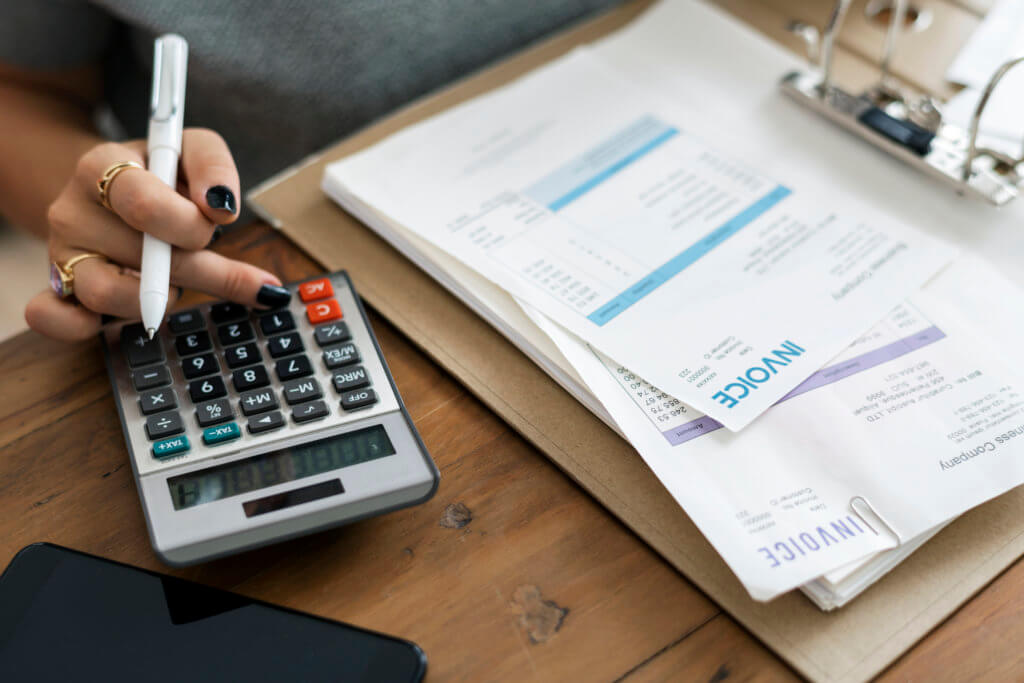 What invoice data capture software is
Often, it can be hard to manage your time and resources. When the workload begins to slow your Accounts Payable team down, and they're beginning to fall behind, it might be a good time to get invoice capture software to help them stay on top of their duties.
IDC is a primary task of the Accounts Payable department of your company. It is also an integral part of managing payments and receiving money from clients. It includes a set of steps taken to collect information from suppliers, validate invoice information, and track compliance with payment terms. A more sophisticated implementation of this process can ensure smoother operations and improve the financial management of your company.
In the digital age, automation has become an increasingly popular way to streamline business processes. Intelligent IDC software is a perfect example of this. This type of tool captures and extracts data, processes and validates it, uploads it to an ERP software, and optionally distributes payments – taking many manual data entry steps out and creating an automated invoice process. With the help of invoice capture solutions, companies can only focus on collecting and updating the data that matters to them.
If you are already using your software but are not fully satisfied with its features, you can integrate Data Capturing APIs for a more personalized experience. By using these APIs in conjunction with your software, you will be able to modify it to your liking and create an enhanced version of your original solution.
---
Why your business needs invoice capture software
Manual data and invoice processing often require time and effort and can result in mistakes, delays, and data loss. Many businesses use IDC solutions to capture and process invoices automatically. It helps them qualify for early-payment discounts and avoid the risk of late-payment penalties. IDC helps them save time and reduce expenses.
When we say data, we usually refer to:
Invoice information (invoice number, pay date, supplier name, address, purchase order number)
Invoice details (including purchase order numbers, payables, and receivables) to suppliers
Tax information (sales tax, VAT) against accounting records
Internal payment information (supply chain payment status)
Vendor details (financial status, administrative details, etc.)
Approvals and audit trails to determine whether to pay the supplier or not
Intelligent invoice processing tools use machine learning algorithms to capture, extract and export data. Machine learning algorithms can be used to turn unstructured invoices into structured, data-rich pieces of information, as well as export them in various formats for further usage.
It's important to understand what features invoicing software have and how it can benefit your business. As mentioned above, traditional accounting methods can be time-consuming and error-prone, but invoicing software eliminates a lot of those headaches with automatic data capture and validation. Its value lies in situations where you need a certain amount of accurate information, but you don't have time to take it all in.
---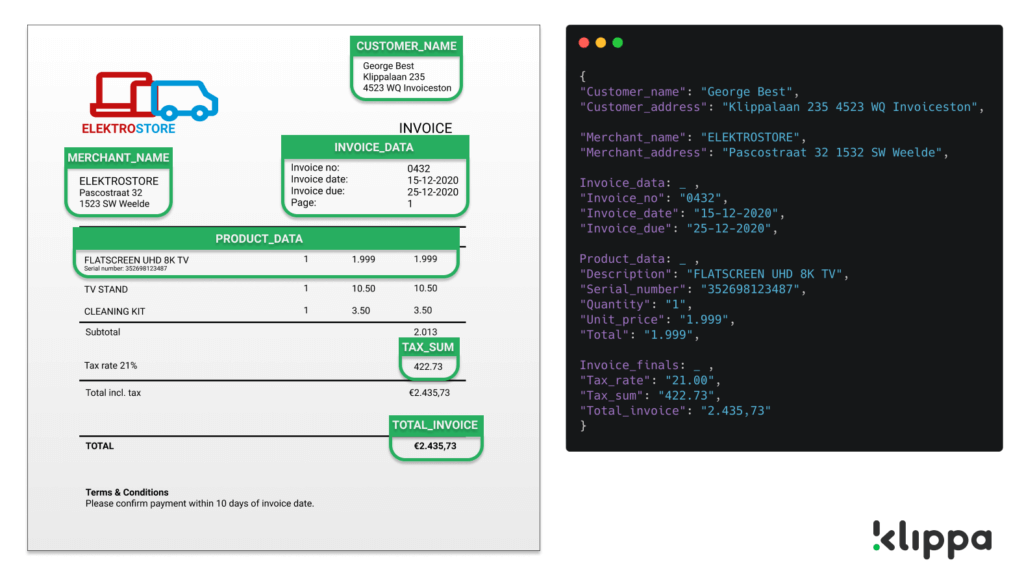 Benefits of using data capture solutions
Data extraction from an invoice is easy with the right tools. You'll increase your ROI, reduce manual data entry errors and provide real-time insights in your financial situation. It will also keep your books simple and prevent backlogs.
Invoice capture can help you:
Increase transparency and control over the invoicing process
Improve cash flow by eliminating the backlog
Predict real-time tax estimations by avoiding late filing penalties
Increase bottom-line revenues
Reduce costs of customer service
Eliminate errors
Enhance efficiency
Support superior decision-making
Simplify cash management
Improve control of your company's financial information
Shorten turnaround times to profit more from early-payment discounts
Reduce the potential for fraud
Create a paperless environment
When it comes to invoices, data accuracy is the key. If you don't correct your invoices in time, it can damage your cash flow and customer relations. The invoices must include all the relevant information. Maintaining your invoices will keep your suppliers happy, prevent legal action, and keep your operations running smoothly. And that's just the tip of the iceberg.
---
Nice-to-have features of IDC solutions
IDC is an important part of any business. It's important to have the right IDC system to streamline your workflow and be more efficient. Here are some features that you should try to integrate into your company:
A cloud-based system with auto-notifications
Automation rules and customization options
Invoice management and classification
Integration with third-party services
Monitoring and reporting
Security and governance
Don't waste time with inefficient manual invoice processing. Instead of manually processing invoices, take a step into the modern era and automate your workflow. With software, you'll speed through numerous invoices per month.
With IDC solutions, your team can work on more meaningful tasks, freeing up your budget to use in other ways. All of these changes can lead to significant growth of your company.
---
The best invoice data capture software in 2022
There are a lot of different solutions, so you need to find the right one for you.
Many businesses require end-to-end solutions that cover the interface, approval flows, and more. But some companies may prefer a data capturing API that will easily integrate with their existing software. What fits your business best will depend on your requirements.
Here are some of the most popular tools you can use for accurate and automated data capture and validation.
Klippa Invoice Management

Klippa Invoice Management is a cloud-based solution powered by machine learning and OCR software for invoice scanning that speeds up your Accounts Payable processing. It allows you to control the invoice lifecycle, from receipt to payment, with unparalleled ease from your browser.
Klippa automatically tracks, processes, and recognizes invoices. Klippa's cutting-edge technology is designed to save you up to 70% of processing time, freeing up your team for higher-level tasks.
It will show you the status of the invoices, including whether or not they have been paid, and will prevent payment mistakes such as paying invoices twice or paying invoices that have not been approved. This last detail ensures suppliers are happy because it will result in timely payment of approved invoices.
Klippa helps you add your documents to your workflow in a few different ways. If your documents are included as an appendix in emails, you can add them automatically with an email forward.
Also, you can use the handy document splitter to scan in bulk your paper invoices and split them to individual lines in the workflow. If you like using mobile devices, use the Klippa app for iOS and Android so you can add your document by simply taking a picture.
Klippa uses OCR software for invoice scanning and data extraction. You can download your financial documents in various formats like PDF, XLSX, CSV, and UBL.
Klippa made partnerships with a variety of accounting and ERP systems. This relationship is a two-way street: Klippa syncs the data between systems. Klippa also allows the intelligent export and import of files to make entries easy to create.
You can automate many invoice-related business processes by using Klippa's machine learning technology. Its APIs and SDKs allow businesses to integrate Klippa's solution seamlessly into their applications.
Klippa's invoice OCR & data capturing has the following features:
Invoice scanning
Invoice format and quality conversions
Invoice to text, UBL, CSV, XLSX, or JSON with OCR
Data capturing on invoices
Classifying invoices and invoice line items
(Cross)Validating invoice data
Invoice management
Workflow optimization
With the help of Klippa OCR and machine learning you will automate 95% of your invoice processing. Klippa supports all European languages and all the services are fully GDPR compliant. Also, Klippa doesn't store any of your data after processing.
Now, you no longer have to worry about the time and energy spent on invoice capture. You can simply use Klippa to save time and eliminate errors. With this technology, you will enjoy a much more efficient process than before.
Intellichief paperless invoice processing

IntelliChief's invoice processing tool does all the work for you. This time-saving solution automatically captures, matches, codes, and pays your company's invoices with improved accuracy.
IntelliChief's invoice scanning software is a must-have for any company. It can automatically capture, import, and process data from scanned documents. The software can import the document into your ERP and direct each document to the appropriate person on your team.
IntelliChief's software lets you set up efficient workflows for your invoicing. You can create different approval workflows and adjust them to transactions of different values, and the software will manage the rest.
When invoice data doesn't match a purchase order or receipt, the system alerts your Accounts Payable team. With a few swipes, your team can see what is wrong and quickly contact the supplier. Once the issue is resolved, the transaction is vouchered in your accounting program, and approved payments are released following the supplier's policies.
Also, by using IntelliChief, you avoid all the confusion about repeated payments because this software solution checks duplicate invoices.
Brainware OCR Intelligent Capture Solution

Brainware automated invoice solution extracts critical data from both paper and electronic invoices and exports them to various business applications, improving your bottom line in the process.
With Brainware, you'll process invoices in hours rather than days. You'll also have a clear, immediate view of the status of your revenues and costs. Brainware for Invoices is an Accounts Payable automation solution that you can use to reduce manual data entry workload.
Also, Brainware can help you:
Monitor the whole process, from receiving the invoice to payment posting
Share data with other systems like ERP and ECM
Monitor processing metrics and key performance indicators
Simplify Accounts Payable process, change invoice type or batch process your invoices
Match captured data from line items automatically
Use vendor and supplier number from you master documents and apply to your invoices
Pallete Accounts Payable automation

Pallete is an automated invoicing solution that can cut the time it takes to process invoices by 50%. It uses artificial intelligence and OCR technology to speed up the extraction, validation, placement, and visibility of captured data.
The Pallete brings significant value because you can process both paper and electronic documents with high accuracy in formats such as EDI, XML, or PDF with a flexible automated approval workflow.
You should choose to use Pallete if you want to:
Reduce your costs by half
Process easier paper and digital document
Manage PO or Non-PO document with automated workflow
Send your files to the appropriate approver
Create workflows with drag-and-drop option
Approve payments with one click
Match files in three ways
Verify invoice data extraction solution

With the help of the Veryfi OCR API and NLP, captured information from unstructured invoices, bills, and purchase receipts are instantly transformed into structured data. This process is done at scale, so there is no need for templates or manual data entry.
With Veryfi, reducing costs and speeding up work is just a click away. With a few simple steps, you can improve both data quality and compliance. The value is in the perfect blend: with this solution, organizations have the accuracy and speed to audit their financial information in minutes, not hours.
Veryfi OCR solution is useful because it:
Utilizes Level 3 data extraction
Doesn't require training or data
Is optimized for data privacy and compliance
Provides results in real-time
Doesn't use templates
Captures data with mobile devices (iOS and Android)
---

Say goodbye to paperwork and hello to IDC
If you've ever been in charge of managing your company's invoices, you know how difficult it can be to stay on top of everything. It's not just the time-consuming nature of the job that makes it so frustrating—it's also the fact that it's so easy to make mistakes. Whether you're working with paper receipts or digital formats, there are many ways to get things wrong.
An IDC system makes your life easier by automating the invoice data extraction. You'll be able to track your invoices quickly and easily from anywhere in the world, saving you time and money in the long run.
With digital accounting, you can forget about the hassles of paperwork and focus on growing your business. Invoice data capture makes it easy for you to do business with companies around the world!
So, if you are interested in improving your cash flow, becoming more efficient and taking your business to the next level, contact us today or book an online demo below. We're happy to help you manage your digital transformation.
---
 Schedule a free online demonstration
A clear overview of Klippa in only 30 minutes.