A business that processes many documents needs to do so as quickly and efficiently as possible. The last thing anyone wants is to spend hours and hours on data entry and other administrative work. If you're tired of spending time on repetitive work with documents, then it's the right moment to look into OCR software that will help you save time.
The best OCR software can save you from a lot of work by quickly extracting data from scanned documents with unstructured layouts like invoices, receipts, or bank statements.
With so many different options out there, you may find it hard to choose the best OCR software for your needs. We will cover our favorite solutions but first, let's go through some basic information about Optical Character Recognition.
---

Intelligent OCR is the future of document processing
Traditional OCR software recognizes text from image-based documents, such as PDFs, without creating structured data. It improves data capture accuracy and saves you time in the process, but you can also experience workflow difficulties because it cannot be fully automated. It requires manual pre-processing and post-processing of your documents, making it error-prone. Also, it is expensive to set up and maintain.
Intelligent OCR software based on machine-learning technology, on the other hand, helps you with document processing and data extraction, allowing you to turn scanned documents into searchable and editable structured data that you can store in databases and use for further processing.
Intelligent OCR has some very useful features such as:
Creating structured information
Document classification
Image quality improvement
File type conversion
Document verification
The AI-based technology can gather structured data from unstructured documents helping businesses make smart and informed decisions. The Intelligent OCR software is built in such a way that it can be applied to any business and can be easily customized to suit the needs of any company that wants to digitize and automate document streams, removing manual pre-processing and post-processing of your documents.
---
OCR software made easy
Intelligent OCR software recognizes characters like numbers, letters, or symbols in digital images. In combination with data extraction algorithms, computer vision, or natural language processing, OCR software extracts all text from the image and converts it into structured data that you can use for further processing.
Image constraints like blur, skews, spots, and colors can make it hard to recognize data accurately. Initial image processing minimizes the effect of such limitations and enables better output from OCR software. The techniques used by OCR software are numerous. They range from image enhancements to image alignment to create better OCR outputs.
For character recognition, the OCR tool can use two approaches: pixel-by-pixel comparison and neural networks. The first approach looks at each pixel separately, and the second uses machine learning to look at the entire line of text at once.
---

Get more done with OCR software
Digitization is not just about the future of business. It is also an opportunity for businesses to become more efficient, minimizing the risk of errors. Plus, digital transformation improves processing efficiency and output results, allowing you to innovate and be more creative in your strategies.
AI-based OCR software is a valuable asset for your business. Benefits of the technology include:
Reduced administrative burden
Streamlined workflows
Reduced costs and resource savings
Increased revenue
Improved efficiency and productivity
Increased accuracy
Improved data quality
Increased data security
Increased customer satisfaction
Faster turnaround time
---
The best intelligent OCR software for 2021 (paid)
With so many different OCR software available, it's hard to know which one to use. That's why we've created a list of the best OCR tools on the market today, both paid and free OCR options.
Klippa OCR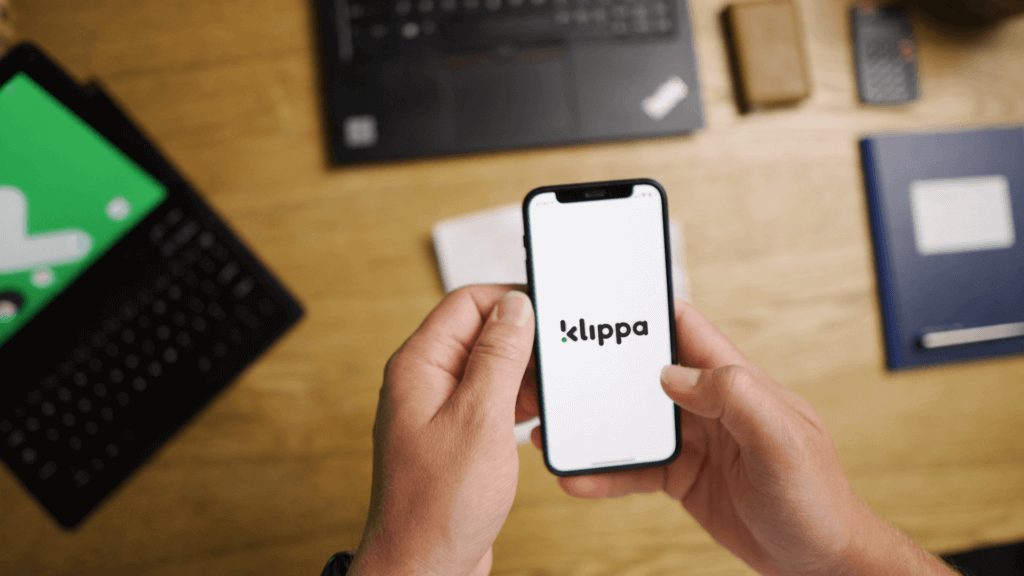 Klippa's OCR software is powered by machine learning and can capture, recognize and convert scanned documents such as receipts, contracts, passports, and invoices into structured data automatically. You can submit your files through the application, web, or email anytime. This OCR solution enables you to extract text, images, and other data and convert it within a few seconds per document.
You can scan and convert PDF documents, JPGs, and PNGs easily with Klippa OCR software. It can process a range of file formats and convert them to JSON, PDF/A, XLSX, CSV, or XML.
Klippa's OCR software can be used in two ways:
As a cloud-based SaaS.
As a perfect option for software companies looking to integrate the best SDK and OCR API with their own solution.
Klippa's OCR is applicable in many industries. It's a document processing solution that can help you reduce time spent on document-related tasks, such as data entry, and streamline your business operations.
Klippa is the best OCR software for
Software and SaaS companies
Logistics and transportation
Legal
Automotive
Banking and financial services
Retail
Public sector
Courier, Express and parcel
Marketing and loyalty
Travel industry
Healthcare
FMCG and CPG
Customs
Manufacturing
Klippa's OCR software provides you data extraction for multiple file types
Financial documents (invoices, credit and debit cards, receipts)
Identity documents (passports, driving licenses, and ID cards)
Legal documents (contracts, chamber of commerce, and bylaws)
HR documents (resumes, motivational letters, and employer statements)
Medical documents
Logistics documents (bills of lading, CMR waybills, and packing slips)
Klippa's key features include
Document scanning
Document format and quality conversions
Document to text with OCR
Data extraction on documents
Classifying documents and data
(Cross)Validating data and documents
Document management
Workflow optimization
Klippa's pricing
Klippa works on a monthly subscription basis. The pricing depends on the number of documents you plan to process. High volume document processing results in a lower price per document.
The smallest subscription starts at €1900 per year, but larger subscriptions allow huge volumes at a highly discounted rate.
ABBYY FineReader PDF

ABBYY FineReader OCR software is known for its ease of use when digitizing business documents. ABBYY FineReader's latest AI-based OCR technology helps you access, edit, protect, share, and collaborate on all kinds of documents in the same workflow. By using this tool you can let your employees focus more on their expertise and less on data entry.
The solution is available on Windows, Mac, iOS, and Android. It can process a range of file formats and convert them to PDF, DOCX, XLSX, PPTX, EPUB, FB2, RTF, ODT, TXT, HTML, or CSV.
ABBYY is cost-effective paper documents processing solution for
Small and medium-sized businesses
Big companies
Legal industry
Educational institutions
Public sector
Key features include
Creating, editing, and organizing PDFs
Creating fillable PDF forms
Collaborating on and approving PDFs
Comparing documents in different formats
Protecting and signing PDFs
Digitizing paper documents and scans with OCR
Automating digitization and conversion routines
Flexible licensing: per seat, concurrent, remote
Pricing
ABBYY FineReader has two options – for individuals and organizations.
The solution for individuals includes two packages:
Standard with a one-time payment of $199. This option has basic features.
Corporate with a one-time payment of $299. Use this package if you're interested in full features.
If you are an organization representative, you can find out more about volume licensing and request a custom-made offer on the ABBYY FineReader PDF official website.
Adobe Acrobat PRO DC for PDF files

Acrobat DC is the world's best PDF solution working on desktop, mobile apps, and on the web. It improves the way you work with documents. It enables you to create, convert, edit, search and share PDFs while collaborating with others from anywhere and anytime.
Adobe Acrobat PRO DC is one of the most powerful tools you can use in your business if you're looking to get work done. It's not just a tool for making PDFs, but it's also a tool for editing, signing, protecting, and sharing your documents, and know for sure that they'll look perfect on any device. It will make you even more efficient and productive while also speeding up your workflow.
Adobe Acrobat PRO DC is an OCR software widely used by
Financial services
Insurance companies
Government
Healthcare and life sciences
Educational institutions
Sales
HR professionals
Procurement sectors
Legal firms
Key features include
Converting pdf files into multiple digital document types (from Word to HTML)
Editing PDFs ( combining files, rearranging, rotating, and removing multiple pages)
Sharing PDF files (send for comments, protect pdf, unlock it or compare files)
Signing PDF files (request signature, fill and sign, or prepare a form)
Bonus features
Comment and share PDFs on the go with a free mobile app
Scan documents wherever you are with Adobe Scan mobile app
Pricing
Adobe offers three plans with different pricing, including a free trial to test out the software:
For Individuals: $14,99/month with an annual commitment
For Businesses: $16,99/month per license, with an annual commitment
For Students and teachers: $14,99/month, with an annual commitment
OmniPage Ultimate by Kofax
Many businesses have a significant amount of valuable data trapped in scanned copies, scanned forms, and other hard-to-read formats. Converting these documents or images to editable text and digital data is one of the most important tasks you can do to save time, money, and resources using tools like Kofax OmniPage Ultimate.
Kofax OmniPage Ultimate document processing tool helps you convert any file format to a digital document and send it to your colleagues, friends, or even yourself. Whether it's a scanned document, a PDF, or just a form, you can convert it with this OCR software into files that you can store in a cloud or edit on your PC. OmniPage Ultimate OCR tool is available for Windows only, it's not compatible with Mac.
It enables you to search, edit and send converted files to a pre-programmed workflow automatically. It also ensures that the file format is not duplicated and moved automatically to the appropriate location.
Converting documents is a time-consuming process. Kofax OmniPage Ultimate OCR tool lets you do it lightning-fast and with any file format.
Key features allow you to
Create searchable documents converting a single PDF or batches of PDFs.
Batch process files from folders or email in real-time.
Recognize over 120 languages during document processing.
Improve your file layout with exceptional OCR accuracy.
Process your documents to many output formats such as PDF, Microsoft Office, Corel WordPerfect, HTML, ePub, and many more.
Use mobile scanners, desktop scanners, all-in-one, and multifunction printers.
Search, edit, and access documents on any device.
Create an archive.
Convert images to editable text documents.
Pricing
Kofax OmniPage Ultimate offers you a free trial to check this OCR tool's features. If you like what you see, you can buy the individual license for $499.
IBM Datacap

IBM Datacap helps you capture, recognize, classify, and extract data from unstructured scanned documents automatically. It can also identify content using natural language processing, text analytics, and machine learning.
The software saves both labor and paper. It provides faster, more meaningful information and is easy to use. IBM Datacap reduces stress levels in the workplace and offers support for a faster decision-making process.
IBM Datacap is an excellent OCR tool for:
Finance industry
Brokerage
Manufacturing industry
Industrial Machinery, Supplies & Equipment
Banking
Business services
Accounting Services
Key features include
Multichannel input and advanced document capture
Intelligent processing of complex files and formats
Exporting pdf files to a range of applications
Configuration of capture workflows
Automatic file reduction
Pricing
The pricing of IBM Datacap is based on different factors. Visit their official website and get in touch with an IBM representative for more information.
Nanonets
Nanonets is a web-based intelligent platform that extracts information from unstructured data. This OCR tool uses artificial intelligence, machine learning, and deep learning capabilities, to extract automatically only the fields you need from scanned documents such as invoices, receipts, and ID cards.
With Nanonets, you can eliminate the frustration of tedious data input with ease of use. Let your team concentrate on what matters most. Nanontets uses deep learning to check if your data is correct and trains artificial intelligence to provide better results the more you use it, without having to disrupt your workflow.
As your business grows, so will the complexity and scope of everything you do. However, with every new challenge, the model will improve and grow, which will make it progressively more accurate with each new file processed.
Nanonets enables you to scan, recognize, capture, search and compare multi-page pdf files such as:
Invoice
ID cards
Purchase orders
Income proofs
Tax forms
Mortgage forms
Industries that use Nanonets OCR software:
Finance
Construction
Healthcare
Insurance
Banking
Hospitality
Automobile
Nanonets key features include
Automated invoice processing for AP departments
Error-free data capture from invoices
Automated table extraction
PDF Scraper to extract text, images, and other formats
ID card verification and digitization
Pricing
Nanonets OCR software offers a price per model, per month, and three packages:
Starter for individuals for $0/model/month with a free sign/up
Pro for teams for $499/model/month with a 7-day free trial
Enterprise for organizations with a custom model
Docparser OCR
In the fast-paced world of business, document parsing and automation are invaluable for companies of any size. Docparser is one of the most advanced cloud-based OCR tools. It enables you to scan, recognize and extract text from pdf documents, Word, or image files automatically. It is compatible with Excel, Google Sheets, and multiple formats creating editable text for further usage.
Docparser enables you to connect cloud storage providers such as Dropbox, Box, Google Drive, or One Drive. Docparser's REST API or email your files in as attachments are also available features. If you want to upload files manually, Docparser's secured application is a wonderful way to do so.
Document parsing is a process that extracts relevant information from documents and creates an editable format for further usage. Docparser parsing engine does this by using rules that you set up. It's easy to create these rules, and they don't require any coding experience.
Docparser can recognize and extract data thanks to Zonal OCR, a pattern recognition technology. The system performs this task in the background, and you'll get ready-to-use data in return.
This OCR solution can work with multiple scanned file types such as:
Invoice
Purchase orders
Bank statements
Contracts and agreements
HR forms and applications
Shipping orders and delivery notes
Docparser is widely used in the following industries
Finance
Operations & Logistics
IT
Developers
Sales & Marketing
Consultants
Analysts
Docparser key features
Covers the most common use-cases with parsing presets.
Tailors parsing rules to your needs.
Extracts and formats repeating text patterns and tables from documents.
Applies smart filters for invoice processing.
Processes imported documents immediately.
Extracts text from scanned documents.
Offers advanced image pre-processing options.
Has built-in barcode and QR-code scanners
Uploads files in batches
Sends documents as email attachments.
Converts parsed documents to CSV, Excel, JSON, and XML files.
Sends extracted document data in real-time to any HTTP endpoint
Connects with your cloud storage provider such as Box, Dropbox, Google Drive, OneDrive
Sends parsed data to hundreds of cloud apps
Pricing
Docparsing offers five plans billed monthly or yearly:
Free forever
Starter from $32.50/mo
Professional from $61.50/mo
Business from $133/mo
Enterprise with an offer tailored to your needs
---
The best OCR software (free alternatives)
If you've been searching for free OCR software, then you've probably noticed that the best ones are paid. There are, however, some great free OCR software options out there. We compiled a list of 10 of the best free OCR tools that you can start using right away.
PDFelement
Free OCR
i2OCR
Online OCR
onOCR
OCRGeek
SimpleOCR
Easy Screen OCR
Free OCR to Word
Cuneiform OpenOCR
When choosing the best OCR software for your requirements, don't forget to put the following factors into consideration: accuracy, multilingual support, handwriting support, level of automation, and layout retention.
---

Why choose Klippa as the best OCR software solution
Whether you're a small business or a large corporation, keeping track of your documents is an important part of doing business. Klippa's OCR software is affordable and reduces the time spent on manual document processing by 70%, leaving its competitors far behind!
An employee's happiness is directly linked to your ROI. This means that if you want your employees to be more productive, then you have to make sure they have the tools they need to be successful.
Klippa is a perfect option for your business if you want to integrate OCR into your solution. Klippa can be used on a broad set of documents right out of the box, whether it's for field recognition and data extraction, document classification or verification purposes. What makes it stand out from the competition is that it doesn't only extract information from your document, but it also adds and verifies additional information with third-party sources. The result of the process is the best accuracy you can imagine.
If you want to start with the implementation quickly, Klippa has prepared excellent documentation along with video tutorials. Klippa covers all the information you need. After all, it was created by developers for developers.
Klippa is the best choice for companies that want to provide an excellent work experience for their employees. It converts paper documents, spreadsheets, and other files into structured data that can be used for further processing or stored in, for example, your ERP system. Look at Klippa as your investment in your employees' satisfaction.
Feel free to contact us today or book an online demo via the form below.
---
 Schedule a free online demonstration
A clear overview of Klippa in only 30 minutes.