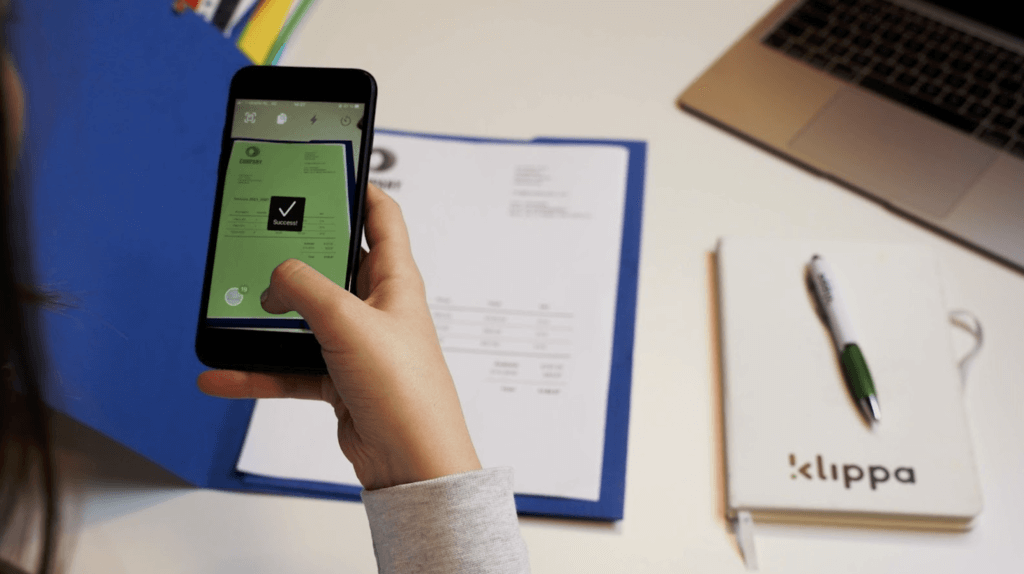 It's widely accepted that removing paper-based processes from accounts payable is a best practice. So why is it that paper documents still dominate many businesses? According to the Payments Journal, as many as 70% of all invoice processing globally is still paper-based.
The most-heard reason for this is that companies are comfortable with the current process and they usually get paid on time. Hence, there is no direct need to change.
However, as businesses grow, also the amount of invoices to process grows. Going through a few paper invoices per week is doable, but what if that turns into hundreds or even thousands of invoices per week? That quickly becomes a costly, time-consuming and error-prone task.
In such situations, invoice digitization can bring significant benefits to all trading partners.
In this article, we will explain the concept of invoice digitization, why you should digitize invoices, what you can do with them once they are digitized, and how you can digitize invoices with OCR software.
What is invoice digitization?
The term invoice digitization is often used to describe two things:
The digitization of supplier invoices is the first step of the accounts payable process.
The use of electronic invoices, also known as e-invoices, instead of paper invoices.
When we talk about invoice digitization in the remainder of this blog, we refer to the first one. It is the process of digitizing a paper invoice by converting the physical document into a digital variant. This can be done through invoice scanning or by simply taking a picture with your camera.
In today's increasingly digital world, hardware scanners are rarely used. Instead, most organizations use an invoice scanning solution that automatically extracts data from invoices.
Such solutions use Optical Character Recognition (OCR) technology to recognize the text and numbers present on the documents.
But more on that later. Let's discuss first why it is important to digitize invoices.
Why do you need to digitize invoices?
Invoice digitization is the first step in digitizing your accounts payable processes. Once the supplier data is available in a digital format, you can streamline and automate your invoice processing.
Next to that, there are many reasons to digitize your invoices. You can find the four most important reasons below:
You can process invoices 3 times faster
You can save up to 50% in costs
You can minimize the amount of errors
Your employees will thank you for it
1. You can process invoices 3 times faster
Invoice digitization saves time as it greatly reduces the time spent on paperwork, especially with regards to manual data entry. Information can now be easily scanned into digital formats and data can be extracted from documents much faster.
According to research from Ardent Partners, the use of an automated solution results in a 3-times faster processing time compared to a manual, paper-based process.
2. You can save up to 50% in costs
Companies enjoy significant cost savings from digitizing invoices. For outgoing invoices, for instance, you no longer need to print invoices, requiring ink and paper, and send them out in envelopes. For incoming invoices, costs related to manual invoice processing get high once you have to deal with a lot of invoices.
Automation cuts these costs in half. In their worldwide electronic invoicing survey, for example, EY found that 52% of organizations said cost reduction was the primary benefit of paperless processing. According to the survey, the cost of processing a digital invoice is less than half of a paper one (€7 compared to €15).
3. You can minimize the amount of errors
Manually copying data from paper invoices inevitably leads to data-entry errors. Error rates typically range from 0.55% to 3.6%, although error rates as high as 26.9% have been found. Even if only 1% of entries are erroneous, processing just 200 invoices per month would assure you of multiple data-entry errors per month.
Luckily, machines and computers can significantly lower these error rates by eliminating the risk of distractions, keystroke errors and other mistakes commonly found in manual data entry. This translates into better, more accurate data that can be used to make well-informed business decisions.
4. Your employees will thank you for it
Processing paper invoices can be a very time-consuming and boring process for employees. Excessive data entry work can cause physical and psychological issues as well, such as eye strain, carpal tunnel syndrome, tenosynovitis and emotional stress.
Automation, on the other hand, has been found to improve employee satisfaction and engagement. It allows employees to focus on more meaningful and valuable tasks and gives instant gratification from daily work. That sounds like a pretty good deal, right?
What can you do with digitized invoices?

Digitizing invoices improves accuracy while enhancing the efficiency of your employees and the entire operations. But what workflows benefit the most from digitized invoices? Let's go through some of them to show you how invoice digitization can move your business forward.
Saving digital copies of invoices
Data extraction from invoices
Automated invoice processing
1. Saving digital copies of invoices
According to a McKinsey report, employees spend on average 1.8 hours per day, that is 9.3 hours per week, searching and gathering information. Time spent on these ineffective searches could be productive if pieces of information were easy to access, but often they aren't.
One of the ways to improve document handling is to digitize your essential office papers in digital formats. You can scan your invoices or any paper document by using mobile apps to create digital copies.
Using relevant tags helps to find them faster. Tag the documents with a descriptive file name, document creation date, and so on. If you need to do this in bulk, make sure to read our blog on how to rename PDF files based on content.
By storing invoices digitally, they take less space, become easier to access and have less risk of getting damaged. As a bonus, you don't have to waste time anymore on searching for that lost invoice in a dusty storage room.
2. Data extraction from invoices
Data extraction from invoices can be done manually by clerks who analyze the invoice for errors, read the text on it, and enter it into software for storage and future retrieval. This can be done for both invoices on paper and in digital formats.
However, if you have digital copies of your invoices, it's also possible to have the data extracted by machines. OCR software, for example, is able to extract structured data from pictures, scans and files without any human intervention.
The software is based on artificial intelligence and machine learning, making it possible to improve accuracy, work more efficiently and save valuable resources.
3. Automated invoice processing
The workflow that benefits the most from invoice digitization is definitely invoice processing. At low volumes, it's totally fine to process paper invoices manually. But once you need to process and approve thousands of invoices per month, it quickly becomes an accounting nightmare without an end.
A smart automated solution can handle invoice processing more efficiently. It involves extracting invoice data with OCR, as explained above, and seamlessly inputting that data into your ERP or accounting system.
This may still sound a bit vague, so let's have a look at the steps in this process in more detail.
How can you digitize invoices with OCR?
We all know how the manual process of invoice capturing works, but how does an automated solution execute the task? In the coming paragraphs, we will discuss the three steps of an automated invoice capturing process:
Uploading the invoice to the OCR software
Converting the image into a text file
Parsing TXT into JSON

1. Uploading the invoice to the OCR software
In the first step of the process, an image or PDF file of an invoice needs to be uploaded to OCR API. This can be done via a mobile- or web application.
The software scans and optimizes the quality of the image. It increases the greyscale, optimizes the brightness and detects the edges of the document. For OCR to work perfectly, it is important that you can scan the clearest possible version of the document. Blurred text or marks in the image can cause errors.
The goal of this step is to improve the image quality. In this way, distortions are eliminated and the image characteristics are improved. This step is very important because it increases the accuracy rates in the following steps.

2. Converting the image into a text file
In the next step, the OCR software automatically converts the image into text (TXT). It analyzes the patterns of light and dark that make up the letters and numbers to transform the scanned image into text.
At this point, all the data from the invoice is extracted, but not yet structured. This means it cannot be interpreted by or further processed in other applications yet.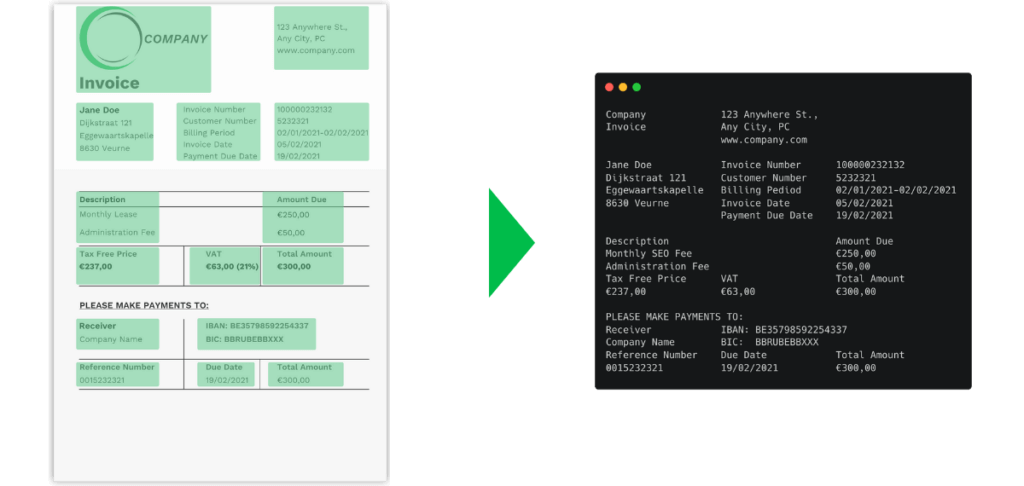 3. Parsing TXT into JSON
In the last step of the process, the OCR software identifies what each part of the invoice actually is. It determines if a field is the invoice number, total amount, issue date, and so on.
It converts the text file into a structured format, such as JSON. JSON is commonly used for transmitting data in web applications, as it is a standard text-based format for the representation of structured data.
From here, it is very easy to store the captured invoice in a retrievable format like a database or an ERP system.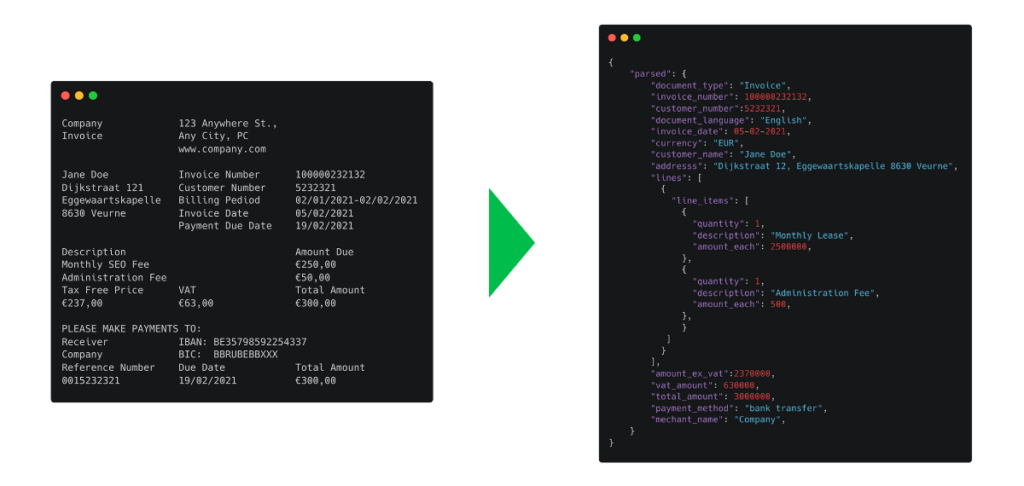 Start digitizing your invoices with Klippa DocHorizon
Throughout this article, we discussed the importance of digitizing invoices and how you can do this with OCR software. But understanding how it can be adapted to your specific use case and smoothly integrated into existing operations is another thing.
This is where we can help you out. Our Intelligent Document Processing solution, Klippa DocHorizon, helps organizations around the world to automate document-related workflows.
You can find an overview of some of its features and functionalities below:
Send files anytime, anywhere via app, web and e-mail
Real-time extraction of important data points
Fast and accurate processing within seconds
Turn JPG, PNG and PDF files to searchable text with OCR
Export to formats like PDF or structured CSV, XSLX, XML and JSON
Easy integration via API or SDK
Classify and sort documents to improve overview
Mask sensitive data, from anonymization to removal
Cross check documents and data points with other sources
In the following video, we give an easy to follow explanation of how Klippa DocHorizon works.
Klippa DocHorizon is a perfect solution for companies that manage high volumes of invoices. It allows you to extract data from invoices and speed up the data entry into your accounting or ERP software. This not only eliminates the need to store paper files, it also frees up your employees from time-consuming and tedious tasks.
If you would like to know more about our services, please do not hesitate to contact us, we will be happy to answer all your questions. You can also schedule a free online demo below.