Travel costs and expenses are notorious for being a difficult area in many organisations. Submitting, approving, and processing the expenses often lead to frustrations. To submit you need to safe all receipts, even when you have been on a business trip somewhere abroad. The approval of expense reports are very time consuming as you'll will need to check entire expense reports from your team members. Finally, at the Finance department all approved expenses need to be manual entered in the accounting system for a reliable recording. The result: unhappy employees, relatively slow reimbursements, and no real time insights in company spendings. In this blogpost we will talk you through the possibilities with Expense Management software and how we simplify this process with Klippa.
How to simplify
If your current travel and expense process is paper based or partly digital, there are plenty of options to optimize. The best solution is implementing expense management software that is integrated with your accounting system. An easy to use cloud solution will make work easier, faster and give you more insight in the company spendings.
Klippa Expense Management Software
At Klippa we help a large number of organisations digitizing and optimizing their current process. The 3 simplified steps we implement are: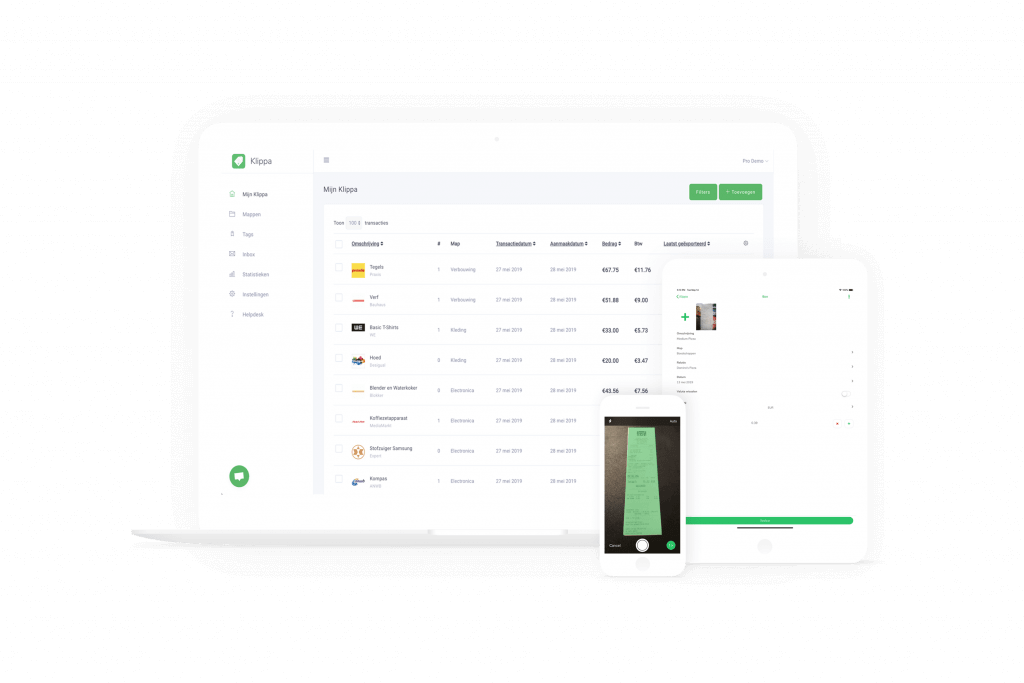 1) Submit expenses with the Klippa App

Each Klippa user is able to use the Klippa app to file their expenses. It works as follows: you make a scan of the receipt, add additional information, and voila, you're finished! You'll get notified by any changes your manager or the Finance department has made.
2) Approve expenses in the Klippa App or Web App

Managers are able to approve pending travel costs and expenses in either the mobile app or web app. The only thing you have to do is; open the receipt, check whether all information is right, and change the status from pending to approved. After approval all expenses are ready to get booked in the administration by the Finance department.
3) Book the costs directly in the accounting system

We integrate Klippa with your accounting system. This means we synchronize all ledgers, vat codes, costs units, projects, costs centers and more. For each approved expense rule we'll do a booking suggestion based on the information that an employee has given during submittal. You just have to check whether the booking suggestion is correct and book the expense accordingly.
Plan an online demo
It is simple as that – all digital and stored in the cloud. There's no need to save your receipts, approve entire paper expense reports or manually typing over data in the accounting system. Klippa saves you time and money while increasing the employee happiness! If you'd wish to receive more info, check out the Expense Management page or plan a demo with our product specialists. Also, feel free to shoot us a message at [email protected]. We're happy to help!