With an increasing number of technology-driven products and services being introduced to the market, the overall customer experience and engagement with companies has changed dramatically. More than ever, today's customers are looking for intuitive applications and processes that can be completed within a few clicks. All digitally, of course. In this blog post, we will dive into how the KYC process and customer-onboarding can be automated, to save you time and money.
The on-boarding process in companies
When it comes to signing up for services in the financial services industry, customers typically have to enter personal information on a sign-up form and provide a scanned version of their identification document, whether that's a passport, identity card or a type of residence permit. The company then needs to verify whether the input information corresponds with the information on the identification document and whether the person behind the screen is who he or she says they are. In some companies, there is a whole team of employees that is in charge of comparing information in the sign-up form to the information provided on the scanned identification document – they follow the same, repetitive procedure, all day long, for countless cases. Not quite the cost and the time-efficient process they were hoping for.
The first impression counts
It is no new knowledge that customers require speedy processes nowadays, which is why it's important to have an efficient onboarding process for customers. As stated previously, there are companies that verify data by manually checking each new application. Depending on the number of new sign-ups, this can then take hours, or days, before customers are onboarded and can start using your services. Suffice to say, this is too long. The last thing you want is for potential clients to go to a competitor because there they can be serviced faster. Therefore, make your first impression count, which means making sure you offer a user-friendly, agile onboarding experience.
Why OCR can help you to onboard customer
Given that manual data entry and manual verification checks slow down onboarding processes and account openings, by sticking to this method, your company is limiting the amount of new business coming in. Furthermore, you can risk interrupting the customer sales cycle in a crucial phase: the signing up process.
Let us introduce to you OCR, short for optical character recognition, and its role in automating the signing-up process for your business. Klippa's OCR solution supports the automatic capturing and extraction of personal information from any type of identity document. With an OCR solution, you no longer need to manually copy personal information and verify it with the information on the document. This results in speedier customer-onboarding and happier customers and employees.
How does the OCR work on identity documents?
The OCR processing works in three steps. In the first step, a scanned identity document is sent to Klippa's OCR API. Once the scan is received, the photo is converted to a raw text file, which is a computer-readable version of the identity document. After that our machine learning model interprets what the information means and sends back the personal information of the document in a structured JSON format. All of this happens in a few seconds, without any human intervention.
In the following photo, you see the information that can be extracted from our OCR solution.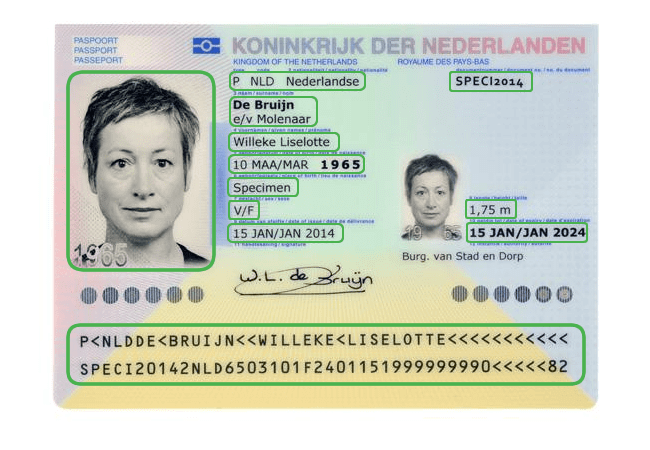 If you want more detailed information on our identity document OCR, please click here. 
How can Klippa help you in digitizing your KYC process?
If you still process high volumes of documents manually, you will benefit greatly by trying out our OCR solution for IDs. Our vision at Klippa is to help reduce manual intervention in crucial business processes to save you and your customers valuable time and money. This is why we developed an OCR -API for identity documents that can be implemented in almost any third-party software and any existing KYC process. All it takes for you to get started is our structured API documentation.
Did we get your attention?
You can read more about our KYC software on our website. If you are interested to see the technology in action and how it can be implemented in your specific case, we invite you to schedule an online demonstration with one of our product specialists. We are also happy to receive your contact request via email or by phone +31 50 2111631.
 Schedule a free online demonstration
A clear overview of Klippa in only 30 minutes.