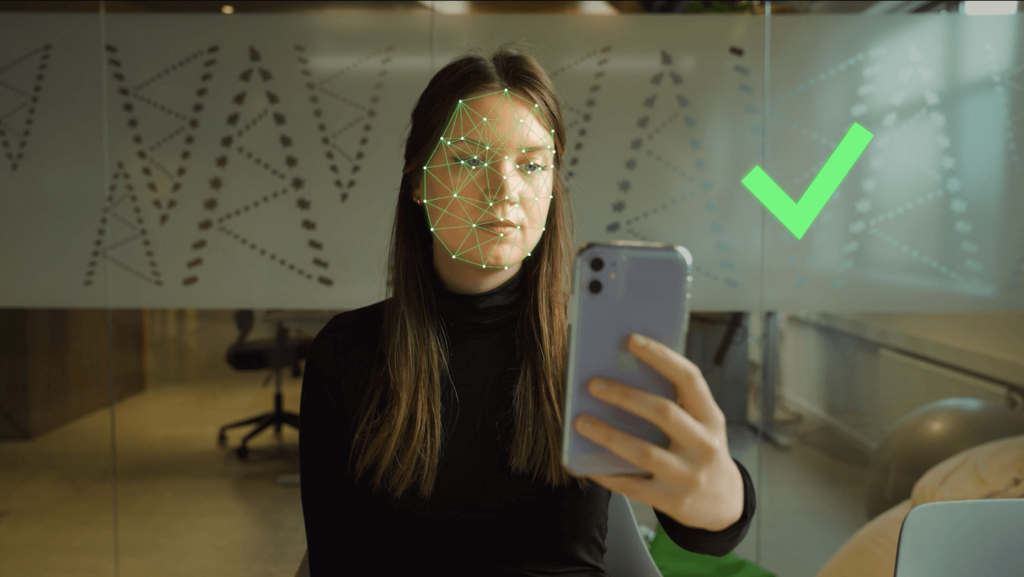 The number of identity frauds is increasing and scammers are becoming more sophisticated. In fact, according to a survey directed by PwC, 52% of companies experienced fraud during the last 24 months. 10% of them even reported that their most disruptive incident had a financial impact of more than US$50 million.
Accounts are being hacked, phishing emails are being received, and personal data is being sold on the dark web. The security and integrity of our personal data are a huge problem in today's online platforms, where remote onboarding is booming.
Fraudsters gather sensitive data such as social security numbers, bank account numbers, addresses, phone numbers, credit card numbers, and names. Your organization's information can be used to buy products or services without your authorization or being aware of it. Furthermore, your data might even be sold on the web, increasing the risk of identity fraud.
But that doesn't have to be true in your case!
Selfies complemented with advanced algorithms have become a method of identity verification that can be used to overcome these challenges. It gives organizations security and makes them GDPR-compliant, ensuring that their users' data is protected. On top of that, companies are able to verify the identity of a person in a remote onboarding process.
In this blog, we are going to explain what selfie identity verification is and why you should use a selfie identity verification solution in your onboarding process.
What is selfie identity verification?

The answer is quite simple. It's the identity verification process that requires users to take and submit a selfie. Generally, the process is done with a smartphone, as you can take a selfie and submit it right away.
In order to verify the identity, the selfie is analyzed and then compared to a database or a submitted ID document. Traditionally this process is done manually, it takes a lot of effort, is not scalable, and limits the growth of your company.
Luckily, there is an automated identity verification solution that helps organizations to scale up without onboarding limitations. This identity verification solution makes the onboarding process seamless and allows you to focus on your core business.
To fulfill the highest level of security in a remote identity verification process, selfie verification is combined with other solutions. Liveness Checks and NFC scanning.
Liveness Check ensures that users are physically present by taking a number of selfie photos, validating the user and determining if it's a real person or a passive fake.
Meanwhile, NFC scanning is used to read encrypted data in the RFID chip of identity documents for user verification. With the help of a smartphone, NFC technology can be used to access users' data from identity documents and validate document authenticity.
Now that we explained what selfie identity verification is and what other security layers can be combined with it, let's look at how it works.
How does selfie verification work?
With remote onboarding on the rise, organizations face a challenge to verify identities safely and securely at scale. Therefore, the use of selfie identity verification is now a solution. In this process, your customers are asked to take a picture of their ID document and to take a selfie.
For a successful remote onboarding, the following components are needed:
A scanning device to take a selfie (generally a smartphone)
A software to convert the selfie into a standardized digital format to compare the facial characteristics with an ID card
Once the selfie is received, the organization uses advanced face-matching software. The software compares the selfie made in real-time to the photo on the user's ID document. This process ensures that users are not trying to use another person's identity.
Depending on the provider for this solution, this process can often be encrypted so that authentication and identification can be accomplished without direct access to the biometric data itself.
Now that we know how selfie identity verification works, let's have a look at why you should implement it.
Why should you implement identity verification with a real-time selfie?
The use of selfie identity verification comes with multiple benefits. These benefits apply to industries like online banking services and the public sector.
Let's have a look at the main reasons to use ID verification with a real-time selfie:
Fraud protection
Regulatory compliance
Shorter turnaround times
Fraud protection

Fraudsters are getting better and better at forging ID documents or finding a way to use a stolen ID document. Luckily, technologies that detect identity fraud have evolved over the years as well, thanks to the rise of artificial intelligence (AI) and Intelligent Document Processing (IDP).
Identity verification using a real-time selfie adds a layer of protection against people trying to use stolen IDs. The best-in-class IDP solutions can also catch document fraud by recognizing edited photos, screenshots, and printed photos.
A selfie in real time is beneficial in the verification process because it is:
Convenient to use
Hard to fake or steal (like an ID card or passport)
Non-transferable
With the real-time selfie, fraudsters cannot succeed with their fraud attempt even if they would be able to somehow bypass the document verification process.
Regulatory compliance

Using a selfie for ID verification is convenient and can save you a lot of money by avoiding fraud. But another main reason is that you need to be compliant with strict regulations around the world.
Being compliant prevents you from the risk of getting fined and penalties. In fact, a large fashion clothing retailer H&M was fined €35 million due to GDPR violations in 2020.
Deploying a selfie in real-time as part of a Know Your Customer (KYC) process, for example, can give you insights into whether your customers are actually who they say they are. Using KYC Software helps you ensure compliance with the KYC, Anti Money Laundering (AML) and GDPR requirements.
Therefore, it's important to choose a solution that first meets your needs and takes data privacy protection issues seriously. Regulatory compliance prevents your organization from mismanaging information or even getting involved in criminal activities such as money laundering, fraud, or terrorist financing.
Shorter turnaround times
Think about the number of hours you need to spend verifying someone's identity in person. The time you would use to verify someone's identity is limited by time and location.
With automated and remote selfie identity verification, multiple users can be onboarded in seconds. That means shorter turnaround times and higher user satisfaction.
By using an automated solution for identity verification, you can start onboarding new customers fast and securely 24/7.
Now, let's have a look at how selfie identity verification works in three different use cases.
Use cases for selfie identity verification

Are you wondering if selfie identity verification is something for you? Next, we will go through three use cases to give you an idea of how you can implement it into your business as well.
Onboarding new clients in banking
Client onboarding for online services
Car, scooters, and e-bike rentals
Onboarding new clients in banking
Banks and financial service companies are required to follow KYC procedures, which means that it's mandatory to verify a client's identity when opening an account.
In general, KYC in banking helps prevent and identify money laundering, terrorism financing, and other illegal financial schemes.
Selfie identity verification helps banks provide a smooth customer onboarding experience that complies with KYC regulations and minimizes the risk of fraud.
The verification process could look like this:
The user scans or uploads their identity document
The software extracts data and photos from the identity document
The user is asked to take a selfie and the software verifies their identity in real-time
In such a digital and automated process, a customer's identity can be verified in seconds.
The following video summarizes the steps in this process:

Client onboarding for online services
Remote onboarding comes with the challenge of ensuring that the person behind the process is who they claim to be. Online services, like insurance or credit card providers, don't have physical places or front desks to go to get your identity verified.
Thankfully, nowadays, most online ID verification solutions can safely and accurately carry out global verification and identity checks online. Users and companies worldwide can do it remotely with even greater legitimacy than the traditional process.
This prevents anyone from carrying out a process on other people's behalf without authorization, creating false identities, or committing fraud.
Car, scooters, and e-bike rentals

In order to ensure a stable and compliant service, rental companies require a person's ID document to sign up. Technology and software can make a big impact here.
Take the case of renting a car. Customers usually don't want to get inside an office to fill in forms and contracts. The customer wants to pick up the vehicle and start driving.
In the case of renting scooters and e-bikes, the onboarding process is generally done via a mobile app. Companies perform customer onboarding with selfie identity verification remotely because of the benefits they get in exchange.
What are the benefits of implementing a selfie identity verification solution in rental companies?
Protection from damaged or stolen fleet
Keep drivers and riders safe
Smooth and effortless experience
Avoid identity fraud
Age verification checks
Users' identity verification is quick, easy, and entirely remote. All the user needs to do is take a picture of their ID cards or driver's license and take a selfie. The software analyzes and compares the picture of the ID document and the selfie and detects whether it's a genuine person or fraudulent.
Are you convinced of implementing a selfie identity verification process in your organization? If so, let us introduce you to our DocHorizon solution next.
Start with Selfie Identity Verification from Klippa DocHorizon

At Klippa, we know how time-consuming and hard it is to scale up your business without automation. The manual process of reading and checking identity documents limits the growth of many organizations.
To tackle this challenge, Klippa DocHorizon can simplify your customer onboarding, online check-ins, and compliance checks. Klippa DocHorizon takes over the manual process of scanning, reading and classifying ID documents like passports, ID cards, driver's licenses, resident permits, etc. As well as extracting and verifying the data.
With technologies such as Using Optical Character Recognition (OCR) and AI, all sorts of identity documents containing text can be read, and data can be extracted from it automatically, available for you for further processing.
But what about Selfie Identity Verification? With our Identity verification SDK you can have a guided onboarding process. Users have real-time feedback for the best selfie capture.
Next to that, you can add as many security layers as you want.
Here is a list, to name a few:
Selfie Identity verification
Liveness Check
The benefits of using Klippa DocHorizon as your selfie identity verification solution
You can take advantage of multiple benefits from using Klippa DocHorizon KYC software for any ID document-related processes. Just to name a few:
Increased productivity
Reduced processing time
Up to 100% data extraction accuracy
Improved security & compliance
Scalability for business growth
Wouldn't you want to improve your business processes while safeguarding identity verification against criminal activities? With Klippa's selfie identity verification solution, this is possible.

All you need to do is book a demo below, where we walk you through how our solution works. If you simply want more information, you can always contact our experts.