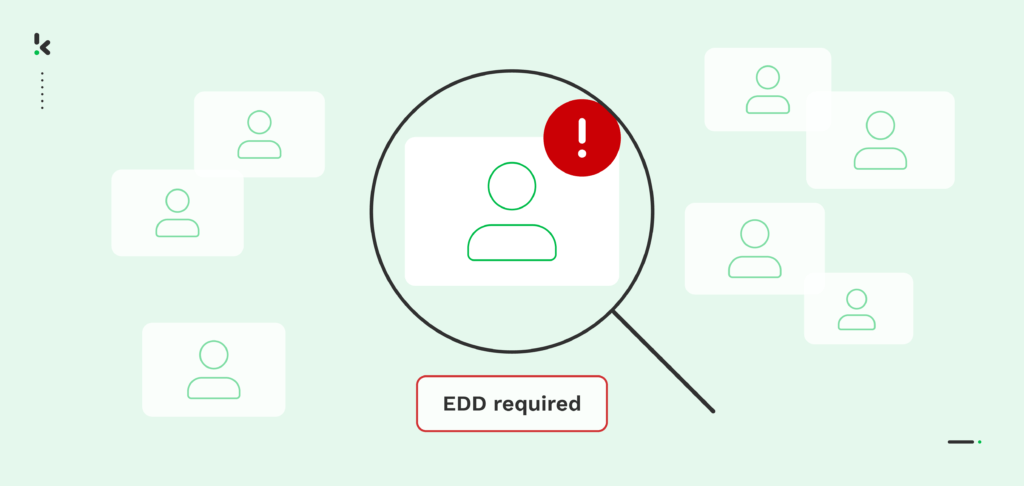 With online onboarding increasing in all industries, it is challenging for financial institutions to know who their customers are and which background they have. So how can you trust that you don't onboard criminals and fraudsters? What if your business or bank is used to launder money or finance other criminal activities?
Regulators have established several guidelines, such as Know Your Customer (KYC) and Anti-Money Laundering (AML) guidelines, that help businesses to identify and verify customers' identities. Ultimately, and this is where Enhanced Due Diligence (EDD) comes into play, those guidelines and regulations should prevent fraud and other criminal activities.
But let's start at the beginning by explaining what EDD is, and its requirements to be effective, and then continue with the process that makes it possible to protect your businesses. 
Let's start.
What is Enhanced Due Diligence?
Enhanced Due Diligence (EDD) determines which customers require more thorough checks and monitoring. This is based on the risk profile of a customer. EDD is especially relevant for high-risk customers, people who conduct unusual or large transactions, and high-net-worth customers. In general, they pose a higher risk to banks and other financial institutions, which makes EDD a necessary process.
Enhanced Due Diligence is a KYC and AML process that highlights risks that can't be detected by Customer Due Diligence (CDD). It goes beyond the CDD process and helps to establish a higher level of customer identity assurance.
In order to ensure high-quality EDD processes there are a couple of regulations that need to be followed:
EDD must be precise and robust which requires more detailed information and evidence from customers.
Regulators need to be able to have immediate access to EDD reports, which makes it highly necessary to document the entire Enhanced Due Diligence process in detail.
Politically exposed persons (PEPs) require special attention. They are a higher-risk customer as they are in a position that can be quickly abused for money laundering.
Before responsible people make the decision to onboard a customer or not, they have to conduct all necessary research and achieve "reasonable assurance" about the risk of a customer before acting upon their judgment. 
After we have now established what EDD is, we should have a look at the difference between CDD and EDD.
Differences between EDD & Customer Due Diligence
The main difference between Customer Due Diligence and Enhanced Due Diligence is the different levels of due diligence. While CDD is the process of identifying a customer by checking provided information against databases and then verifying the customer, EDD goes much further.
When during the CDD process a customer is deemed high risk, EDD measures take over. This is where the whole process described above comes into play and allows you to make a well-informed decision about whether to onboard a specific customer.
As this is a complex process, the visual below should help you to comprehend both CDD and EDD.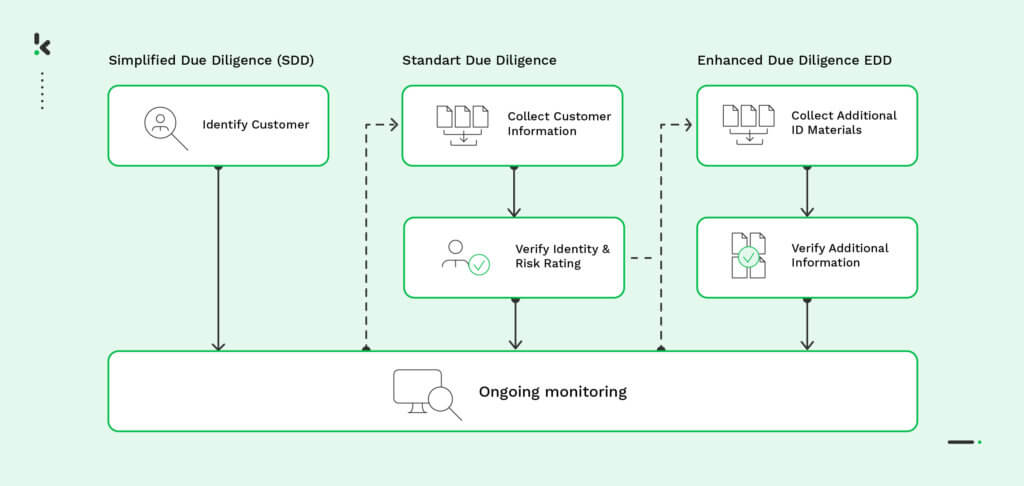 Let's dive more into Enhanced Due Diligence by having a look at the specific requirement.
Enhanced Due Diligence requirements
The very basis of Enhanced Due Diligence is Customer Due Diligence (CDD) in which customer information is collected, identities verified, and then continuously monitored. 
But when CDD measures indicate that a customer is involved in criminal activities, a company must issue a suspicious activity report (SAR) immediately and report to their jurisdiction's financial intelligence unit (FIU). As a result, additional EDD measures need to be executed.
For banks and other financial institutions, Enhanced Due Diligence is non-negotiable, which puts this industry under pressure to comply with EDD, KYC, and AML requirements in general.
For other businesses, requirements might differ and are less strict. In Europe, for example, Article 18 of 4AMLD is in place and requires businesses located in a high-risk third country to execute EDD. This also includes thoroughly examining politically exposed persons, their close associates, and family members.
In the US, requirements seem less straightforward, as the Financial Crimes Enforcement Network (FinCEN) informs that the scope of due diligence differs on a case-by-case basis. That's why it is especially important to conduct your own research or contact local authorities to figure out which requirements apply to you.
EDD requirements can't be generalized, as they very much depend on the country you are based in. But here are some requirements that are essential for many parts of the world:
It is essential to stay updated on evolving AML sanctions
Regular customer screenings are needed to ensure that they are not on any kind of watch list
Industries at higher risk of money laundering (e.g., gambling) often need to comply with KYC Enhanced Due Diligence requirements
The EDD process must be well recorded
Embedding Enhanced Due Diligence into your systems will definitely add more work. So you might be wondering if EDD is truly worth the time. Is it really that important?
The importance of Enhanced Due Diligence
One of the major reasons to apply EDD is to avoid high-risk situations that lead to heavy fines. If EDD isn't applied properly or completely disregarded, especially financial institutions have to pay the price. But this is not the only reason why Enhanced Due Diligence is so important.
Implementing EDD into your organization means protecting everyone involved. As Enhanced Due Diligence is applied to high-risk customers, the chances are high that those customers have a serious negative effect (e.g., money laundering) on your business once the onboarding is completed.
This could mean committing fraud, such as identity or document fraud. Or abusing your organization to finance criminal activities, which could quickly lead to reputational loss, heavy fines, and even the loss of your license to operate.   
The EDD process
A good Enhanced Due Diligence process always starts after the identity verification of a customer. In general, the EDD process can be complex and varies from the jurisdiction the organization operates in. Therefore it is best to break it down into different stages.
Follow a risk-based approach → Each customer should be assigned to a certain risk category (low, medium, high) as there is no need to treat every customer in the same manner. According to the risk category, appropriate checks should be carried out.
Gather additional information → Here, you should obtain the additional information required from the customer. Some of the information can come directly from the customer while other information may come from third parties. In this step, you also conduct PEP screenings to gather all necessary information.
Establish the origin and ultimate beneficial ownership (UBO) of funds → In this step, you gather information about your customer's wealth. Here, it is important to compare the value of your customer's financial and non-financial assets with the value of their real assets to make sure that those match. Any inconsistencies between the customer's net worth, earnings, or other wealth sources that are spotted must be investigated further. Furthermore, the ultimate beneficial ownership of your customer's organization (if applicable) must be established and the owner verified.
Tracking transactions → This is where you analyze your customer's transactions including the purpose and nature of the transactions, transaction processing time, and interested parties. Here, it is very important to check inconsistencies between the projected value of goods and services and the actual amount paid. Mismatches might suggest money laundering.
Monitor adverse media → You can use news reports about your customers to find more information about their track record and reputation. You might even be able to find out that an individual has been involved in financial crimes before.
Develop a monitoring strategy → If after you've followed the above steps you decide that the risk of a customer is manageable, you can put a monitoring strategy in place that helps you to continually monitor all transactions and activities.
Create a strategy report → This strategy report should entail the details of your EDD plan. It is important to include a timetable that indicates when monitoring activities are carried out, as well as an explanation of how you made the decision to onboard a customer. Of course, a copy of all documents and information should be included as well, so that regulators can understand your decision.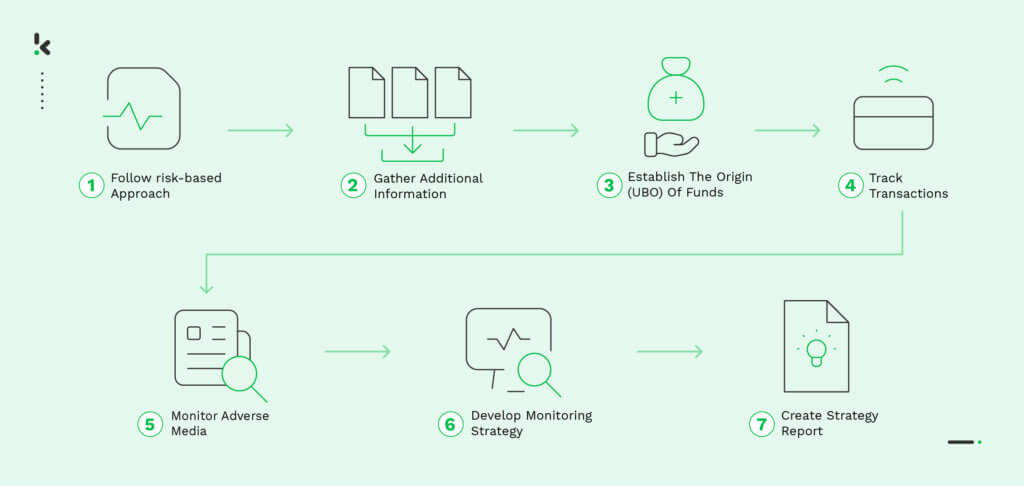 Enhanced Due Diligence is a very delicate process that leaves no room for errors. So how can you best support your team to execute the process accurately? Equipping your employees with a software solution that can assist in the execution of the EDD process reduces errors and sets your team up for success.
In the following section, we will have a closer look at Klippa's software solution that allows you to improve your EDD process.
Use the best ID verification in your EDD process
One of the key elements of the due diligence process is the identification of your customer's identity in the onboarding process. As mentioned earlier, onboarding processes are increasingly moving online, which leaves organizations with new challenges.
Klippa's identity verification solution is built to minimize these challenges by making the ID verification process as easy as possible. Our solution is equipped with liveness detection to ensure that a customer is physically present and not spoofing the system while onboarding. On top of that, our software is able to read out the MRZ of an ID document, which enables you to verify the age, address, and ID of a potential customer. 
One of our latest improvements is the NFC ID verification, which makes the EDD process even customer friendlier and safer. This means you don't need to worry about your customer's sensitive data ending up in the wrong hands. 
Lastly, at Klippa we are compliant with GDPR regulations, which means that during all verification processes, no data is stored in our database.
Are you interested to see how our ID verification solution can level up your EDD process? Plan a free demo below, or contact one of our experts if you have further questions.