Expense management is a crucial area for companies when handling their financials. One of the biggest finance frustrations is the manual data entry of invoices and receipts. This often leads to inefficiency and errors. Of course, there's no one to blame as we all are humans and make mistakes from time to time. However, Klippa has fully automated the data entry with the use of Optical Character Recognition (OCR) technology. OCR provides you with relevant data from documents that a computer normally sees as one big photo. In the case of expense management this is a great as you are able to record expenses by the info provided through images. Let's talk about the benefits with OCR and the Klippa Expense Manager!
Efficiency for everyone
A large number of receipts that need to be submitted, approved and recorded can be very time consuming. With the Klippa Expense Manager including OCR all employees in the company will be able to complete their task faster, more precise and accurate, saving the company valuable time and enable people to spend more time on other tasks that require deeper thinking.
Handling expenses with Klippa is really easy:
Submit your expenses with the Klippa app by making a scan of the receipt. The OCR extracts all the relevant data such as the merchant, date, VAT and amount(s).
Managers are able to approve the expenses in the cloud either with the Klippa app or in the webapp. The only thing they have to do is check whether everything is correct and change the status from 'pending' to 'approved'.
Approved expenses can be recorded in the bookkeeping with just a matter of clicks by the financial administration. All the info on the receipt is extracted by OCR and during submittance employees can select categories or cost centers that are linked to ledgers.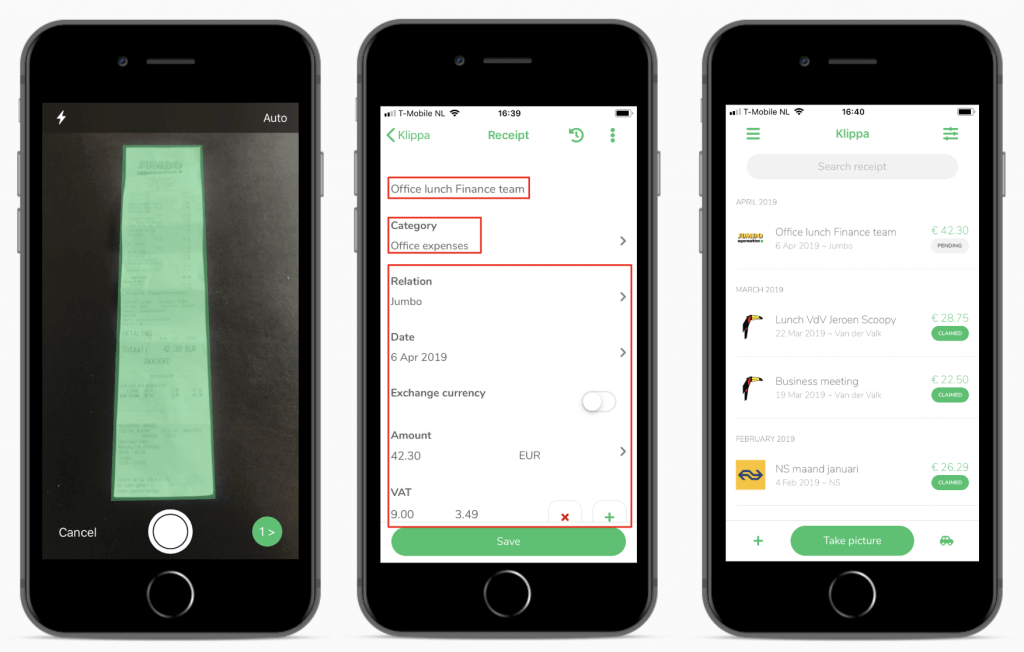 Better and more transparent process
Using Klippa leads to a 24/7 expense management process since everything is saved and stored in the cloud. The Klippa app allows employees to scan their receipts at any given time. In addition, fraudulent practices and human errors are eliminated as scanning a receipt twice gives a notification or will be auto declined.
Audit ready
As all employees submitted their expenses through the Klippa app, you'll know that all data is correct. Instead of generating manual reports Klippa gives you realtime insights and booking suggestions to record your expenses automatically. All Klippa features will help eliminate manual work and support your financial workflow!
Would you like to know more about Klippa? We offer free online demos in which we talk you through the possibilities. Also, feel free to ask any questions at support@klippa.com.