Invoice management is a top-priority task in all companies. While it is a daily practice for financial experts, most employees dread having to process or manage invoices. This is due to invoice management still being a manual process for a majority of organizations. This traditional practice comes along with multiple downsides, which can restrict companies from excelling in their industries.
According to a recent study, companies who use a manual invoice management process experience problems in regard to:
Invoice fraud: organizations register 34,000 cases of invoice fraud per year
Late payments: 45% of suppliers pay late, costing companies almost $280,000 annually
Time-consuming process: on average, one employee spends 25 days processing a single invoice
Luckily, there are solutions to solve this dreadful and tedious process and improve invoice management. Curious to find out more? Keep reading!
In this blog, we will cover the topic of invoice management, reveal the perks of automating the invoice management process, and present you with some invoice management software options.
Let's begin!
What is Invoice Management?
Invoice management is the process by which companies track and pay invoices to the supplier. This process involves receiving an invoice from the vendor, validating its legitimacy, paying the vendor, and registering the payment in the company records.
The accounts payable department needs to be in contact with suppliers, managers, and authorized employees that approve and sign invoices. That is why invoice management involves multiple employees and constant communication between parties.
Manual Invoice Management Process
In the manual process, the invoice is first sent to the person responsible for making the order, also called the contact person. Then, the invoice is forwarded to the AP employees or the financial department, to be checked. If there are issues with the invoice, the AP department sends it back to the contact person, which then sends it back to the vendor. This process proves to be extremely inefficient, as it increases turnaround time and delays payment.
Even if the invoice is flawless and doesn't present any errors, there is still the matter of manually entering the data from the invoice into a spreadsheet, database, or invoice processing software. In addition, the data needs to be validated and confirmed by a manager or authorized employee, proving its legitimacy.
After everything is settled, the company pays the invoice, and all the invoice data is now entered into the accounting records.

Without a doubt, this traditional way of managing invoices is time-consuming, requires a lot of human input, and also costs companies large amounts of money.
To walk away from this dreadful process, companies have turned to automation. Instead of spending large amounts of time and resources on manually managing invoices, they have chosen to implement invoice management software to streamline their invoice processes.
Automating Your Invoice Management Process
Implementing automation in invoice management can prove substantial benefits to the overall process. Automated invoice management software helps companies with:
Saving processing time: processing invoices with invoice management software can be done in a matter of seconds, whereas manual processing can take up to 2 weeks.
Increasing accuracy: automated invoice management solution helps process invoices accurately by scanning and extracting the data, with no need for manual data entry.
Detecting fraud and duplicates: automating invoice management helps detect duplicate invoices and prevent invoice fraud in companies.
Lowering processing costs: automating the invoice management process can save companies up to $40 per invoice, as it eliminates labor and storage costs, but also the cost of retrieving lost or misplaced invoices.
Improving invoice accessibility: with an automated invoice management system, all invoices are automatically archived in the cloud, making it easier for organizations to access them for inquiries or upcoming audits.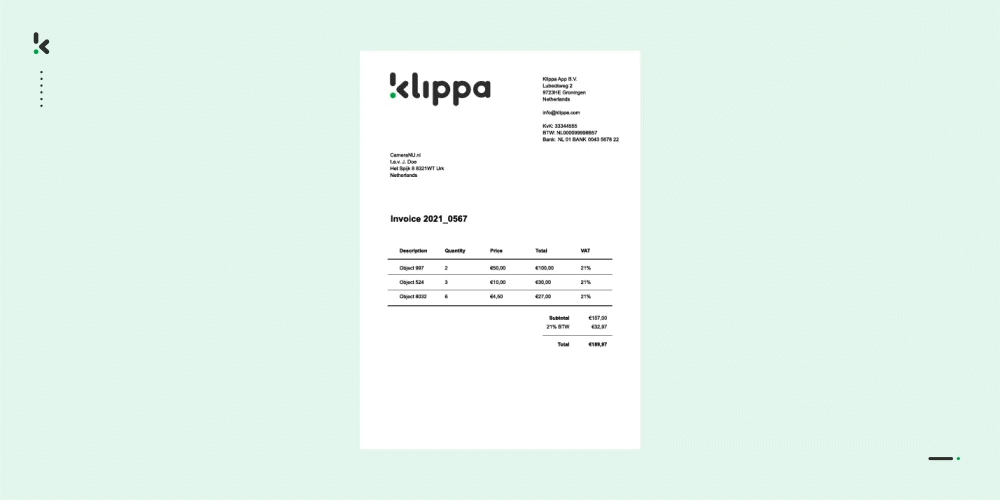 Automation plays a key role in improving the invoice management process. Most companies have chosen to adopt this efficient practice and walk away from manual invoice management.
Are you ready to automate your invoice management? If so, keep reading and find out which invoice management solution fits best with your organization!
Best Invoice Management Software
Automating the invoice management process using invoice management software comes with great benefits, as we have just discovered.
Let's take a look at some of the invoice management software out there and find out what features they offer!
1. Klippa SpendControl

Klippa SpendControl is a fully-digital solution for invoice processing and expense management, which uses OCR technology to capture data from invoices. It accurately extracts information from an invoice and gives you the ability to perform invoice scanning, invoice approval, and booking to your financial administration.
Pros
Cons
Does not perform three-way matching, yet.
2. Airbase
Airbase is a digital spend management solution, that replaces the need for manual invoice processing, as well as purchase orders or other financial documents. It is mainly focused on payment processing, for instance, employee reimbursement or vendor payment.
Pros
Ability to perform three-way matching
Uses OCR technology to scan invoices
Possibility to schedule and track payments
Cons
Does not detect fraudulent invoices or duplicates
No cloud storage
Inability to integrate within an ERP system
Only able to upload invoices via email
3. Xero
Xero is an invoice management software that lets companies digitally approve and pay invoices, without additional manual processing. It is best used to facilitate transactions and create smooth communication between companies and vendors.
Pros
Online invoice payment
Instant payment approval
Bulk upload of invoices
Cons
Not able to store invoices in a cloud environment
No integrations within bookkeeping systems
Inability to automatically detect fraud or duplicates
Does not perform two-way matching
Only able to process invoices through a mobile app
4. Coupa
Coupa is a digital invoice management solution that helps companies automate manual work, shorten invoice processing time and eliminate paperwork.
Pros
Can perform two-way or three-way matching
Automatic invoice approval from the mobile app
ERP integrations
Cons
No detection of fraudulent invoices or duplicates
No assurance of data extraction accuracy
Cannot archive invoices
Limited integrations with bookkeeping systems
No user-sync or 2FA
Choosing the right invoice management software is extremely important for a company's well-being. While most invoice management software fulfills the main task of automating invoice management, they lack certain features that actually improve the workflow. However, that's not the case with Klippa SpendControl.
Level Up Your Invoice Management with Klippa SpendControl
Klippa SpendControl is an all-in-one financial management solution that significantly improves the accounts payable process within your organization. Using OCR technology, it can automatically read, scan and process invoices within a matter of seconds.
By choosing Klippa SpendControl as your invoice management solution, you can enjoy many benefits, such as
Easily submit files via the Klippa app, website, or email. Submitting them in bulk is also possible, to reduce effort and maximize efficiency.
Gain access to all past invoices, located in a designated cloud environment. Keep track of all invoices and be well-prepared for your next audit.
Extract data accurately, using AI-driven data extraction technology, which helps recognize details such as the invoice number, payment address, and even different currencies.
Automate data entry: improve your company's workflow and efficiency by replacing manual data entry.
Prevent document fraud, with the help of a built-in analysis that detects duplicates and protects you from invoice fraud.
Automate approval processes and improve your organization's productivity course. Create fixed or variable invoice approval processes and facilitate the workflow of your business.
Experience seamless integration with a variety of ERP or accounting software, such as NetSuite, SAP, Xero, and many more.
Managing invoices has never been this easy. Start streamlining your invoice management process and see how automation can add value to your organization. Simply book a free demo down below or contact us!