The post-pandemic travel boom is more visible than ever! Long queues at European airports, lost luggage, delayed and canceled flights, we have all seen the travel chaos unfolding in the last couple of months.
After the dramatic effects of the coronavirus pandemic on the travel industry, the World Tourism Organization (UNWTO)¹ reported a significant rebound in the number of travelers in January 2022. Europe, for example, welcomed three times more international arrivals than in January 2021, while the US almost doubled its arrivals.
But is the travel and tourism industry ready to manage these hordes of tourists and all the travel documents they bring with them?
Next to processing large volumes of documents such as passports, ID cards, travel permits, health documentation and boarding passes, the shortage of staff within the industry makes it an even greater challenge.
Fortunately, nowadays you can implement solutions to automate most document-related tasks. Solutions like Intelligent Document Processing (IDP) software are used to capture, categorize, extract, anonymize, and classify data from travel documents. As such, they help to automate document processing for the travel and tourism industry around the world.
It's time to get on board and step up your company's document processes. Learn more about automated document processing solutions, their benefits, and use cases in the travel and tourism industry!
What is Intelligent Document Processing?

Intelligent Document Processing (IDP) is an advanced software solution that enables organizations around the world to digitize and automate document processing workflows.
IDP solutions automate document processing using various technology components.
The technologies that can be included are:
Artificial Intelligence (AI)
Computer Vision
Machine Learning (ML)
Natural Language Processing (NLP)
Robotic Process Automation (RPA)
Now that we know what IDP is, let's see what it is used for in the travel and tourism industry.
What is Intelligent Document Processing in the travel and tourism industry used for?
IDP solutions help the travel and tourism industry automate document-related processes. Traditionally, document processing was performed manually. Which meant, a lot of employee hours and human errors involved in manual data entry, making it a very costly process.
Processing passports, for example, can be challenging to do by hand. You have to get the passport, check the data (e.g. name, nationality, expiry data, passport number), retype it into a form or program, and then double check it to make sure you didn't make a typing error. Not to mention validating the authenticity of the passport.
With an IDP solution, however, you can automatically verify whether it is an actual passport, extract the required data, process it in other applications or programs, verify a person's identity, and optionally anonymize sensitive information. All within a matter of seconds.
IDP solutions often have multiple functionalities that can be used together or separately, depending on the specific use case.
Let's have a look at the functionalities that an IDP solution can provide:
Data Capture
IDP software captures data from various sources into a computer system for further processing. This is often done with a mobile device, which can be used to scan and capture data from documents such as ID cards and passports.

Data Extraction
After receiving a scanned or captured image of a travel document, the IDP software extracts relevant data from the document using OCR and AI algorithms.

Classification
Next to that, IDP solutions use AI algorithms combined with NLP to identity document types by matching unknown documents to existing categories.
The characteristics are extracted and fed to the algorithms, which calculate a similarity score. Is it an ID card or a passport? What language is it? And what country is it from? The document is then automatically classified.

Verification
After the previous steps, IDP solutions can verify a person's identity and document authenticity. This is done to avoid harmful fraud attempts and minimize the risks of receiving fabricated documents.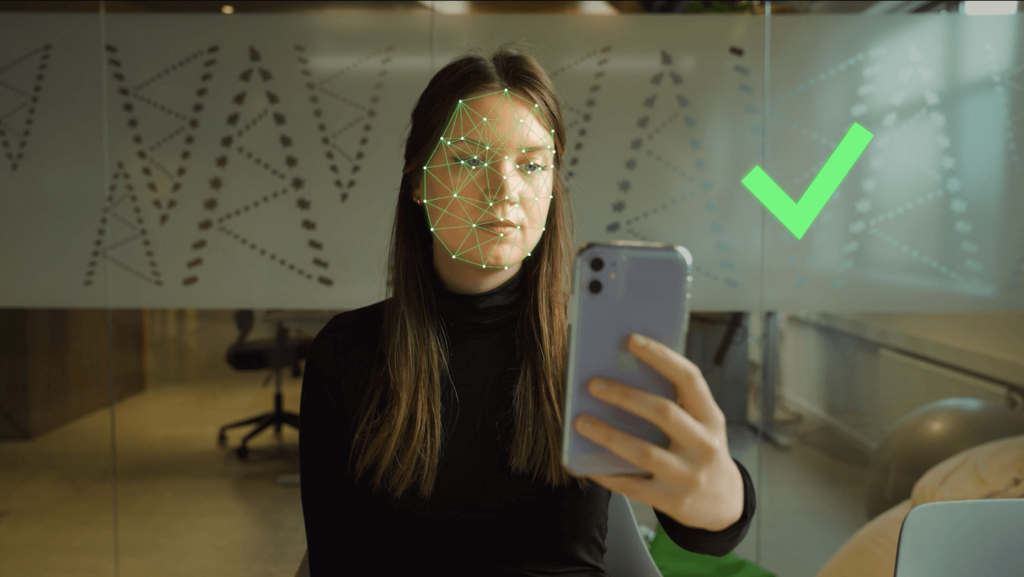 Anonymization
Some IDP solutions can automatically anonymize sensitive information from travel documents. What it entails is the removal or encryption of sensitive data, such as social security numbers, for GDPR compliance and other privacy regulations.

File conversion
As the last step, IDP solutions convert the extracted data into structured, machine-readable output and deliver it to the desired destination, such as a database, computer program or other application.

Now that we know what an IDP solution is capable of, let's take a look at the 4 main benefits.
4 Benefits of implementing an IDP solution in the travel and tourism industry

Organizations in the travel and tourism industry that use Intelligent Document Processing solutions experience multiple benefits.
Let's have a look at some of the most important benefits:
Reduce 70% in operational costs
Improved data security and compliance
Prevent 99% of administrative human mistakes
Improved user experience
Reduce 70% in operational costs
With an IDP solution, you no longer need to worry about your staff spending a vast amount of time to fulfill tasks like data entry, filing documents, and verifying documents.
One of the main benefits of an automated document processing solution is that it reduces back-office related tasks and operational costs.
This means that an IDP solution will require 70% less of you and your employees' time for tedious and repetitive tasks. As a result, you will significantly lower your overhead costs.
Improved data security and compliance
Organizations within the travel and tourism industry must comply with Personally Identifiable Information (PII), Payment Card Information (PCI), and the General Data Privacy Regulations (GDPR), to name a few.
The threat of customer information being accessed by unauthorized personnel and leaked to outsiders is very real. Recently, EasyJet experienced a substantial data breach that resulted in the exposure of sensitive information of about 9 million customers. Over 2,000 of them had their payment card data, including the card security code, stolen as well.

Some of the best IDP vendors can provide you with data masking functionalities, in case anonymizing sensitive data is required to comply with the regulations. Data masking also lowers the damage in case a data breach occurs.
Prevent 99% of administrative human mistakes
Everyone makes mistakes, and this is commonly happening in the field of manual data entry. These mistakes include simple things such as mistyping a letter or number. It is often caused by distraction, repetitive tasks and physical tiredness.
Mistakes like these can cost your business a lot of money. One of the keys to being successful in business is to identify and remove as much human error as possible.
With the help of an IDP solution, you can free up the time of your staff to focus on core tasks that matter and leave aside the boring and repetitive paperwork. If you implement an intelligent solution, you will eliminate 99% of human errors and put thousands of dollars back into your pocket.
Improved user experience
The degree of satisfaction and user experience of the frontline workers and customers can directly impact the key operations of your organization.
Companies that have implemented an IDP solution can easily access and search for necessary customer data to process requests and solve issues quickly, irrespective of the input channel. This speeds up response times and increases customer satisfaction and retention.
Reducing the human element in document processing, data entry, and information validation stages will minimize document processing time, which in turn improves the user experience.
IDP use cases in the travel and tourism industry

There are various use cases for IDP in the travel and tourism industry. To illustrate how they can improve business operations and inspire you to think about their use in your own organization, we will have a look at the following cases:
Remote check-in for hotels
Digital ID verification for car rentals
Automated compensation claim processing for airlines
Remote check-in for hotels
Traditionally, customers check-in at the front desk of the hotel. They wait in line to have their identity documents checked and data to be entered into the hotel's system, just to receive the keys to their room.
So how can this be done remotely? How can you still validate the identity of your guests and register them properly?
With an IDP solution, customers can do so from the comfort of their homes.
This is the way it works:
Capture an image of the identity document
Validate the data extracted
Take a selfie for biometric verification
Signature on a mobile device
In just a few steps, hotel guests can verify their identity to check-in online, completely autonomous. The process can start as simple as sending customers a link via a confirmation email that they can use to check-in remotely.
The process can consist of the steps listed below:

Learn more about remote check-ins for hotels in one of our other blogs.
Digital ID verification for car rentals
When it comes to renting a car, the first thought people have is of long lines and annoying paperwork, including photocopying of driving licenses or passports. It is not a pleasant experience, but one that most will justify going through for the outcome. In today's fast and modern era, however, the manual verification of documents is more and more being replaced by technology.
IDP solutions help to automate the intake of ID documents like driver's licenses and passports, speed up the process and protect businesses. Simply scan an ID to auto-fill the information into your CRM system and store data and images of the ID (even anonymized, if needed).
With mobile devices, companies can offer rental cars from any location or even drive the vehicle to the customer.
The verification process could look like this:
Scan or upload ID document
Extract information from ID document
Verify identity with selfie biometric and signature check
In such a digital and automated process, a customer's identity can be verified almost instantly. The following video summarizes the steps in this process:
Automated compensation claim processing for airlines
There are multiple reasons why airlines delay or cancel flights. Nowadays, one of the main reasons is the lack of employees at airports and airlines. In case of delayed or canceled flights, international regulations allow travelers to claim an economic compensation.
But in order to claim this compensation, they have to submit all kinds of documents related to the flight and the expenses they made as result of the delay or cancellation (e.g. for food or clothes).
Checking and processing these documents by hand is of course a tedious and time-consuming process. Luckily, IDP solutions can handle and extract data from various documents, including:
Passports
ID cards
Boarding passes
Invoices (e.g. from hotels)
Receipts
And many more
Think about the high volume of documents that are processed in such compensation claims. An IDP solution can automate the data extraction from these documents and check if they have been submitted before (i.e. duplicate detection). With Optical Character Recognition and Artificial Intelligence, capturing text and fields from documents turns extremely easy.
After the documents are processed and verified, the airlines must pay the compensation to the customers according to the regulations.
Introducing Klippa DocHorizon – Automated document processing
We talked about the use of IDP solutions in the travel and tourism industry. Implementing an IDP solution will automatically process data from all types of documents by capturing, organizing, extracting, anonymizing, and verifying the data using a range of AI technologies.
A good example of an IDP solution is Klippa DocHorizon. DocHorizon is a competitive IDP solution for companies that manage high volumes of passports, ID cards, invoices, QR codes, barcodes and any other document floating around in the travel and tourism industry.
This solution already speeds up document processing within your industry. It consists of several modules that can be used together or independently. It includes the following functionalities:
Mobile Scanner: Scan documents from mobile devices anywhere, anytime.
OCR: Convert documents into text and structured data formats.
Data Extraction: Real-time extraction of important data points.
Classification: Sort and classify documents according to your needs.
Document Conversion: Convert JPG, PNG and PDF files into searchable text and export them to formats such as PDF or structured CSV, XSLX, XML and JSON.
Anonymization: Hide sensitive data, from anonymization to deletion.
Verification: Verify the authenticity and validity of documents and data.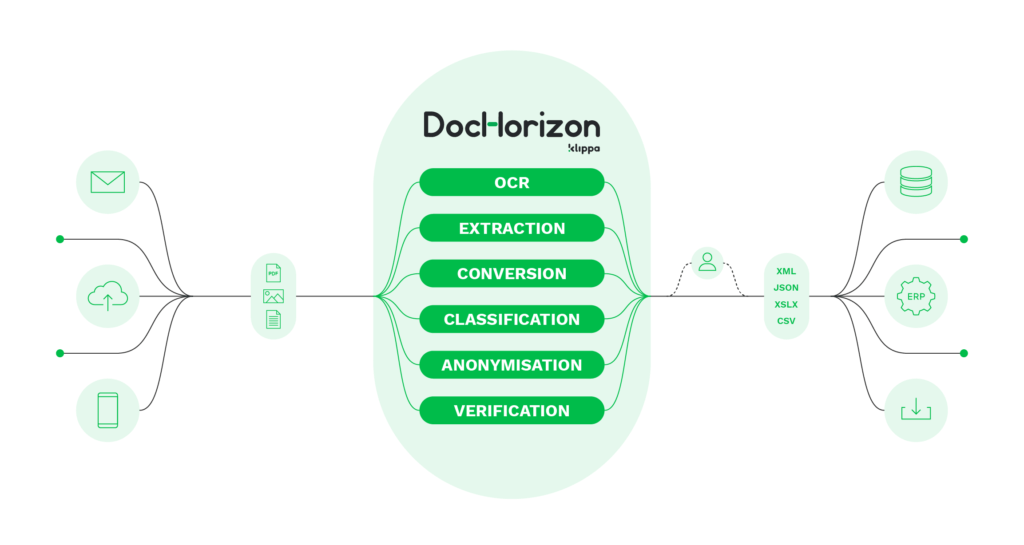 If you would like to know more about our DocHorizon solution, don't hesitate to contact us, we're happy to answer all your questions. You can also schedule a free online demo via the form below.
¹World Tourism Organization (UNWTO) travel rebound 2022
 Schedule a free online demonstration
A clear overview of Klippa in only 30 minutes.