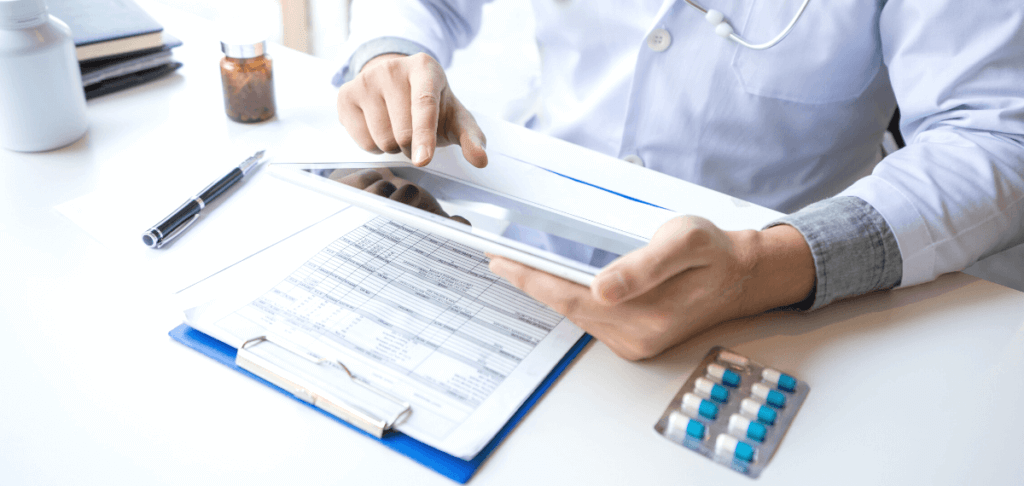 The skyrocketing demand for healthcare due to the Covid-19 pandemic has shaken up the healthcare industry.
Shortage of resources, long working hours, reduced operational budget, and enormous administrative costs demand healthcare organizations to transform and speed up digital transformation.
Due to the growing need for patients' caregiving, it is no longer efficient, sustainable, or even possible to manually process patient admissions, records, or other documentation.
In order to navigate through the crisis, the healthcare industry has started adopting different technologies. These technologies include Artificial Intelligence (AI), telehealth, and document management solutions.
Among different technologies, Intelligent Document Processing (IDP) has seen widespread adoption within the industry with the 190-200% YoY growth in 2020.
In this article, we will take a closer look at how exactly IDP helps improve the healthcare industry.
What is Intelligent Document Processing (IDP)?
Intelligent Document Processing (IDP) is a software solution used to capture, categorize, extract, anonymize, and classify data from documents.
It uses technologies such as Optical Character Recognition (OCR), Artificial Intelligence (AI), computer vision, Machine Learning (ML), and Natural Language Processing (NLP).
The role of computer vision is to understand a document's structure, whereas OCR is used to capture and extract text from a document. NLP is used to understand the text itself and identify individual data points.   
AI and Machine Learning enable the IDP solution to automate these processes and increase data extraction accuracy compared to a mere OCR tool.
Furthermore, AI and ML add continuous learning capabilities to expand the coverage of documents that can be processed.
To put it simply, IDP solutions such as Klippa DocHorizon enable organizations to automate business processes through data capture, document understanding, anonymization, and verification.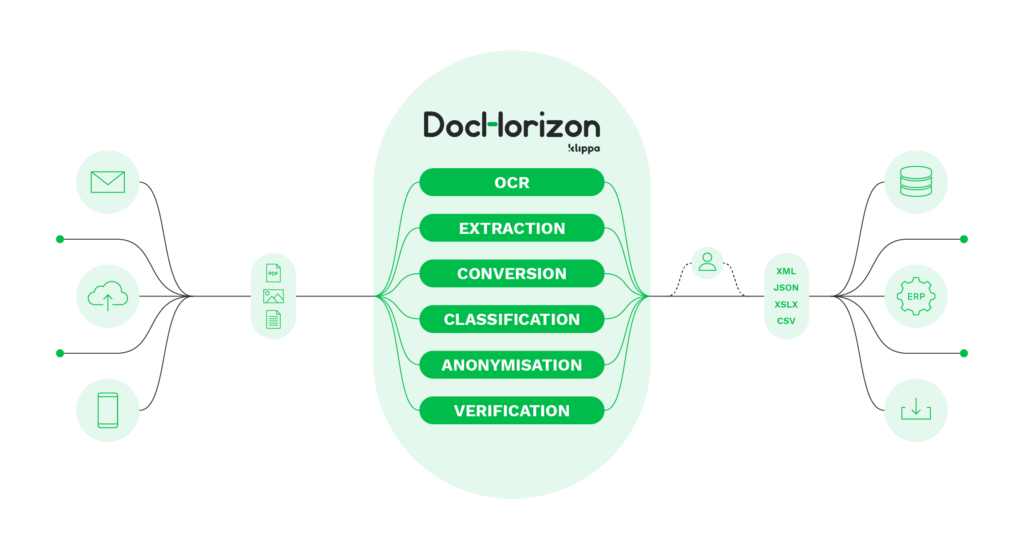 Now let's take a look at the benefits of IDP.
The Benefits of IDP in the Healthcare Industry
Organizations in healthcare that use Intelligent Document Processing reap multiple benefits. These benefits include:
Reduced operational costs
Prevention of dangerous human mistakes
Improved workflow
Easy data accessibility
Improved data security
Below we dive into these five benefits of IDP.
Reduced Operational Costs
One of the key benefits of document automation is that it reduces back office-related tasks and operational costs.
With IDP, there is no longer a need to dedicate staff time to complete mundane tasks such as manual data entry, filing documents, and printing papers.
The costs that organizations can cut with Intelligent Document Processing include:
Labor costs
Printing costs
(Long) business process costs
Paper storage costs
Administrative error costs
Perhaps an important question that you could ask yourselves: Would you rather pay healthcare professionals for what they do best or pay them to do paperwork?
Prevention of Dangerous Human Mistakes
According to the World Health Organization (WHO), 5% to 50% of all medical errors stem from administrative errors. These administrative errors include:
Patient record errors
Patient identification errors
Follow-up system errors
Communication error during transitions of care
Prescription errors
There have been cases where these errors have caused severe harm and even death. By using IDP, healthcare organizations can minimize the risks and prevent dangerous human mistakes.
It is simply a solution that does not get tired and can function intelligently as human brains.
Improved Workflow
The administrative burden has always taken time away from healthcare practitioners to care for their patients.
These administrative tasks include writing prescriptions, reviewing, editing, signing notes from patient visits, and entering them into the Electronic Health Record (EHR) system.
In fact, according to a report from Statista, physicians in Europe spend 50% of their time on administrative tasks and the other 50% on treating patients. The same report suggested that with AI, time spent on administrative tasks was reduced to 33%.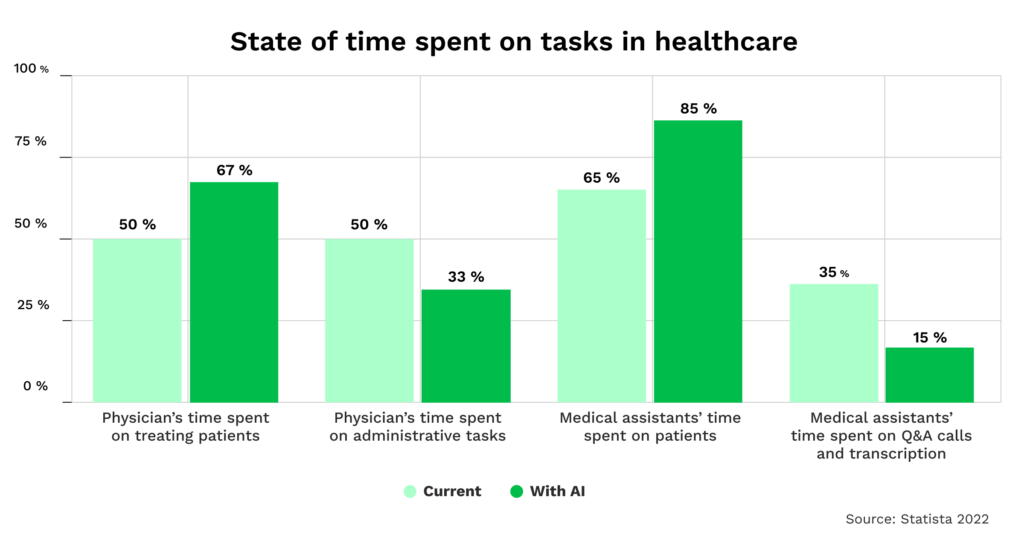 With an Intelligent Document Processing solution and integrations through APIs, healthcare organizations can streamline document-related business processes, freeing up time to increase patient intake.
Easy Data Accessibility
Unorganized data, especially in an industry such as healthcare with a wide range of documents, can be overwhelming. Healthcare practitioners can end up spending a significant amount of time digging up relevant information from the patients, notably if stored in physical archives.
The documents that are known in the healthcare industry include:
Patient records
Patient forms
Blood donation forms
Electronic referral
Medical claims
Prescription records
Invoices
Physician notes
Consent forms
Research papers
Healthcare organizations can ensure easy access to relevant data with the seamless integration between IDP and EHR. While IDP takes care of data capture, extraction, and classification to document digitization, the EHR system keeps data organized and accessible.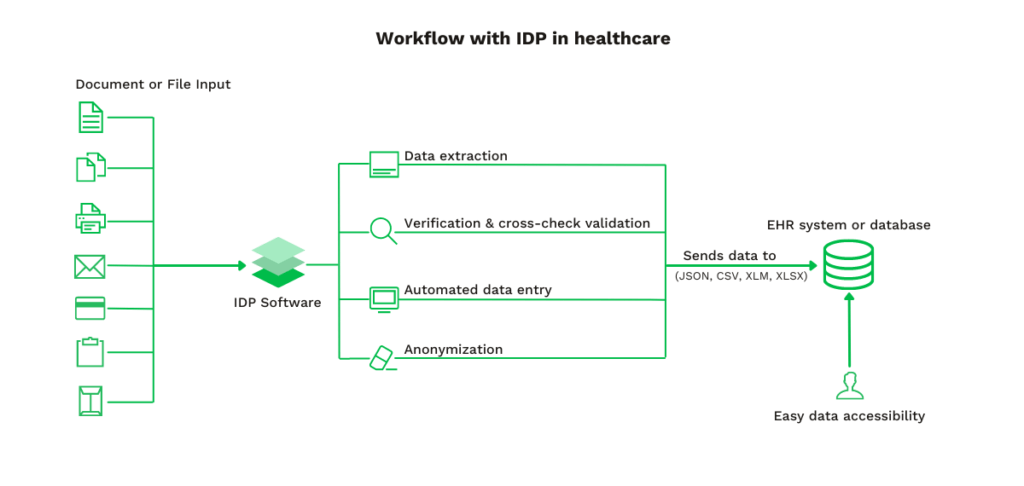 Improved Data Security
As organizations within the healthcare industry must comply with Protected Health Information (PHI), Personally Identifiable Information (PII), Health Insurance Portability and Accountability Act (HIPAA), and the General Data Privacy Regulations (GDPR), storing paper files can be questionable.
Why? Simply because the threat of patient information being accessed by unauthorized personnel and leaked to outsiders is very real. In the case of Beaumont Health, an employee leaked information about over 1,200 patients. It was often done for financial gain.
IDP allows safer record-keeping through automated data entry. The right integrations with a database, where data access is being controlled, can improve the overall security of privacy-sensitive information.
There are even cases where IDP is coupled with data masking functionalities to redact and anonymize sensitive data on documents to comply with the regulations and safeguard against breaches.   
Now that we have covered the benefits of IDP in healthcare let's look at the potential cost reductions next.
The Estimated Cost Reduction with Intelligent Document Processing
Assume that your healthcare center needs to process 100,000 documents each year. Let's also presume that an experienced medical assistant can extract data, enter the data, and verify the data from documents with a speed of 30 documents per hour (one every two minutes).
Let's estimate the labor cost to be €20,00 per hour (including insurance, hourly salary, etc., employee benefits). Processing 100,000 documents would take over 3,333 hours to complete and cost over €66,000. The cost could go up to 10 times higher if the doctors were processing these documents instead.
With an IDP solution such as Klippa DocHorizon, you would be able to process 10,000 documents per hour. This translates into 100,000 documents in 10 hours, which is 33,000% faster than manual processing.
As an estimation, the cost for processing 100,000 documents is roughly €10,000 (depending on the document type and volume). The cost reduction would be over €56,000.


Try our cost reduction calculator yourself!
Are you curious about the practical applications of IDP in healthcare? Read about the two common use cases in the next section.
Use Cases of IDP in the Healthcare Industry
There are many use cases of Intelligent Document Processing in healthcare. The most common ones include:
Automated patient onboarding
Data extraction from patient records
We will cover these two use cases in more detail below.
 Automated Patient Onboarding
Although the advancement of technology has provided opportunities for healthcare to go digital, there are still large volumes of paper documents that need to be processed.
Many documents must be handled before admission, especially in the patient registration and onboarding procedure. The documents that often come across patient intake procedures include:
Identity documents
Patient intake forms
Health insurance cards
Prescriptions
Referrals
Blood type forms
Let's take insurance card scanning as an example. With automated patient onboarding using IDP, either the patient or healthcare provider can scan the insurance card.
The OCR engine processes the scanned insurance card and extracts the relevant data (patient name, insurance provider, insurance card number, etc.).
Once the information is extracted, it is structured in a machine-readable format. At this point, it can be processed and entered into the EHR system in use.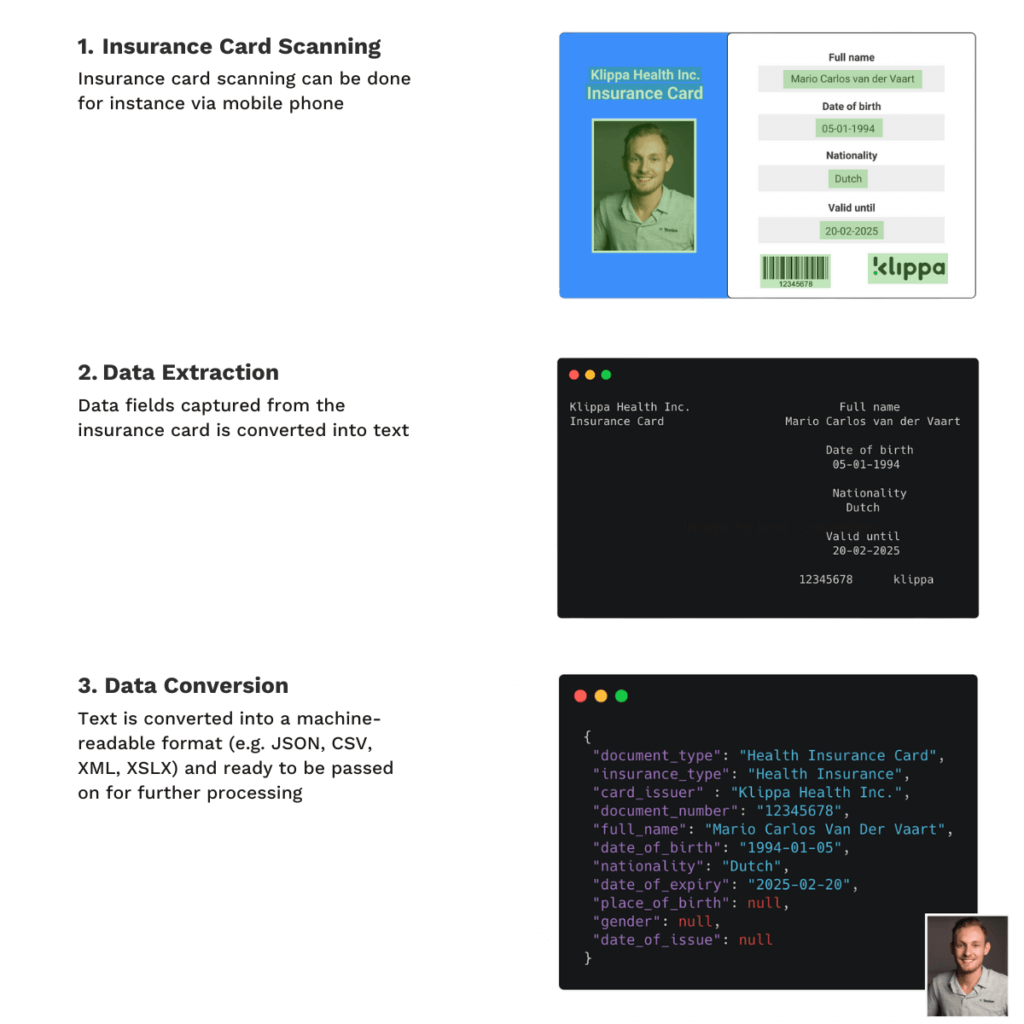 The administrative process is now streamlined, and the healthcare staff can focus on what is truly important: patient caretaking.
As per previous calculations above, the benefits include reducing cost by 660% and time by 33,000%. By reducing patient onboarding time, healthcare organizations can increase customer satisfaction and patient intake.
Data Extraction from Patient Records
Currently, processing patient records manually to an EHR system is time-consuming and error-prone, which can cause unwanted lawsuits.
As paper forms are still widely being used, it is essential to find a solution to automatically sort, identify, extract and match the data from documents, faxes, PDFs, and scans to a patient's EHR.
With IDP, healthcare organizations can improve EHR workflows without compromising the quality of patient care. The staff can simply capture patient records from emails, scanners, faxes, mobile devices, emails, portals and automatically export relevant data to an existing EHR system.
The fields that can be extracted include:
Medical record number
Date of birth
Social security number (SSN)
Patient name
Medical history
Blood type
Doctor's name
Dates
Prescriptions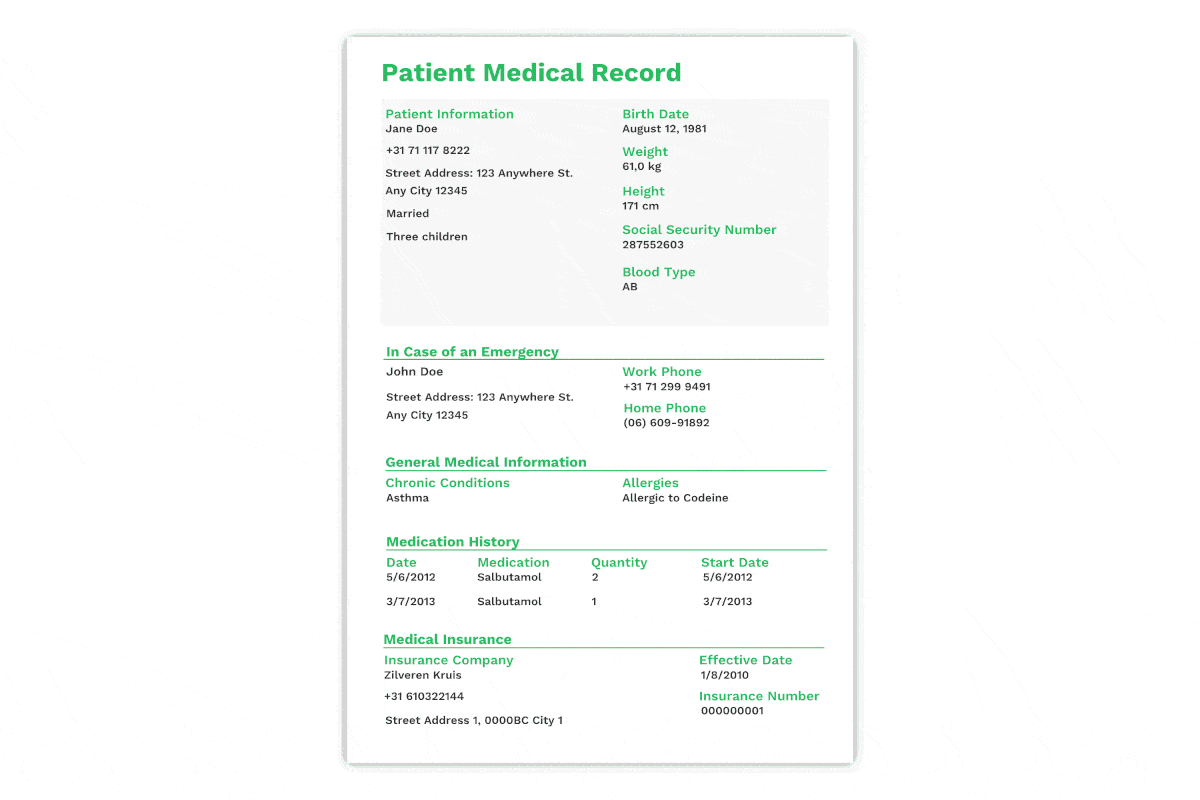 The benefits range from better employee engagement to reduced labor costs associated with manual data extraction and entry.
Healthcare Document Automation with Klippa DocHorizon
Our IDP solution, Klippa DocHorizon, can help healthcare organizations automate the classification, data extraction, redaction, and verification of a wide range of documents.
Compliance with data privacy laws and regulations such as HIPAA and GDPR is ensured as the data is not stored on our servers. In addition to that, Klippa DocHorizon is packed with data masking functionalities that can help maintain compliance and safeguard against data breaches.
Below you can see how DocHorizon can mask patients' health records.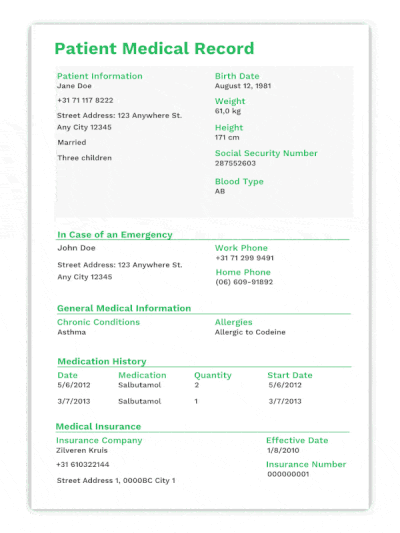 With Klippa DocHorizon, your organization can save time, reduce operational costs, ensure compliance, improve various workflows, and prevent administrative mistakes.
Let us alleviate your document processing burden, so you can increase patient intake and improve the quality of patient care. We'd love to partner with you. Fill in the form below or contact one of our experts to get you started!