White label expense management app & software
Supply your employees or clients with the most automated and efficiënt expense management solution. Quick time to market, scalable & easy to implement.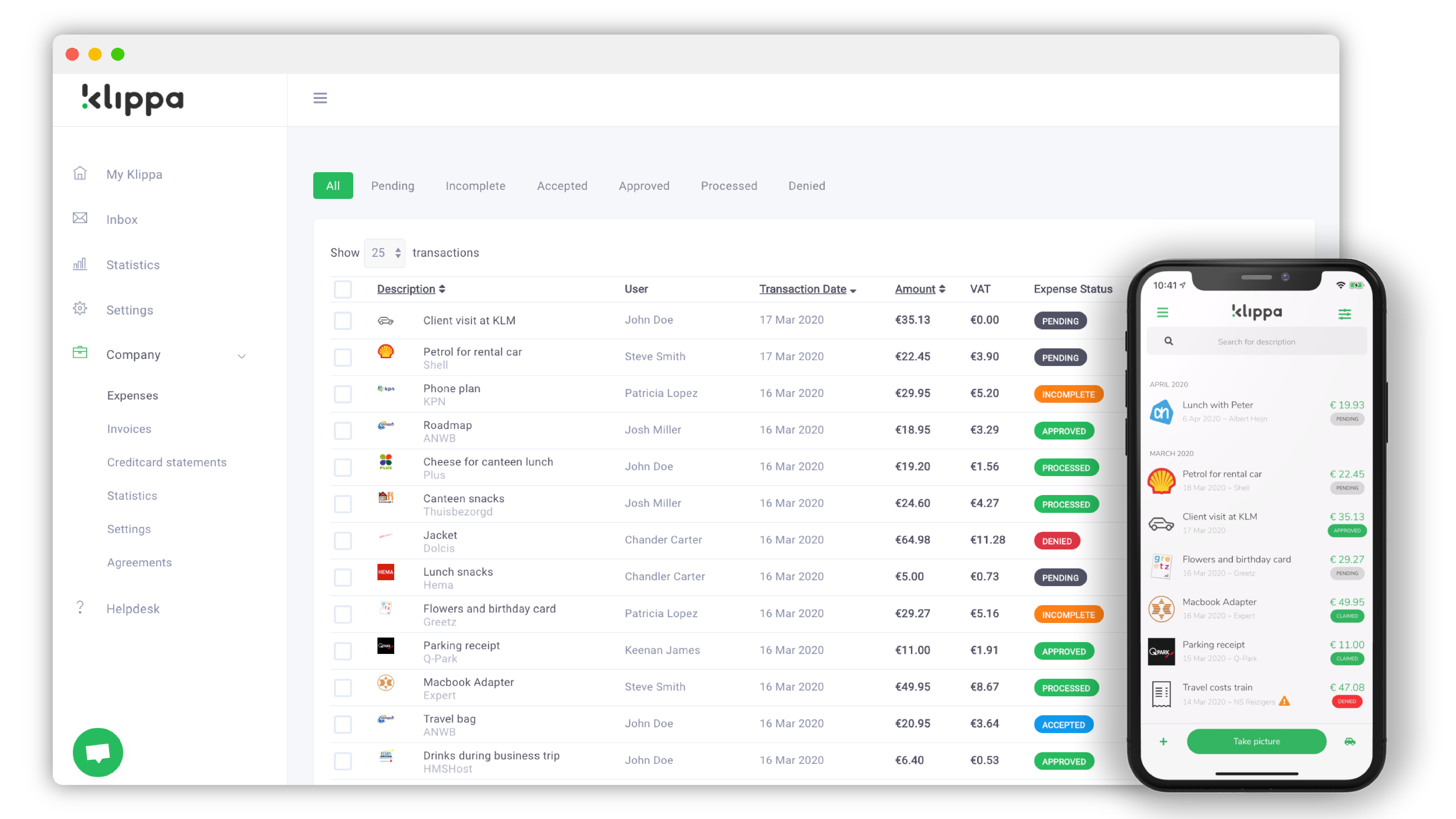 Frequently Asked Questions
Can the colors, logos and design be customized?
In our white labels you have full control over the logo, colors, design and even functionalities.
Does Klippa deliver custom features?
Klippa can indeed build custom features for your white label on request. This does influence the time to market and pricing of our solutions. 
What is the time to market?
The time to market depends on the amount of custom work that needs to be done. Without major custom work white labels can be delivered in 2 months after signing the contract. This can move upwards to 6 months if a lot of custom work is required. 
How about GDPR and security?
Klippa is completely GDPR compliant. Therefore our solution is suitable for use inside and outside of Europe. 

Security is very important to Klippa. Therefore we only work with secured connections, have automated backups, firewalls, encryption and other security measures in place. Third parties perform penetration testing to verify our security. On request our security documentation can be provided. 
What are the hosting options?
Public cloud, private cloud and on premise.
Our infrastructure is build on Kubernetes and docker to ensure scalability and easy deployment. You can run your white label on our Microsoft Azure servers, in a private cloud or even on premise. Server locations can also be customized on demand. By default our white labels run on our Microsoft Azure cloud in Amsterdam.  
What integrations does Klippa have?
Klippa has over 10 integrations
Klippa is build on a very flexible API. Therefore we can connect with any third party API. Out of the box we have over 10
integrations
with accounting systems like SAP, Netsuite, Xero, Quickbooks and many more. On request others can be added. 
What does a white label cost?
Our white labels are very flexible and can be configured based on your needs. Therefore it is very hard to give a price estimate before exact requirements have been discussed. At the very low end take a setup fee of at least €15.000 into consideration. This is without any other customization than logo and color change and only includes the webapplication. When customizations and a mobile app are required pricing quickly goes upwards. To get an exact estimation please talk to our experts. 
Our white label expense software is full of features: 
Convert foreign currencies based on a daily rate or set your own rate.
Claim travel expenses with our Google Maps integration.
Save time using booking suggestions in your accounting package.
Use groups to give employees different types of user rights.
Synchronize relations, cost centers, cost carriers and VAT codes from your accounting system.
Have employees use categories, projects or cost centers to structure the expense process.
Gain insight in costs, categories, cost centers, projects, departments and periods.
Export to formats such as XLSX, CSV, UBL and PDF.
Prevent fraud with automatic detection of duplicate claims.
Set rules and policies for business expenses and automate the approval process.
Built-in optical character recognition (OCR) puts an end to manual data entry.
Employees can order their business expenses in folders and categories by using labels.
Companies that use Klippa save time and reduce errors. On top of that, they enjoy a far more efficient administrative process than before.

Have any questions about our expense app?
Get in touch by mail, phone or chat!