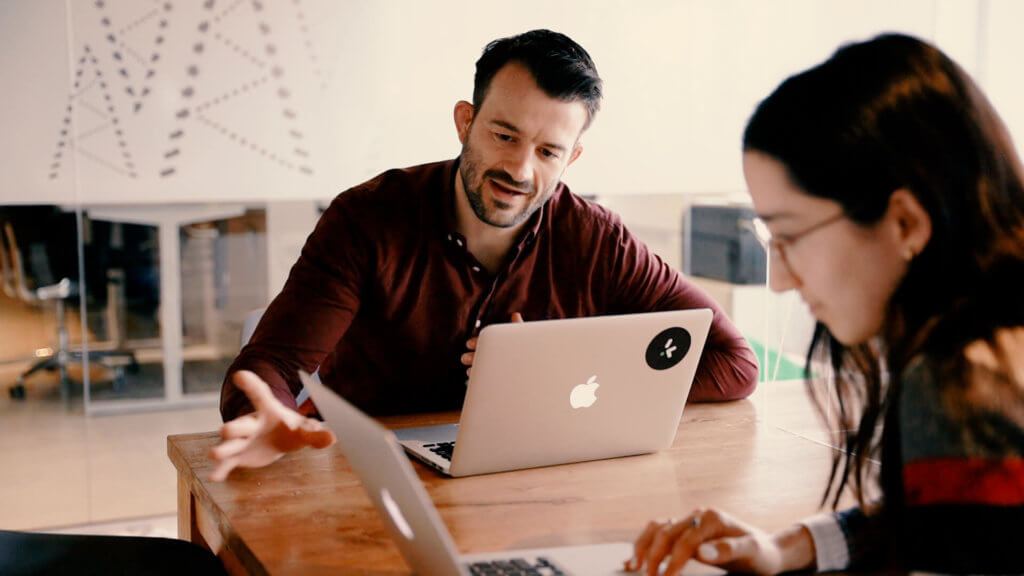 Sending out a Request for Proposal (RFP) should not be taken lightly. It is a crucial step in the complex process of committing to an IDP vendor.
According to Loopio's 2021 RFP Report, organizations respond to 65% of the RFPs they receive. To be part of these 65% and to get information from a vendor that is actually helpful, you need to ask the right questions.
But what are the right questions? Don't waste more time researching. In this blog we tell you which information you should gather, which questions you can ask and provide you with an RFP template that you can use right away!
What is a Request for Proposal?
A Request for Proposal is the first document that you draft before sending it to a small number of software development companies. Most likely, you shortlisted those as potentially offering a suitable solution. An RFP usually describes the context of the project, requirements that the solution should fulfill, the project timeline and pricing models.
In general, an RFP is like a job advertisement: It announces the project, and opens the door to qualified companies who can get the job done.
Once you have submitted your RFP to the vendors, they will fill in the document and answer your questions. This usually takes a couple of days, as a Request for Proposal is a detailed and extensive document.
When you receive your responses, you should be able to compare vendors and decide with which provider to go into discussion and negotiations.
What is the goal of the RFP?
The main goal of the RFP is to discover which vendors are able to meet the service, support and technical requirements for your project. Therefore, the result of the Request for Proposal should not be a lot of text, but concise information that is comparable.
That way, the responses of vendors become measurable. Choosing the right Intelligent Document Processing solutions is challenging, so make it as easy as possible for yourself.
The question is, though, why would you make the effort to create such a complex and extensive document? What are the benefits of a Request for Proposal? Let's find that out next.
What are the benefits of an RFP?
Writing out an RFP and submitting it to a number of vendors before committing to a solution has its benefits. Probably, to most large firms, this is no news. But especially for small to medium size companies (yes, you are also allowed to submit an RFP) this section is important.
The benefits of an RFP are:
Being able to create a short list of potential vendors that provide a fitting solution
In-depth information about a vendor
It often includes the Request for Information and Request for Quotation already
You receive an overview of the pricing structure
RFPs help meet the organizational need
RFPs provide accountability and transparency
Easy comparison between vendors
Being able to create a short list of potential vendors that provide a fitting solution
The responses to the Request for Proposal will give you a good understanding of the different vendors. Most likely, you sent an RFP to a number of vendors to find a solution that solves your problem best.
Once you receive filled in RFPs, you are able to create a shortlist of the vendors that offer a fitting solution. Usually, that is a maximum of two or three software companies. Narrowing down the list is necessary as, timewise, it is only possible to go into discussion and negotiation with a small number of vendors.
In-depth information about a vendor
In order to decide which vendor can provide the best solution for you, you need to get to know the vendor as detailed as possible. Information found on the website is not sufficient. A Request for Proposal allows you to ask exactly the questions that you want to have an answer to.
The RFP should be tailored to your needs, asking the vendor to describe its solution as detailed as possible to prove that their software is the solution you need. Only in-depth information about a vendor allows you to make an informed decision.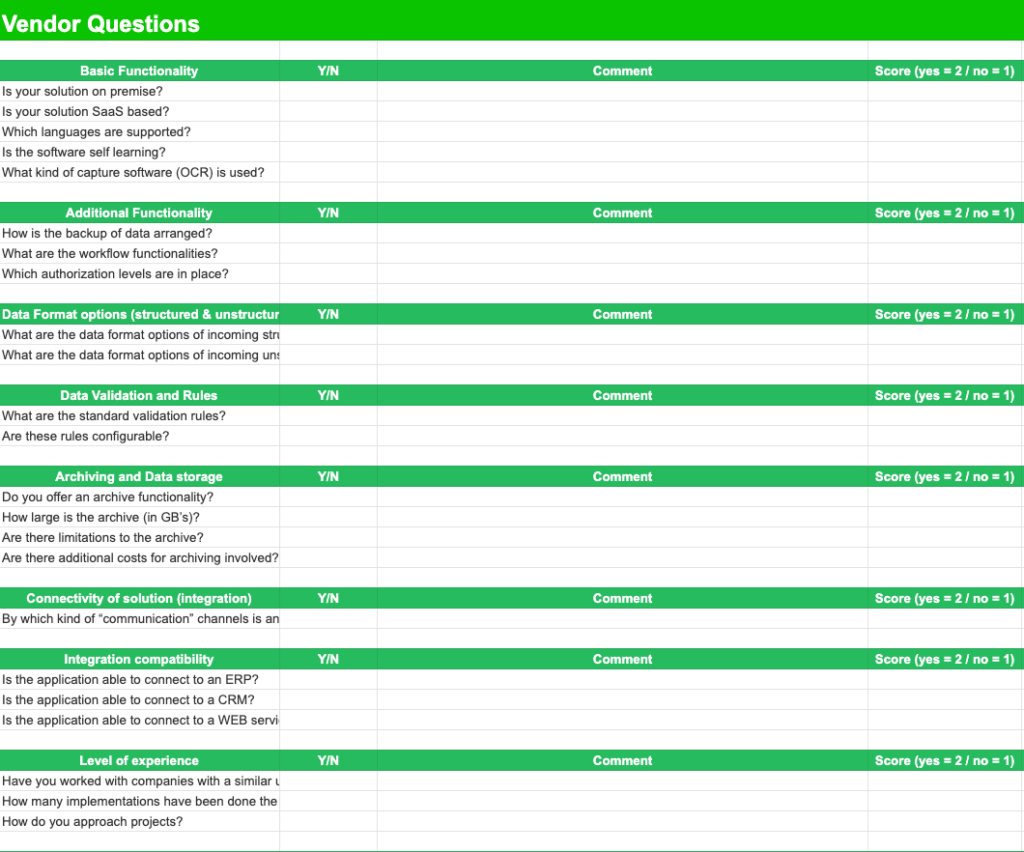 It often includes the Request for Information and Request for Quotation already
In theory, an RFI and RFQ are separate documents that are sent independently of the RFP. Most of the time, when an RFP is submitted, the document already includes a section that covers the questions and key points of an RFI or RFQ.
If you only require an RFI or RFQ, feel free to use parts of our template that serve as those two independent documents.
You receive an overview of the pricing structure
As just mentioned, an RFP often also includes the Request for Quotation. In the RFQ, the pricing structure is discussed. This gives you an overview of the expenses that are involved in implementing a certain solution.
That way, you can find out whether the offered solution fits into your budget and serves you as a basis for negotiations.
RFPs help meet the organizational need
A Request for Proposal doesn't only allow a vendor to present its solution, but for you to state your organizational needs as well. Every organization has its different needs, which is why it's especially important that you adjust the RFP template to your specific requirements.
By stating your organizational needs, the vendor can also much easier evaluate the best way to help you. Whether it is a custom or an out-of-the-box solution.
RFPs provide accountability and transparency
Once written black on white, you can always fall back on it. You have a basis to discuss because suggestions, solutions and facts have been written down.
This provides transparency over the vendor's offer, your own needs and requirements. If something has been promised in the Request for Proposal, you can hold the vendor accountable for it. This is only possible because RFPs are written down, and they are not only verbal agreements.
Easy comparison between vendors
The goal of every RFP is to make it easy to compare different vendors. When a Request for Proposal is written in the right way, it allows you to compare vendors easily. This is important when you want to decide on a final vendor and saves you a lot of time in the selection process.
Ideally, you have a system in place that allows you to easily assess different solutions, making it a quick and straightforward decision.
Now that we talked about the benefits of a Request for Proposal, we want to talk about how you actually write an RFP that provides you with workable answers.
How do you write an RFP?
In the coming paragraphs, we will go more in-depth and explain the different components that an RFP can contain. Generally speaking, you can include the following key points in the Request for Proposal:
Executive Summary
Confidentiality Notice
Introduction
Requirements
Vendor Information
Vendor Questions
Open Questions
Pricing Model
Security Questionnaire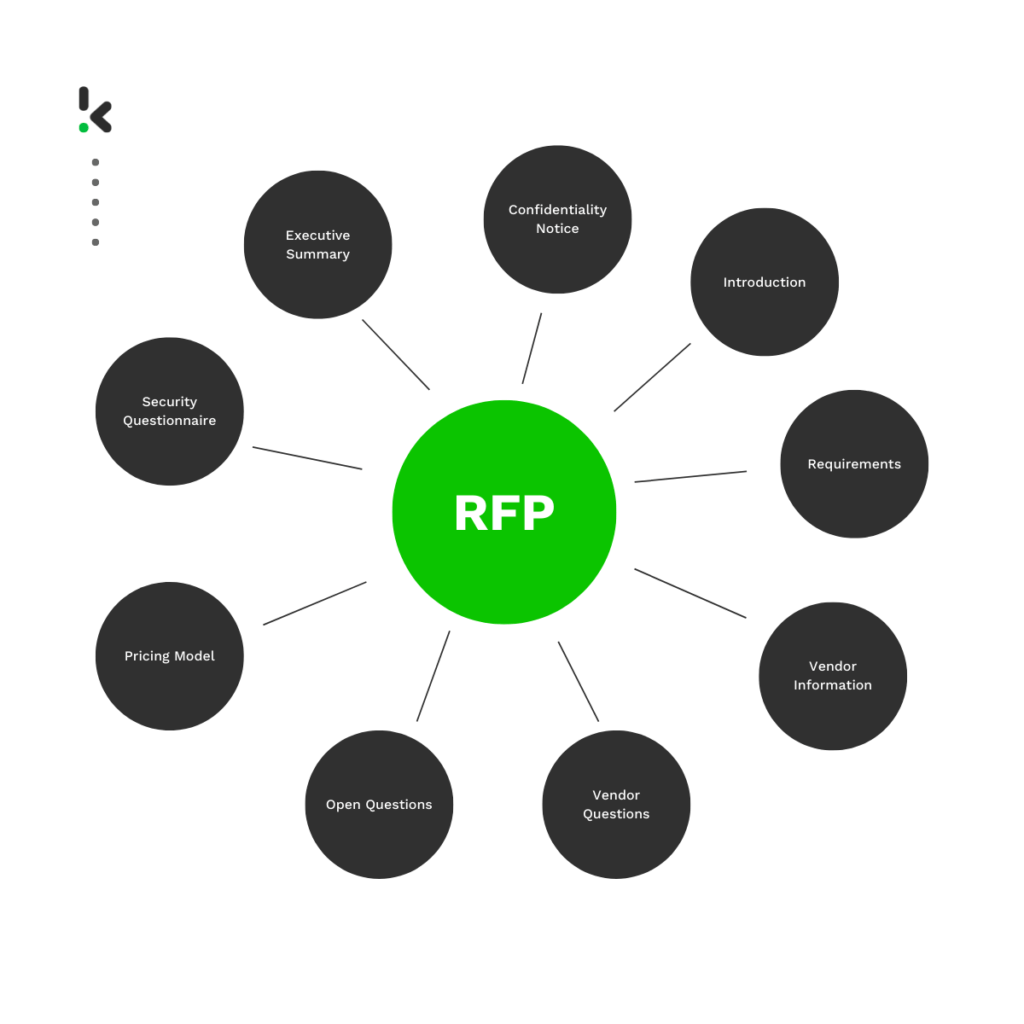 These key points can be taken as guidance, not as a must. You can add or leave out components according to your requirements. Make sure to adapt questions to your specific needs and only include what is relevant to your company.
After you determine that, we advise creating an Excel sheet that makes it easy to compare vendors by implementing a numerical system. You can find our template further down below or create your own RFP from scratch.
Let's now dive deeper into the Request for Proposal template.
Request for Proposal Template
In the following, we will describe the different components of the RFP shortly. Further down below, you can then download the free template. Once again, all questions and remarks presented down below are only suggestions and can be adjusted according to your company.
Executive Summary
Like most large reports, an RFP should have an executive summary. The document is simply too big and when presenting it to decision makers, you want them to get an overview quickly.
The executive summary explains who the vendor is and which solution is presented to fulfill the organizational needs.
Confidentiality Notice
Well, this part is up to you, but usually an RFP is a confidential document. You don't want vendors to forward your RFP, which states your solution preferences and needs, to third parties. Often you expose part of your business strategy, sensitive data and information, that shouldn't be shared.
Furthermore, in some cases, you wouldn't like to disclose with which potential vendors you might want to work with. Therefore, it is important that you include a confidentiality notice in your Request for Proposal.
Introduction
The introduction can consist of different parts. Here we made a distinction between the Project Context and the Project Timeline.
Project Context
The project context part is written by you. In order for the vendor to understand why you are contacting them, the context of the project is necessary. Only with this information, the vendor can determine whether they can offer a fitting solution or not.
Part of that section could be how your own product or service works and which current infrastructure you use.
Project Timeline
Adding the project timeline brings clarity and better understanding of expectations. Don't shy away from mentioning your process and what the expected deadlines are.
This includes dates of the negotiation meeting, when the filled in RFP is expected and the final decision-making day. Transparent communication is key here. Perhaps, you will have to adjust a few deadlines based on the vendor's schedule, but the vendor should communicate that early enough.
Requirements
The next part of the RFP is about the requirements for the solution. Here you can, for example, state which accuracy rate you expect, how fast the extraction time should be, which languages should be supported and much more.
It is also important to state your legal requirements, as those need to be in line with the legal demands of your industry and country. Be concise about the infrastructure requirements because those largely determine how the vendor's software can be integrated into your existing system.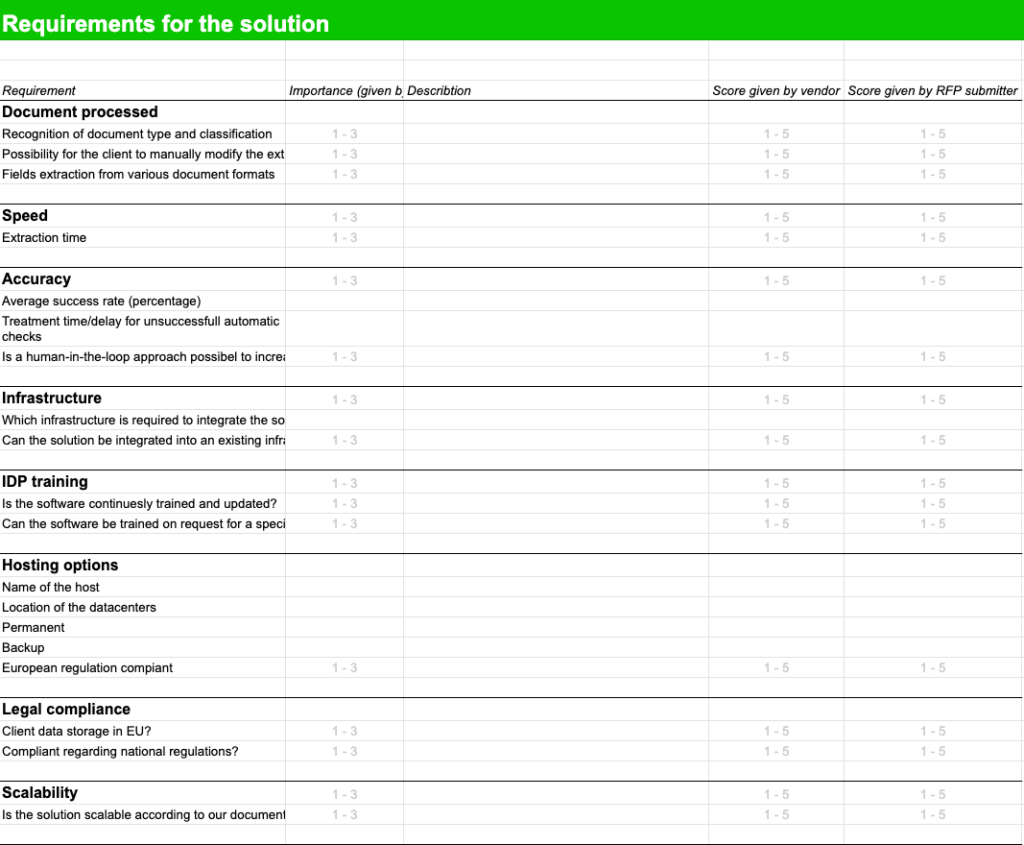 Vendor Information
Usually, at the beginning of the RFP, you would leave space for the vendor information. Think about information like the company name, address, contact person, VAT number, etc.
In addition, the vendor is described here. Technical information, like which solution integration is used (e.g. API) or where the software is hosted, is presented. This part is written by the vendor.
Vendor Questions
Let's discuss which kind of vendor questions you could ask next. Many questions could be relevant. Here are a few examples structured in different categories:
Basic Functionality
Additional Functionalities
Data Format options (structured & unstructured)
Data Validation and Rules
Archiving and Data storage
Connectivity of solution (integration)
Integration compatibility
Level of experience
Contract, Services and/or Licenses
Support and Helpdesk services
Training services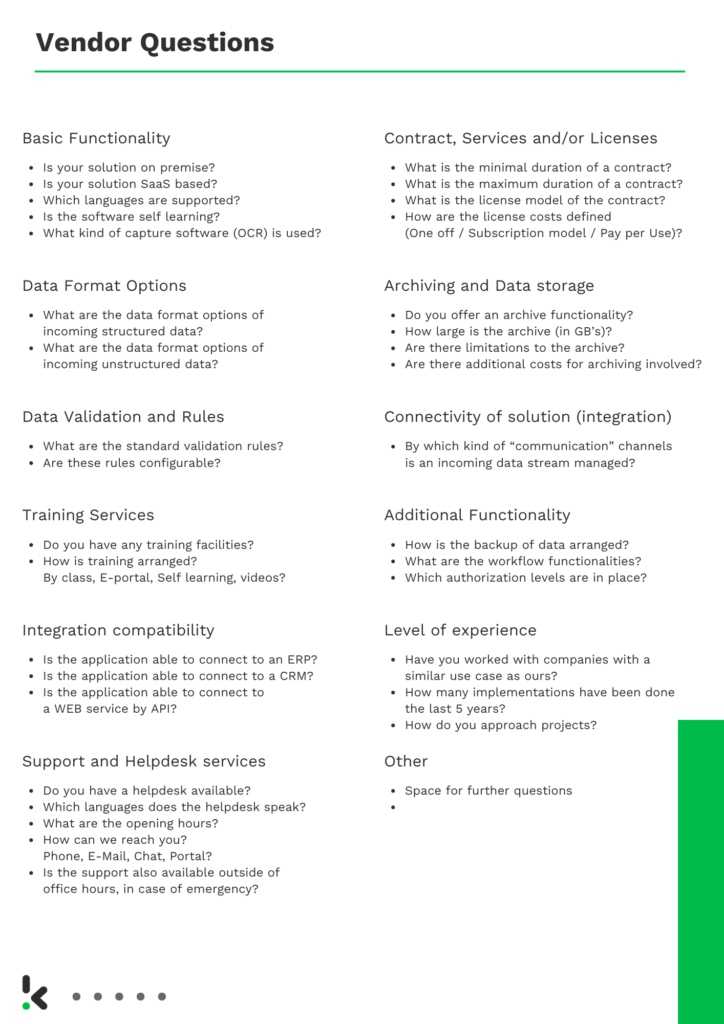 Open Questions
Open questions are a great way to get to know the vendor. Here is room for details and more in-depth information. This section could include the following:
What makes your solution unique compared to your competitors?
Is there a possibility for a Proof of Concept (PoC) period? If yes, for how long?
Please show us a demo or provide us with user stories.
How easy is it to adapt and plan new developments for a custom solution, or to fill in any gaps?
This part also allows you to ask questions about development security, physical security, infrastructure, and vulnerability & security incident management. Furthermore, questions about the management of backups, archiving and data protection, banking information and development security management can be asked.
The integration of data privacy regulations in a project is essential to guarantee an organization's security. Therefore, we highly encourage you to add security questions to your RFP.
Pricing model
The pricing model consists of different components that are described down below. In the template, this part can also be taken as a separate RFQ if you only want to request a quotation for a solution.
Building cost → They vary based on your own needs, and what the vendor's solution already offers. It might include the onboarding fee that varies based on the complexity of the project.
Running cost → This is defined by the pricing unit used (customer, connections, documents, other), the base cost, cost of the pricing unit, and additional services required.
Annual maintenance cost
Support cost → This is based on the additional service level agreement and the customer support needed.
Now that we talked about the different components of the RFP template, it is time for you to download the template and use it. In the last part of the blog, we will quickly talk about why Klippa should be included in your selection of IDP companies to send an RFP to.
Why choose Klippa?
At Klippa, we have seen many different RFPs, which opened the door for us to help companies around the world. Through that, we gathered a lot of experience responding to Requests for Proposals and accommodating companies' needs.
That way, we are able to provide you with an extensive RFP template that is applicable to the "real" world and not just a theoretical accumulation of questions.
Considering the fact that you have been reading the blog post, you are looking for an IDP vendor. Klippa DocHorizon is our IDP solution and goes beyond the extraction, identification, and verification of data.
Our solution is able to mask data, detect fraud and comply with the security standards of your needs. Our Customer Success Managers aim to support your long term success by accommodating your needs and with a solution-oriented mentality.
Do you want to get to know us? Please contact one of our experts or book a demo below.
 Schedule a free online demonstration
A clear overview of Klippa in only 30 minutes.