When companies look for ways to save costs, a familiar term that often comes up is "outsourcing". This term can apply to many types of industries and job positions, ranging from technical support to accounting and data entry jobs.
What are these companies actually getting when they sign up to have their calls or invoicing handled through outsourcing?
While some companies love it, many find that their cut in costs also lowers quality standards as a result of differing time zones, language barriers or incomparable office space in a foreign country. This causes their customers to suffer as well, creating even more trouble for the original company.
For companies that want to save costs while still maintaining the service their clients expect, we will introduce a better alternative than outsourcing. What could that be? Just spend a few minutes of your time reading this blog and find out how you can save 60% on your back office costs without outsourcing!
Jump to:
Why do companies outsource back-office processes?
What back-office processes are mostly outsourced?
What are the disadvantages of back-office outsourcing?
What is the better alternative to back-office outsourcing?
Use cases for the Klippa OCR API
Delivering on our promise of saving 60% on back-office costs
Do you want to find out how automation can help you?
---
Why do companies outsource back-office processes?
Companies that make use of outsourcing services name different reasons for outsourcing their back-office processes. Their needs may vary depending on the size and industry of organizations, thereby impacting potential outcomes. Some benefits, however, are applicable to almost every company. Below are the 3 most mentioned reasons to outsource:
Up to 50% cost savings
The first and most obvious advantage of outsourcing back-office operations is simply improving a company's bottom line. In a global outsourcing study conducted by Deloitte, over half of the interviewees indicated that cost reduction was the primary reason to outsource.

That makes perfectly sense, because back-office functions can be quite costly due to overhead expenses for staff, facilities, tools and technological resources (i.e. software, applications and programs). Such costs can add up to a large and ever-growing expenditure.

Outsourcing certain processes is a more affordable solution, since outsourcing companies provide you with an existing infrastructure of facilities and resources along with low labor costs offshore. Different studies state different numbers, but on average companies can save up to 50% by outsourcing their back-office operations as opposed to keeping these in-house.
More focus on core competencies
Outsourcing doesn't only save businesses money, it also frees up more time for them to focus on key operations. 57% of the respondents in the Deloitte study stated this among their primary drivers to outsource.

We can definitely relate to that. There is nothing more frustrating than wanting to work on value-adding activities while being forced to waste time on administrative work.

By outsourcing these secondary tasks and functions, businesses have more leeway to stick to their strengths and make sure their own employees are focussing on the jobs they were brought in to do.
Higher degree of flexibility
Increased flexibility is another considerable advantage of outsourcing. In the 2020 Global Outsourcing Survey, almost half of the companies stated that outsourcing enabled them to be more flexible and solve capacity issues.

With the uncertainty surrounding today's global economy, companies need the ability to expand or downsize quickly. Unfortunately, that's not always possible due to tight labor markets or fixed contracts. This can put a serious strain on the growth or health of a company.

In case of outsourcing, your vendor will handle the hiring and training process for back-office tasks. Generally, they have access to a large, low-cost workforce of which you can reap the benefits. Moreover, partnering with an outsourcing company can only be contractual, so you can hire them as needed.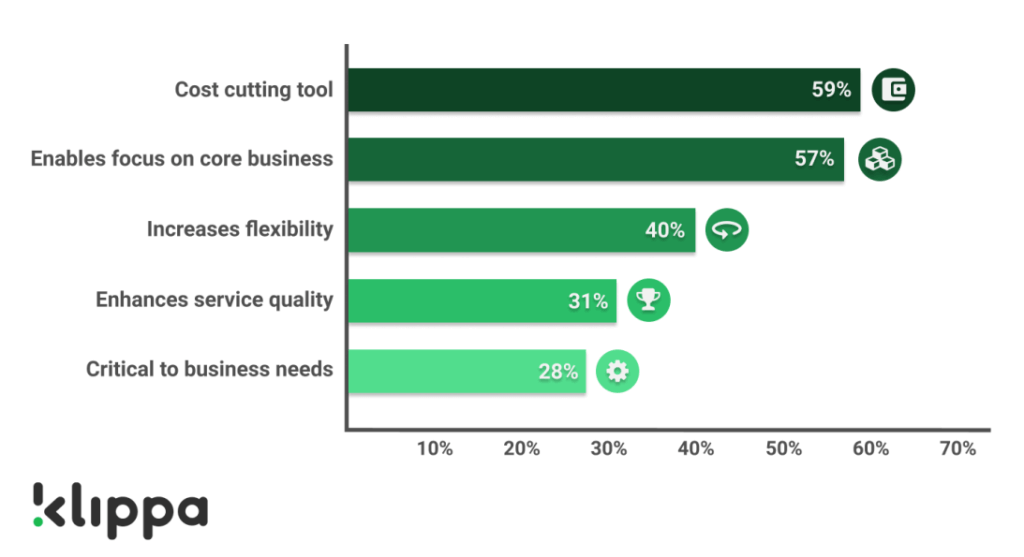 These advantages are not the only factors to consider when outsourcing. You also have to know which tasks are suitable for outsourcing. That's what we are going to talk about in the next section.
---
What back-office processes are mostly outsourced?
More and more companies understand the benefits of outsourcing back-office operations. But not all jobs can be outsourced of course. In order to give you some inspiration on the type of tasks that you can outsource, we list five of the most outsourced back-office functions below:
So, we are now aware of the advantages of outsourcing and the tasks that are most often outsourced. But are there no disadvantages to outsourcing? Of course there are, let's have a closer look at them!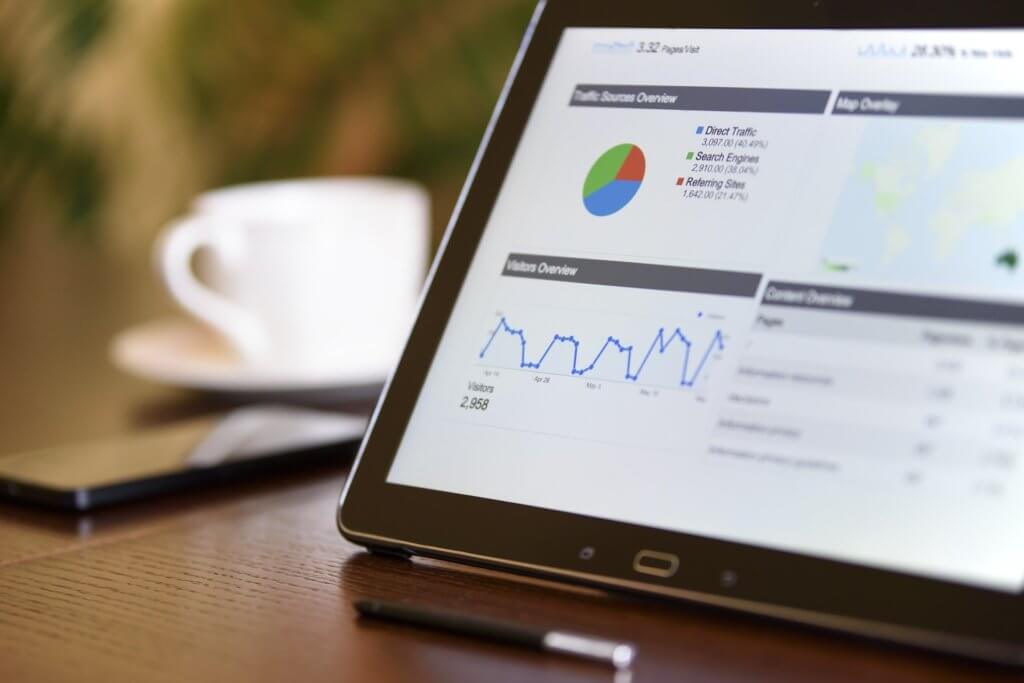 ---
What are the disadvantages of back-office outsourcing?
Just like any other business activity, outsourcing is not all moonlight and roses. It is important to consider the drawbacks as well, so you know what you're stepping into.
Lower quality standards
Outsourcing companies are often not driven by the same standards and mission that drives your company. They are motivated by profit, instead of specific metrics that you would have in place if the function stayed in-house.

Since the price in the contract is fixed, the only way for an outsourcing company to increase its profits is to decrease costs. More often than not, this leads to a lower quality of the service delivered. In other words, the outsourced work may be carried out quickly, but will lack the standard and quality that customers have come to expect from your products or services.


Less control
When you sign a contract to have another company perform the function of an entire department or a single task, you are turning the management and control of that function over to that other company. You're losing control of how tasks are being monitored and performed, and you risk the above-mentioned lower quality standards.


Miscommunication
It doesn't really matter whether you're dealing with an overseas outsourcing company or a talented expert just up the street, if you hand out remote work via email, telephone or Zoom, important instructions often get lost in translation. We all experience this once in a while. Language barriers have even been found to be the most common communication barrier causing misunderstanding and misinterpretations between people.

It may not be a big deal every time it happens, but it could cost you some serious time, money and headaches once in a while.


Hidden costs
Although outsourcing is generally considered cost-effective, you must be aware of hidden costs that can arise. As the contract specifies all the details of the service that is provided, anything not covered in the contract will be the basis for additional charges. Also, there will be legal fees involved in getting a lawyer to review all contracts and make required changes.

Just keep in mind that you are not the expert in this field; the outsourcing company is. If they are good at what they do, they have many contracts and, therefore, a lot of experience in this area of contracting. It is their experience, and your lack of experience, that makes it easy for you to miss hidden costs.

Another issue is that the costs and time of managing an offshore team are often significantly higher than those of managing an in-house team. Due to language barriers, differing time zones and a lower knowledge base, the cost savings of low-cost labor might be nullified. It may come as no surprise then that more and more companies are starting to nearshore, rather than offshore, activities again.


Uncertainty
One of the most feared scenarios in outsourcing is an outsourcing provider going bankrupt. Since you will be turning over part of your business operations to another company, you will be tied to the financial well-being of that company. It can happen that the outsourcing company underperforms financially and defaults on their contractual obligations, or even worse, they file for bankruptcy and seek protection from their creditors.

Again, you have to spell out all terms and conditions in contractual arrangements clearly, because you don't want to take a financial hit if the other company fails to deliver.


Threat to security and confidentiality
In this age of data protection and GDPR, it's essential that you are very cautious about using customer data. If you plan to outsource processes that require personal data, such as payroll or medical records, you could be placing the privacy of others and the security of your company at risk by passing that data on to others. Just think about how your clients might react when they realize their personal data are being stored and processed by an individual in e.g. the Philippines. We bet they may have some second thoughts about it.

Also intellectual property must be protected when you outsource tasks to another company. If it involves sharing proprietary company data or knowledge such as product drawings or formulas, you need to have proactive safeguards in place to protect this information.
That's quite a lot to digest, right? Luckily, outsourcing is not the only way to save costs and time. Let us introduce you to the better alternative to back-office outsourcing!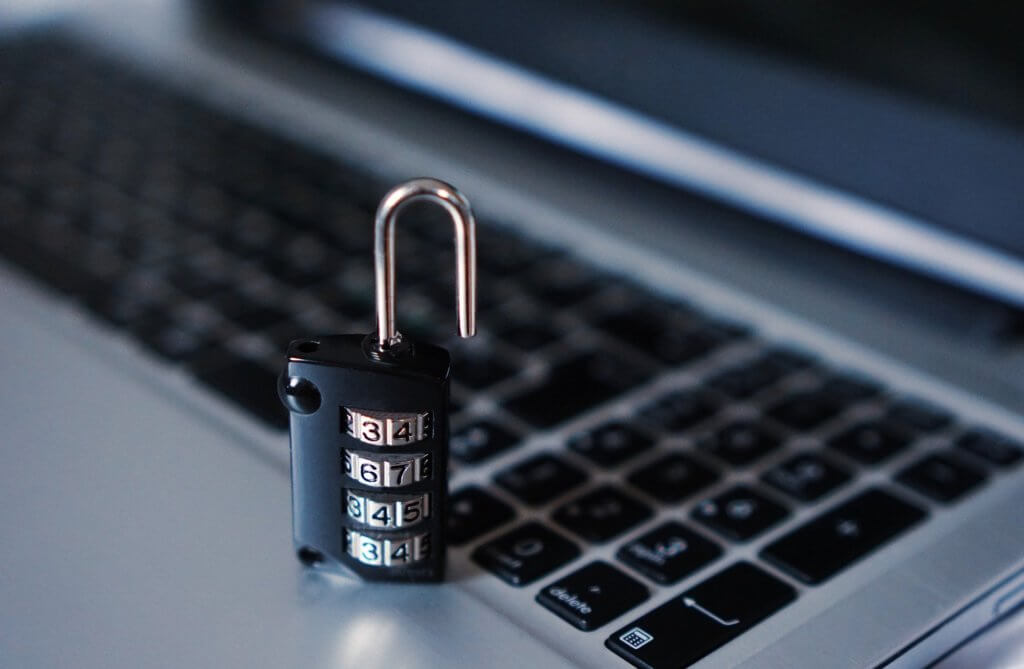 ---
What is the better alternative to back-office outsourcing?
At some point in time, it made perfect sense for a firm, let's say an insurance company, to maintain massive back-office departments. After all, having a lot of people on top of data and forms processing, commissions management, claims management and policy processing meant that those tasks were completed as quickly as possible.
This all changed rather quickly. Companies started to outsource tasks that didn't require specific skills or didn't add a lot of value, as we discussed earlier. And now, in the modern era, there's a game-changer in the industry: technology!
More and more companies are starting to automate tasks with the help of various technologies and are able to minimize their back-office workload as a result. They reap the same benefits as they would with outsourcing since costs and time are saved, but this time there's no third party abroad involved.
You're probably as excited as we are by now, so this asks for a further explanation. Below are four technologies that drive the move towards less back-office work:
Low-code platforms
Low-code platforms allow employees without coding expertise to create applications that can help them do their work more efficiently. What started as a movement to empower individuals, now shifted into the domain of enterprise IT. Multiple vendors have created tools to help large organizations on their path towards digital transformation.

A large player in this area is Mendix, which offers a low-code platform to develop mobile and web apps at scale. The Klippa OCR API is available as a plug-in, with which you can easily integrate our technology into your own application. It works perfectly for data extraction and verification on receipts, invoices, contracts, passports and more.

What is important to remember about these low-code platforms is that you can exponentially improve the time to market of new digital products, improve internal processes and help your company to minimize the amount of back-office tasks.


Optical Character Recognition (OCR)
OCR technology has been with us for quite some time now. What OCR does is translating text from a physical medium (e.g. printed documents, handwritten notes or receipts) into a digital, structured format. Simply said, it reads a document, extracts the information on it and passes the data on to the desired system or tool for further processing.

Many companies consider OCR as an essential technology for automating their workflows. It helps people work faster with minimal errors in, for example, document verification, invoice management, contract processing and identity document processing.

Klippa takes OCR to the next level by combining its OCR tool with machine learning and artificial intelligence (also see technology number 4). This leads to huge improvements in accuracy rates of multiple formats and languages. The AI-based OCR is even able to differentiate between handwritten text and scanned documents and extracts information from graphic formats like posters and brochures.


Robotic Process Automation (RPA)
RPA is a form of business process automation (BPA) technology that allows you to define a set of instructions for a robot or "bot" to perform. It handles repetitive business processes using software robots to perform tasks and trigger error-free responses.

RPA robots utilize the user interface to capture data and manipulate applications just like humans do. They interpret, trigger responses and communicate with other systems in order to perform a vast variety of repetitive tasks. Only substantially better: an RPA software robot never sleeps and makes zero mistakes.

A great example of an RPA provider is UiPath, which provides a complete software platform to help organizations efficiently automate their business processes. Just like with Mendix, you can use plug-ins to easily include data extraction technology into your solution. With the Klippa plug-in, for example, you can extract and process data from documents, PDFs, emails and other forms within a matter of seconds.


AI and Machine Learning
AI and Machine Learning are the brains behind most of the technologies listed above. Machine learning algorithms empower software to automatically learn and improve from experience without being explicitly programmed.

It relies on a constant stream of data to learn from and, generally, requires an extensive data set to train its algorithms. If the volume of data is too small, machine learning technologies would not be able to function with a high level of accuracy. It may be quite hard to train a model yourself, but luckily you can benefit from the expertise of others.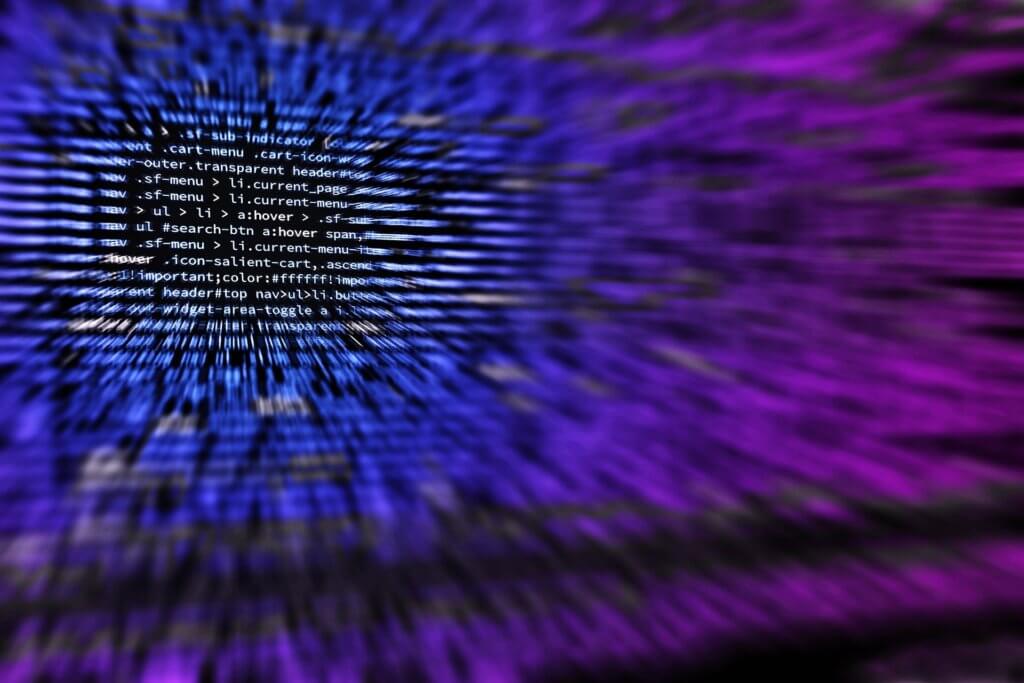 It's surely interesting to read about these technologies and the logic behind it. Every technology has its own perks and the good thing is they can all be combined to create an even more powerful tool. Klippa's OCR API, for example, combines state-of-the-art OCR technology with AI and machine learning to automatically learn and improve its software. All the components can be integrated in low-code and RPA solutions as well, so there's literally no limit to the application possibilities.

To prove our point, we will continue with a few real-life use cases in which our technologies save a great deal of work-hours and yield better results. Sounds good? Let's go!
---
Use cases for the Klippa OCR API
Although you'll find that the possibilities of using OCR technology are near endless, we'll provide you with a few use cases:
Insurances
Imagine you just had a car accident and you know you are facing piles of paperwork to fill in to fix your car. The same piles of papers need to be processed before you are given the OK to go to a repair service. But what if the forms could be scanned with your smartphone? As soon as you scan and file them, you have already taken significant steps toward getting your car back on track.

The insurance company then receives the digital paperwork and automatically checks for data points like your name, social security number, date of the accident, description of the damage, expected repair costs and your signature. It takes less than a minute to process your pictures, a few minutes more for a final human check and off you go!

The primary benefit of OCR technology in this situation is that it eliminates delays, which can lead to stagnant claim processing and payment issues. By using OCR, the workflow is streamlined as much as possible and turnaround times are reduced to a minimum.
Consumer loans
Consumer lending has a reputation for being paper-intensive as well and many borrowers fear the heaps of paper forms waiting for their signature. OCR technology and new legislation, however, are changing both the customer experience and operational efficiency with paperless processes, digital signatures, mobile capabilities and back-office automation.

Many companies have transformed their outdated, paper-loaded lending process with a smart solution that streamlines loan processing, provides proactive communication to customers and avoids costly follow-up loops. Not only do they originate and close loans much faster and with greater efficiency, compliance and security than ever, they also improve their customer experience to a new level of long-term value.

With an automated flow, customer onboarding, financial data checks, risk assessments and approving (or declining) loans can be carried out within minutes. Say goodbye to waiting weeks on your loan, say hi to instant loans!
Loyalty programs
Loyalty programs exist in many shapes and sizes. They can involve points-based campaigns, cashbacks, tiered campaigns, premium loyalty campaigns, and so on. Apart from handing out rewards for buying their products or services, these forms of campaigns have something else in common: they involve a lot of back-office work. With an outdated, manually-operated process in place, it may take days or even weeks before a customer's receipt is received, checked, validated and the reward is released.

With OCR technology, on the other hand, you can opt-in and purchase participating products, simply use your mobile phone to take a picture of your receipt and send it in to receive your reward almost instantly. The data from the receipt is extracted, interpreted and processed within seconds!

This will lead not only to happier customers, but companies will also be better able to cope with peak volumes, make less mistakes and experience less fraud incidents, like accepting duplicate receipts. Just think of the cost savings that come with these benefits. Pretty nice, right?

If you want to know more about all the possibilities of automating your loyalty campaign back office, we highly recommend one of our other blogs, which is entirely dedicated to the topic.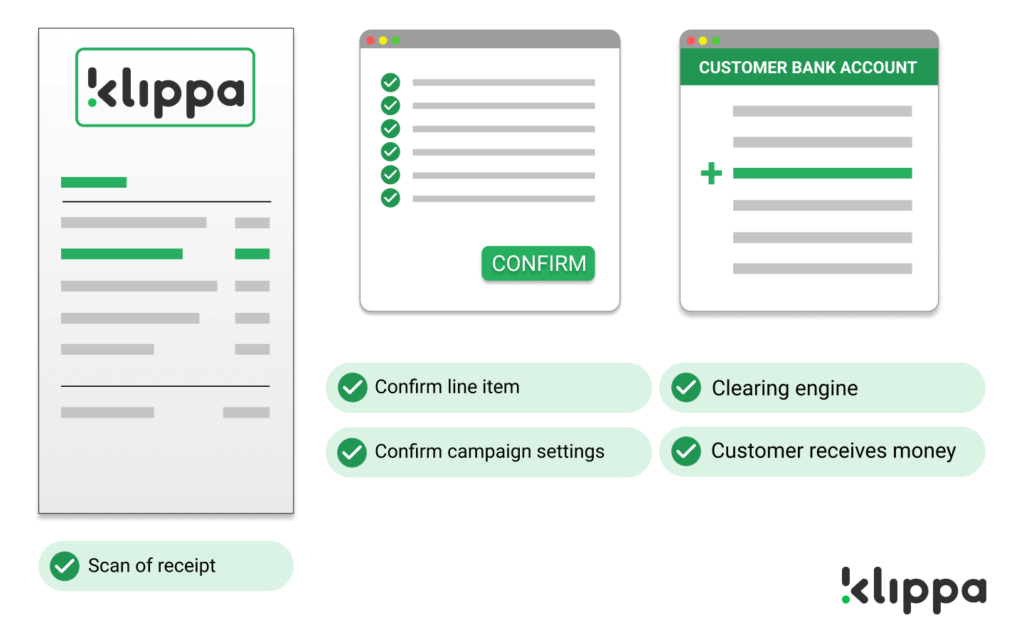 This is by no means an exhaustive list use cases. We are pretty sure that you can think of many more application possibilities!
---
Delivering on our promise of saving 60% on back-office costs
Alright, everything we discussed so far has been quite a ride, but we promised 60% in cost savings in the introduction. It's time to deliver on that promise and show you that these cost savings can be easily realized.
In order to do so, we will elaborate on a short business case based on labor costs, which can fully be customized to your own situation. This will give you an idea of the possible savings for your organization. Ready? Let's crunch some numbers!
The primary objective of automation is to replace or assist humans when it comes to task completion. Employee involvement may be entirely eliminated from certain processes or the work of the employee is reduced to only the bare essentials. The idea is that with automation employees spend their time more effectively, which saves on labor costs.
So just how much does workflow automation save in terms of labor costs? It depends on a few factors.
First, you have to understand what the average worker is paid for his or her position. You can calculate these costs based on what you're already paying your employees or you can use external sources to find the average costs of labor in your country and industry.
You can then multiply this hourly rate by the number of hours a process takes to complete:
Hourly rate x labor hours = labor cost
The trickier part of the equation is to determine how much time automation tools will save on any given task or project. If you already have access to an automation tool, or a trial version, you can run the task and calculate the project duration. Otherwise, you can ask the vendor for the estimated duration of specific tasks.
With the Klippa OCR API, for example, companies manage to reduce the time spent on manual processes by as much as 70% on average. Also, studies carried out in fields like invoice processing show that time savings of 60-80% are very feasible.
In order to determine the potential savings, you can calculate the time spent on the task with an automation tool, multiply it with the hourly rate and subtract it from your current labor costs:
Labor cost – (time spent with automation x hourly rate) = total cost savings
For example, let's say you currently employ a team of 2 accounts payable clerks (at €30 per hour) to process, approve, correct and file invoices into your bookkeeping system, which takes them roughly 80 hours per month per person.
Your yearly labor costs would be 57.6k (€30 x 80 hours x 2 persons x 12 months).
Let's assume that an automation tool reduces those 80 hours per person per month down to 24 hours, a reduction of 70%. This would lead to a yearly labor cost of ~17.3k (€30 x 24 hours x 2 persons x 12 months) and result in an immediate cost saving of more than 40k for only one process!
High volumes and longer tasks and processes – reporting, approval processes, sending notifications, and so on – might add up to hundreds of thousands of euros saved over the course of years.
Weighing all of those saved costs against the monthly or annual cost of an automation tool may help you see whether or not the tool is worthwhile, but we are pretty sure that this will be the case.
Let's say that in our example the provider charges you a one-time setup fee of 2.5k, a monthly license fee of €150 and a monthly integrations fee of €100. Then you would still save almost 35k in the first year by using an automation tool (see the calculations below).



Now compare this number (34.8k) to the yearly labor costs at the start (57.6k), and there it is: a 60.4% cost saving!
Do you want to find out how automation can help you?
As you might have noticed, we only took the saved labor costs into consideration, because there is no magic formula to calculate all the cost savings earned from automation. The exact savings are very much dependent on your company's current situation, operations and needs, and even then certain benefits may be intangible such as increased productivity and employee satisfaction.
If you need any help in calculating the added value of automation software for your company, please feel free to reach out to us. Our experienced product specialists will be more than happy to guide you through this process. They can tell you everything about what automation can do for your company and how you can integrate it seamlessly with existing systems and operations.
It's also possible to plan a free 30-minute demo below, in which we show you how our software works and how it will benefit your organization.