As an organization, it's almost impossible not to buy products or services from other companies. Unfortunately, receiving, approving and tracking invoices for Accounts Payable (AP) is tedious and frustrating, which is why many businesses are switching to an app for digital invoice processing. Are you not sure whether or not you should digitize? Below are five benefits of apps for invoice processing that will help you and your business move forward.
Traditionally, in an accounts payable process, an invoice is generated and sent by a supplier, printed and physically walked to an approver before the invoice data is entered. That data is then approved and a check is written and mailed back to the supplier. This whole process can take 30 to 90 days, according to a Business Insider report.
In an automated accounts payable process, an invoice is submitted to an invoicing platform, where it is processed and approved and payment goes out to the supplier. All sides benefit from this process, as automation can cut costs by up to 80% and improve efficiency by up to 70%.
1 No more redundant copying of data: Not only does automation mean no more manual data entry, Optical Character Recognition (OCR) enables organizations to simply approve and process invoices within a few clicks. The technology scans for text in images, such as scans or attachments, and extracts all relevant data and categorizes it. With Klippa, all invoices are processed with automatic text recognition (OCR). This means no more manual data entry and saving up to 70% in processing time.
2 Digital invoice approval workflows with business rules: With a (web) app it is possible to approve invoices in a digital authorization flow and record them directly in the accounting system, with self-learning journal entries. A digital workflow ensures a streamlined approval process and a clear overview of the status of an invoice. Talking about efficient authorization, right? Our so-called business rules determine whether certain invoices are approved or rejected automatically. For instance, when an invoice contains faulty data or exceeds a certain limit, the software can detect this automatically and send a notification to the appointed manager. Our software also looks for duplicate invoices, which means you never pay an invoice twice.
3 Interface with accounting system: Send reliable booking rules from Klippa to your accounting system/ERP package with a real-time interface. This means the ability to book directly! Even though the interface itself isn't unique, our in-house developed, self-learning software is. Users get self-learning booking proposals in which the correct creditor and ledger are automatically shown, making booking even more efficient.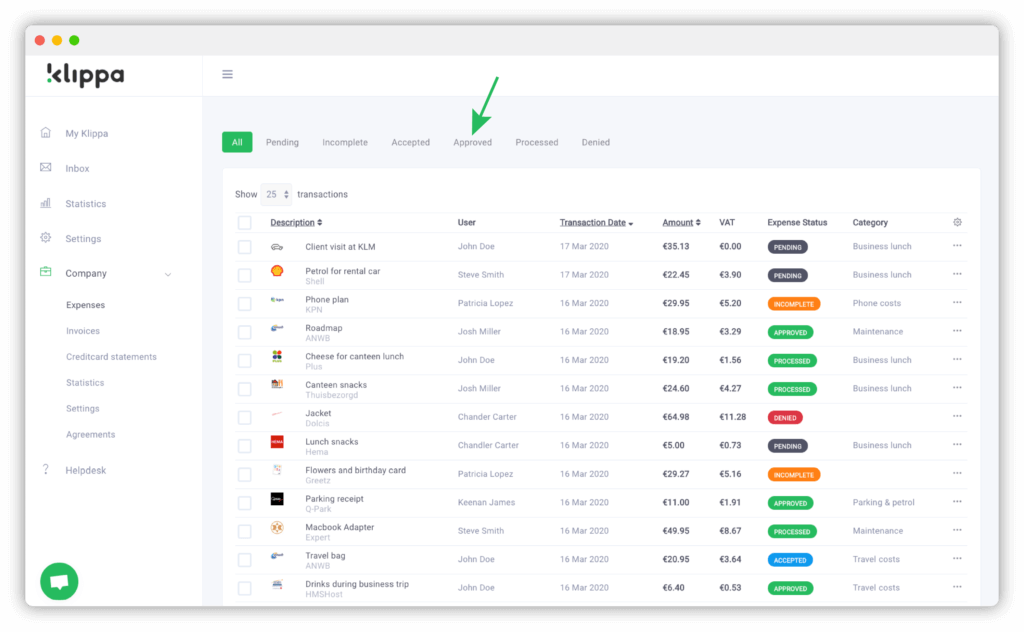 4 Pay suppliers faster: Paying late sometimes means paying more, since you give up early payment discounts. Even worse, you want to avoid annoyed reminders from suppliers or even annoyed suppliers that no longer want to do business with you. Make sure you and the suppliers you have built a long-term relationship with over the last months, or even years, stay friends, by automating your invoice process. Our Klippa app has a handy auto reminder feature which helps you to pay on time.
5 Approve anywhere, anytime, on your smartphone or any other device: Most people are used to carrying a smartphone around, everywhere they go. This means they are able to approve of invoices, anytime and anywhere. This is part of the reason why using an app for AP speeds up the process significantly.
In short, apps are great for invoice processing and great for your business. We understand that it may seem daunting to digitize your invoice process, especially in COVID-19 times. However, the benefits in terms of happier employees and suppliers, better work flows and time and money savings, make it worth your while.
Do you want to learn more about the solutions we offer or how we can help your company take that next step into digitization? Please contact us via chat or email: [email protected] Would you like to schedule a demo with one of our product specialists? Then take a look at the options below.
Schedule a free online demonstration
A clear overview of Klippa in only 30 minutes.