If you're in the business of rewards and loyalty, you might know that managing effective activation campaigns costs a lot of time and money. Take cashback campaigns, for example. You might recognize the problem with the amount of back-office work it takes to validate whether participants actually bought the cashback products by checking receipts, invoices or other proof of purchases. Some companies have decided to outsource this work to countries such as the Philippines, India or Romania. You might think this is the cheapest and most secure way to solve your expensive back office processing work. Although it may indeed be cheaper to outsource to non-western countries, there are better solutions available. As in other lines of business, automation is quickly becoming the key element for successful activation campaigns. In this blog, you'll find out how to achieve a fully automated cashback campaign processing setup with Klippa.
Jump to:
The three steps of cashback and marketing activation campaigns
Reasons for automating your cashback processing
How automated cashback processing works
Preventing fraud in cashback processing
Three examples of cashback automation in practice
Benefits of cashback automation
For what document types does it work?
Does it work in all countries and languages?
What types of fraud can you catch?
Did we catch your attention?
The three steps of cashback and marketing activation campaigns
A lot of the work involving cashback or loyalty campaigns can be found in back office processing. When the customer has sent in a receipt as part of a cashback campaign, there are usually three steps to take:
A validity check of the receipt to prevent fraud
A conditional check whether one or more of the items on the receipt is part of the campaign, bought at a participating store, and within a certain time frame
Clearing and payment
These three steps may not look like much at first. But when you need to process thousands of receipts manually, it will certainly take loads of time. These processes are usually slow, prone to errors and costly. Luckily, Klippa is here to help you with these and the following challenges.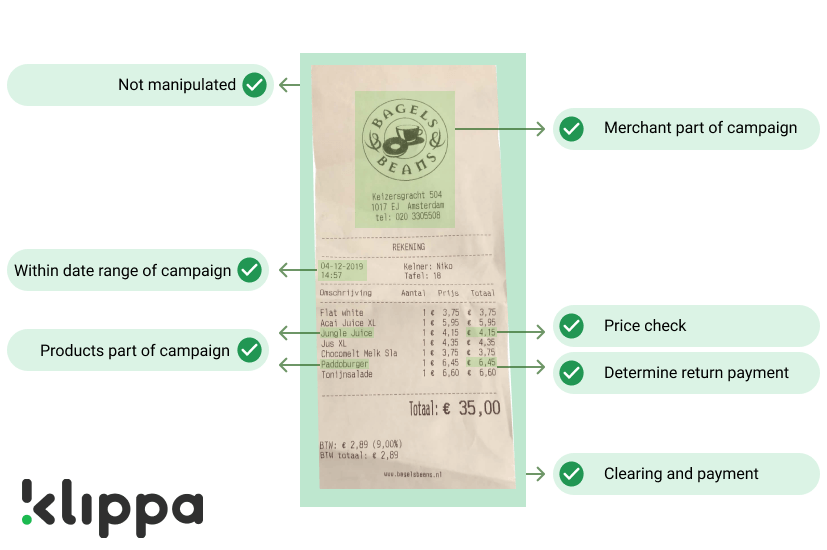 Reasons for automating your cashback processing
Make cashback easier
The customer desires swift cashback with as little effort as possible. If you manage to achieve this, the customer engagement rate on your campaign will soar. By automating your cashback processing, customers only have to make a picture and get their cash back within just seconds.
Speed up processing
Next to ease of use, the customer also desires a fast rewarding system. What we see for most cashback campaigns in the market, is that it will take at least 24 hours for the customer to receive cashback after sending in the request. With automation, this processing time will be reduced to seconds. Just imagine the increase in engagement this will get you! Your customers will certainly thank you for it.
Remove human error
By manually processing all of the customer input, you are bound to make mistakes. This can be overlooking certain items, making data entry mistakes or missing to identify fake or fraudulent documents. Especially with supermarket receipts containing many product lines, there is a high chance for errors. Luckily automated systems based on AI are faster, don't get tired and are much better at detecting fraud.
Reduce cashback campaign costs
In general, back-office processing is a pricey and time-consuming endeavour. The fact that campaigns usually have peak volumes makes it even harder to accurately predict staffing requirements and control costs. Of course, outsourcing your backoffice to low-wage countries can solve this, but our automation solution is still 70% cheaper and faster than manual processing. This will leave more margin for you.
Compliance with GDPR
Maintaining customer privacy is paramount when you receive tons of personal data and information. Therefore outsourcing your back office to low-wage countries is risky. Especially when this is done outside of the EU, due to not complying with GDPR regulation. Klippa has made sure that in our cashback automation solution all data is processed within the EU. Besides that, no data needs to be stored anywhere. Want to do campaigns outside of the EU? No problem! We can set up a custom server for you in a location of your choice.
Detecting fraud in cashback campaigns
Making sure that received input, such as invoices or receipts, are legit is probably the most challenging part of cashback and loyalty campaigns. With technology moving forward, it becomes easier for third parties to recreate a receipt or photoshop an existing one. Thankfully, through deep learning, our AI can now detect fake input like Photoshop attempts automatically.
How automated cashback processing works
What it looks like under the hood? Well, it is an intricate workflow. Back office processing is performed by our API, which scans and reads the photo of the receipt that is uploaded by the customer. Through optical character recognition (OCR), it automatically detects many data points such as line items, pricing, time, date and the merchant on the receipt or invoice. It then extracts the required data points and converts them into a JSON format, which can be checked with the campaign requirements. Once these checks are complete and fraud detection has validated the result, the data will be verified and the payment can be cleared. The clearing engine will set up the confirmation and the payment can be made.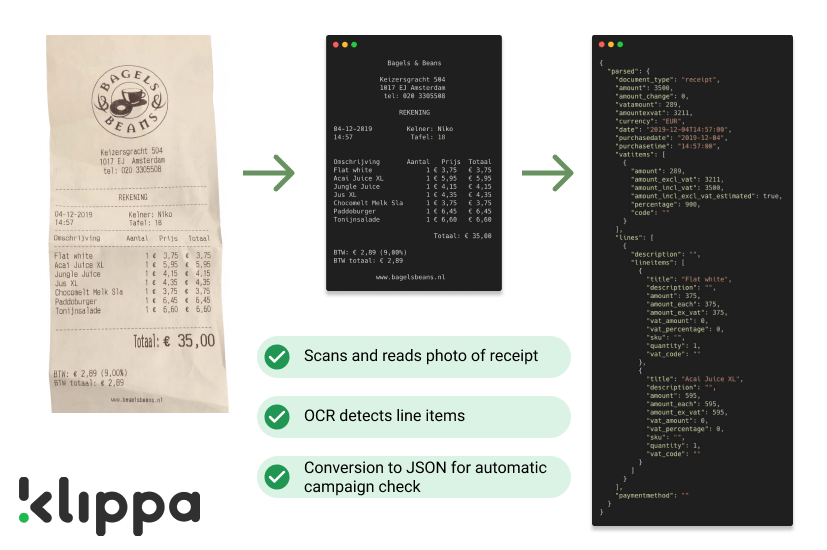 Preventing fraud in cashback processing
The process comes with a safety procedure that is able to detect fraudulent input. The API engine deploys meta data and pixel structure recognition techniques to see whether a photo is manipulated. This involves detecting incoherent pixel structures, such as strange changes in lighting or sudden color changes in text. You will have the ability to respond to red flags swiftly, which saves you time and money.
Three examples of cashback automation in practice
We can imagine that this lengthy explanation makes you yearn for a couple of practical examples. Here are three use cases of different ways you can automatically process cashback or loyalty points.
Receipt-based cashback campaign automation
You start a cashback campaign around a new brand of shampoo. The customer uploads a photo of a receipt containing the shampoo that is part of your campaign. The photo is verified and scanned for extraction of the line items on the receipt. The API then moves on to check and confirm the line item containing the shampoo with the campaign setup and validates the purchase. The clearing engine determines the amount of cash the customer is owed and sets up the payment. With the click of a button, the payment can be confirmed. No further effort is required.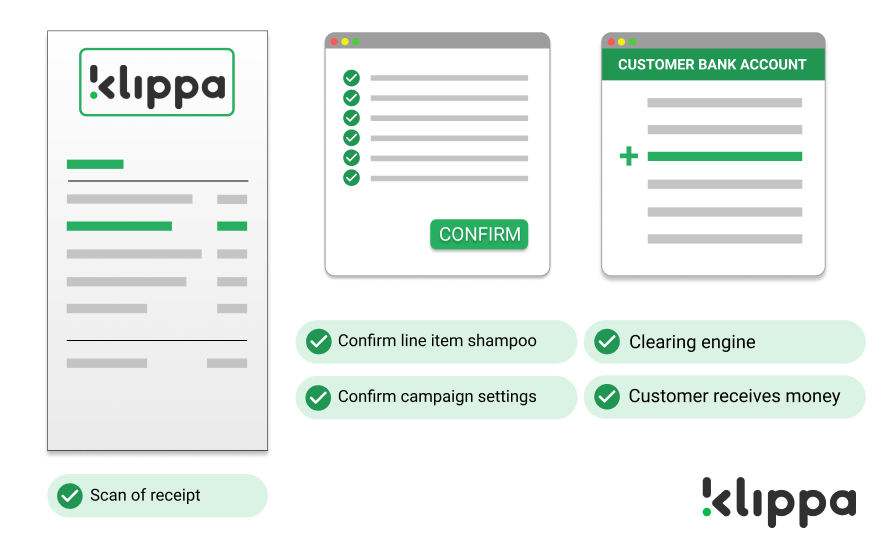 Invoice-based cashback campaigns automation
Your brand aims to improve client conversion via a cashback option on one of your new smart TVs. If the customer purchases your new product, they will have a percentage of the price returned. The customer orders the TV online and receives an invoice for the purchase, which is then uploaded for the campaign. The API checks the validity of the uploaded invoice and reads the serial number of the acquired TV. If the serial number is part of the campaign, it is confirmed that the clearing engine can move on to determine the sum that is owed to the customer and payment can be confirmed. This quick form of automation is certain to make your customer happy.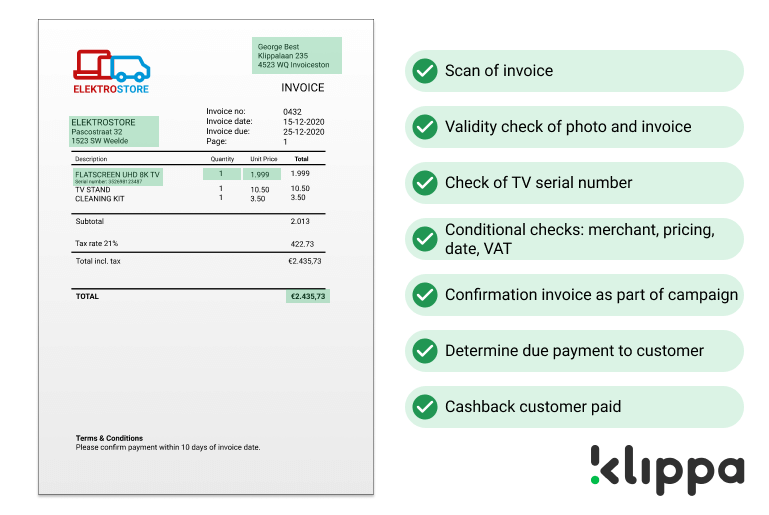 Photo of a purchased product
Your cashback business has an agreement with a brand of cola to promote their products via a rewards program. The customer buys a can of cola that is a part of the campaign and takes a photo of the packaging with EAN-number on it and uploads it to your app. Our API checks and confirms the validity of the photo and the product in the photo. The EAN-number is then checked and confirmed with your campaign listing and sets the clearing engine in motion. This is the easiest process for the customer, the brand, and for your cashback business.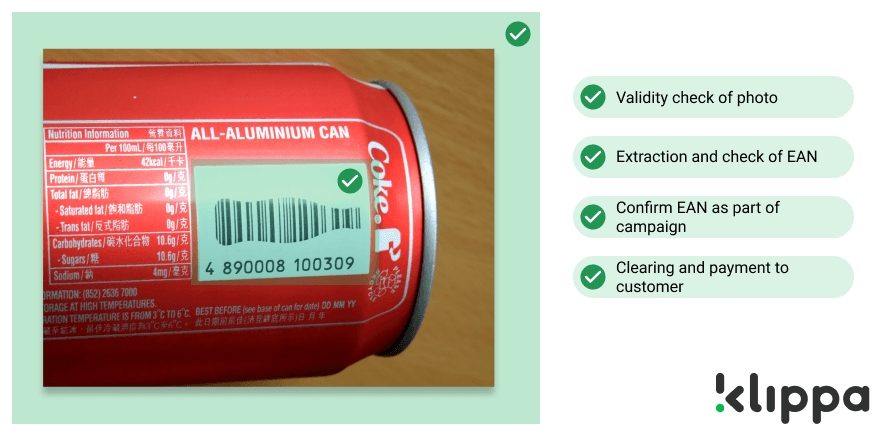 Benefits of cashback automation
We have now explained a lot about cashback automation and how it can improve your marketing campaigns. Here's a quick recap of the benefits:
Cost-saving
Faster
Easy-to-use
Reliable
Increases customer satisfaction
Fraud resistant
Unsusceptible to human error
GDPR compliant
For what document types does it work?
Our solution for cashback automation is available for all required documents involved in cashback campaigns. Whether a customer sends in a photo of the receipt, an invoice or a photo of the product itself, Klippa is able to scan, extract, and process information from the input to determine the validity of the cashback request. Any currently unavailable document support can be provided on request.
Does it work in all countries and languages?
Yes, it does. Klippa supports most European languages such as Dutch, English, Danish, Swedish, Finnish, German, French, Portuguese, Italian and Spanish. Other languages can be supported on request by training our machine learning models.
What types of fraud can you catch?
Klippa can detect multiple forms of fraud. First of all we can detect duplicate image, to prevent multiple users claiming a cashback with the same proof of purchase. We do this based on image similarity and a hash based on a combination of the important fields on a proof of purchase. Next to that Klippa can detect evidence of image tampering, such as Photoshop.
Did we catch your attention?
You can read more about our marketing and loyalty solutions on our website. If you are interested to see the technology in action or you want to learn more about Klippa, we invite you to schedule an online demonstration with one of our product specialists. We are also happy to receive your contact request via email or by phone +31 50 2111631.