More and more ERPs are moving their software to the cloud. This has been the trend in recent years, as there are many benefits to be gained from a cloud-based solution. The number of companies using on-premise ERPs decreased by 50% from 2017 to 2018, while cloud-based SaaS (Software as a Service) solutions increased by 40%. These figures speak for themselves.
The trend of moving business processes to the cloud is not limited to ERPs. More and more companies are moving towards a paperless office, which means that many other processes must move to the cloud as well. An interesting example is the digitization of Invoice Processing. Cloud-based invoice processing solutions are beneficial for companies of all sizes, reducing the number of errors committed, automatically detecting fraud, speeding up payment time and reducing the total cost of processing.
Here are five key benefits of cloud-based invoice processing:
1) Increased efficiency. By removing manual data entry for the picture with OCR technology, processing invoice data in your ERP or accounting software goes much faster. The financial department can process invoices up to 70% faster, saving time and money. In addition, it allows finance managers to focus on more important tasks, such as managing budgets and forecasts.
2) 24/7 insights. By moving invoice processing to the cloud, getting information about the number of invoices processed, the average payment time and which part of the business is causing the most delay in the process, is much easier. Information can be obtained at the individual, departmental, supplier, invoice and many other levels. Optimizing invoice processing becomes much easier with the right and accessible information in the cloud.
3) Fast payments and supplier satisfaction. The use of intelligent invoice processing software speeds up data entry and invoice approval. Invoice approvals no longer accumulate on desks, and employees are encouraged to give their approvals within reasonable deadlines through automated reminders. This translates into faster payments to suppliers, which leads to more satisfied suppliers. Paying a supplier on time is advantageous for the company, as it brings benefits such as discounts and the strengthening of long-term relationships.
4) Compliance. Manage which people within a company have access to what information is an important part of many ISO compliance and certification standards, as invoices can contain highly sensitive information such as personal data. In processes where documents are moved around the office for approval, it is almost impossible to guarantee data security. Copies are easy to make, documents end up in the wrong hands, or even get lost. These situations can be easily avoided using access rights in the cloud: only the relevant individuals have access to information. Automatic audit trails are stored for you to maintain control and data security.
5) Quality control and fraud prevention. Manual data entry and approvals via physical signatures are prone to errors and fraudulent invoices may be overlooked, resulting in unnecessary costs. Cloud-based solutions can quickly cross-check information such as VAT number, bank account numbers, Chamber of Commerce, invoice amounts and many other items, so fraudulent cases are automatically detected. Staying compliant has never been easier.
Cloud-Based solutions such as Klippa Invoice Processing, offer automation possibilities for companies of any size. Cloud-based solutions are fast, do not require investment in hardware and their value already stands out in the market. No extra investment is needed to keep up with trends, as upgrades in the SaaS industry are fast and are done at no additional charge.
What does the Klippa solution look like?
Below you can see an image of what Klippa Invoice Processing solution, a cloud-based solution, looks like. As you can see, the invoice contains important information already extracted (supplier, total quantity, etc.). At the bottom of the image, you can also see our application's own functionality, the authorization flow. This particular invoice has already been claimed and can now be safely stored in the cloud, with access 24/7.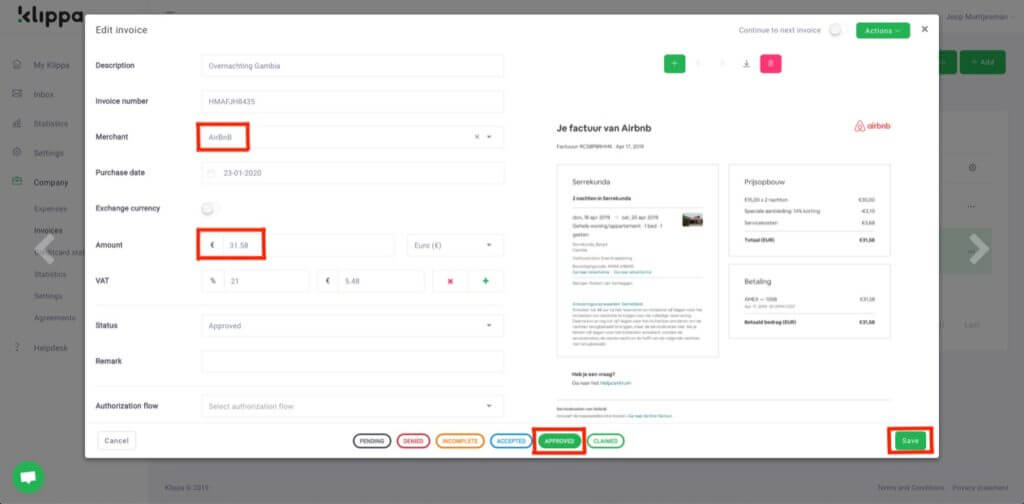 Cloud-based solutions provide significant benefits that cannot be ignored. Schedule an online demonstration during which we will show you how you can get an automated and optimized invoice processing software. You can also contact us via [email protected] or +31 50 2111 631.