More and more businesses everyday are automating their business processes, specifically their expense management. And so they should. According to our own research, conducted by an external research agency, 38% of employees think that submitting and handling expenses manually is boring. More than one in six say they even dread having to do it. Employee satisfaction has a direct impact on how employees perform and thereby how the company is performing. Keeping high employee satisfaction levels leads to higher productivity levels. So when keeping your employees happy and productivity levels high is important to you, it's wise to consider automating your expense management. But how does the process work?
Jump to:
The way it's traditionally done
Benefits of a digital expense solution
What to take into consideration
Get started with Klippa
The way it's traditionally done
Expense claims are essentially business expenses advanced by employees. This means employers are asking their employees for a favor, when they have them pay for business expenses. Doesn't this also mean that the reimbursement process should go as smoothly as possible? When you go out and pay for your friends' drinks, you don't want to wait a month until they pay you back, right? So why do employers often wait a month or sometimes even longer? According to our own data, almost one in five Dutch employees sometimes don't even get reimbursed.
The traditional expense process requires physical evidence (receipts) of expenses. Employees need to take time to fill out a form and note the place, the merchant, the transaction and the amount spent. The claims then need to be approved by one or multiple managers and handled by someone in Finance. Imagine the countless hours that go into all of this paperwork, and how error-prone it is. Forms are left on someone's desk, get lost, or are filled out wrong.
Benefits of a digital expense solution
Luckily, there are automated expense management solutions out there. Expense automation lets you eliminate the most annoying aspects of processing expense reports. It replaces the paper report with an app that walks the user through each claim. Apps typically allow employees and finance teams to save up to 70% in processing time and here is how.
Employees can directly upload receipt scans with their smartphones, while expense management software automatically extracts data from it (merchant, amount and VAT for instance). Managers are notified immediately and can approve or deny the new expense. If approved, expenses are sent to the financial controller. The controller simply checks that the details are correct, matches the receipt, and then processes it in a click. There's nothing to add, and no data entry needed!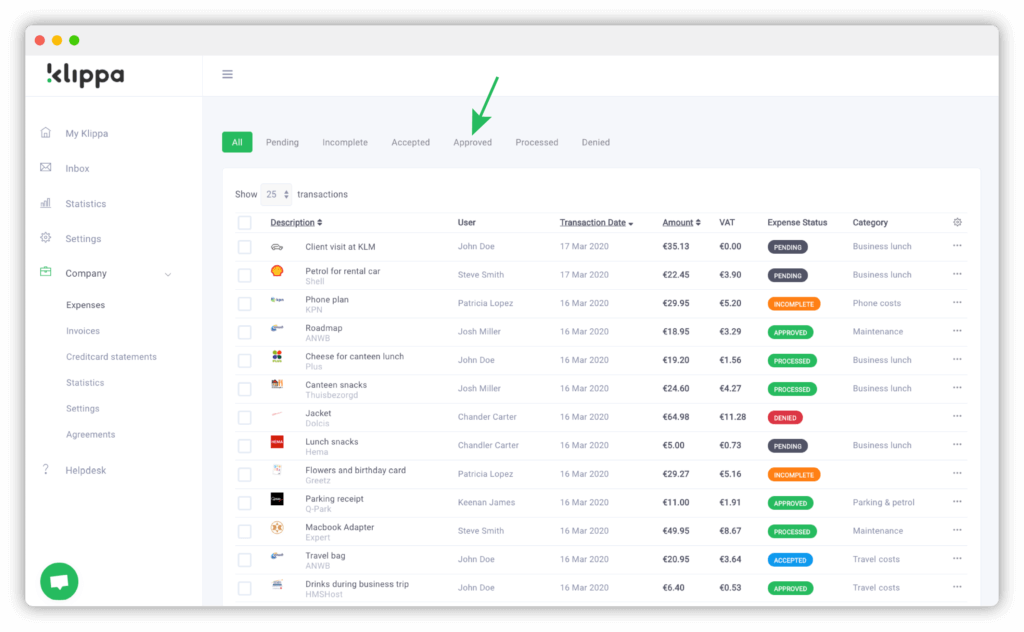 If any inconsistency or fraud is recorded, the relevant manager is automatically notified. Once all the receipts have been submitted, employees can directly generate an expense report within minutes. What generally would have taken hours to compile and submit can now be dealt with within a few clicks. And with far fewer errors.
Around one in five manual expense reports are filed incorrectly. Assuming you even notice the mistakes, fixing them will cost your organization a lot of money. Because automation tools walk employees through expense claims step by step, it's much harder for errors to slip through. These tools are based on OCR technology that reads data from receipts and ensures they match the claims.
Another benefit of automation is the real-time overview it gives organizations. 57% of companies experience a lack in company spending overview. This is in part due to the fact that it is hard to predict how much your employees will spend – you don't know what they've spent until the claims arrive. Automation tools, however, let employees submit expenses in real-time so that Finance gets a more accurate picture.
What to take into consideration
Of course, expense processes are based on business rules and you need to consider audit trails. This means there needs to be organizational efforts in order to properly set up your automated process. First of all, it's important to establish an expense policy, or infrastructure, to make the process work smoothly. Here are a few considerations to help you create solid policies.
Can you integrate the expense management software with your existing enterprise resource planning (ERP) system? If so, choose a supplier that syncs with your ERP supplier.
Do you wish to integrate expenses with a company credit card?
How many locations does your organization have and to what extent do expense claims flow through various locations?
How many layers do you wish to use for approving and handling expenses?
Who do you wish to give which permission levels? Who is included in the approval flow?
Do you wish to set spending limits for certain expenses?
Which line items are important for which expenses?
Get started with Klippa
As soon as you've found an appropriate software supplier, and are ready to implement the system, make sure to get your people on board the new way of working and encourage managers to push back non-compliant expense submissions. Also make sure you make optimal use of the new tool by regularly analyzing data to get a feel of spending trends and find opportunities for more cost savings.
When looking for an expense management software supplier, you don't have to look far. We created our very own expense management solution which is currently helping more than a 1000 brands to save a lot of time and money. Submitting expense claims takes only three seconds, approving another ten, so count out your savings! More on our expense products here. To see which accounting systems we integrate with, go to this page.
For more information, send us an email through [email protected] or schedule a demo below.