Klippa is your free digital receipt assistent. With Klippa you will never lose a receipt again. Gain insight in your expenses on mobile and in our cloud app. Are you a business user? Managing your expenses will be easier than ever. With the Klippa receipt scanner you won't miss a reimbursement ever again.
Save
All of your receipts are safely stored in the cloud, and you can always easily find them wherever you are.
Statistics
Klippa provides you with the insights on your expenses using comprehensive statistics for every store, tag or folder.
Sharing
Receipts can be easily shared with others by using Klippa. For example in case of a gift or shared expense.
Export
It is easy to export your receipts from Klippa to PDF. The expense rapport can be downloaded and shared.
Full of great features
Affiliated companies can scan your personal barcode to send you a digital receipt....

Share receipts with other Klippa-users, to split joint cost or transfer ownership....
Create your personal folders to store receipts in an orderly way....

Digitise paper receipts by making a picture with Klippa....
View your expenses in the statistics segmented by store, tags and folders....

Klippa gives you the possibility to store an unlimited amount of receipts...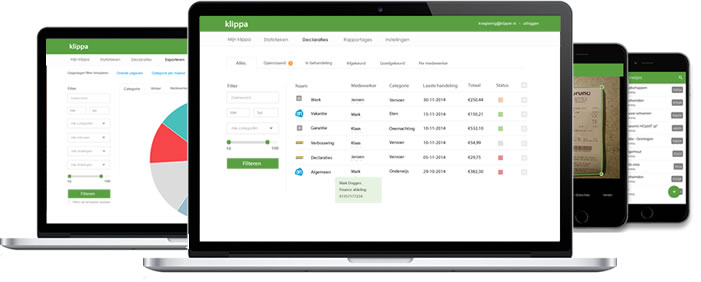 Perfect for business users
If you have to claim business expenses on a regular basis or if you are an entrepreneur that has to keep track of his costs for administrative purposes, Klippa will be your new best friend. All your expenses will be stored in an orderly manner and can be exported into expense reports. As an entrepreneur you will never miss out on tax deduction again and as an employee you can make sure you are always fully reimbursed for your expenses. Start scanning receipts with the Klippa app now. Read more about Klippa for corporate clients
Finally a solution for the receipt chaos
What others say about Klippa
Klippa is an interesting application. All features of the app are free....

Read more

Very nice app. No more hassle with unreadable old receipts and very clean looking....

Read more
Sign up for the newsletter!
We will never send spam. We promise.