Receiving, processing and paying invoices. A tedious process that both consumers and entrepreneurs face every day. For most entrepreneurs it's one of the tasks they hate the most about running their company, but they still end up spending hours a week doing so. The founders of Klippa were entrepreneurs before starting Klippa. They faced this same problem over and over at their previous companies and decided to build a company to solve it: Klippa.
At Klippa we build software to automate administrative processes, to make sure people can spend time on things they love instead of administrative tasks. Klippa started with receipt and invoice digitization using scanning SDK's & OCR for the self employed market. After that we moved into expense management and invoice processing for SME and corporates. Now we are launching a new product yet again! Over the last year customers kept asking us for a scan to pay solutions that uses our existing OCR and leverages that towards easy payments of invoices. Luckily Klippa is a customer centric company, so if customers ask for something, we are here to provide it! Our new solutions is called Klippa Scan to Pay and in this blog we will explain to you what it does.
So what does it do?
We could write a whole book on the technology behind our solution and what all the different use-cases are. But instead of doing that, we will simply write a single line on what Klippa Scan to Pay Invoices is: an easy to use solution to pay invoices simply by scanning them with your mobile camera. And because seeing is believing we have visualised this for you below: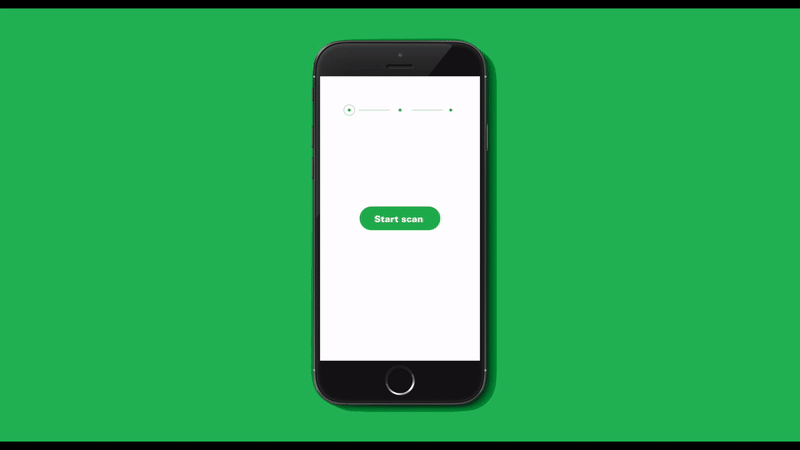 How does it work?
After making a picture of the document, our smart software converts the document into a text file. From that text file our AI parsing engine extract data patterns that are of importance for the payment of an invoice. This can be dates, company names, a bank account number (IBAN) and more. As soon as the software has identified all the information that is relevant, we visualize this information in a screen for the user. Here the user can check and possible modify the recognized data, to then give final approval and proceed with the payment!
Can I implement Klippa solutions in my own application?
Yes you definitely can! Klippa Scan to Pay is not a stand alone solution. We provide it via an API and SDK (software development kit) to third parties in segments such as loyalty, banking and accounting. That means you can integrate our solution into your existing app to give your customers a better service in paying their invoices.
How fast is Klippa Scan to Pay?
There is a simple answer to this question: fast! It takes an average person 3 minutes to pay an invoice. Its a time consuming and error prone process, because you usually have to find multiple values on the document to do the payment: the company name, bank account number (IBAN in Europe), the amount and sometimes a payment reference. The chances of making a typo are rather big, especially when doing it on the small screen of your smartphone. That's why Klippa Scan and Pay is your go to solution. Within just 10 seconds you can scan, check and pay an invoice. That is 18 times faster than doing it manually!
Get in touch
If you are interested in seeing a live demo, or just have some questions, you can always reach out to us. At Klippa we love machine learning and digitization challenges. Do you have a problem that you want to have solved? Challenge us!